Fifa and Sepp Blatter in secret talks about president's future

By Richard Conway
BBC Radio 5 live sports news correspondent
Last updated on .From the section Football10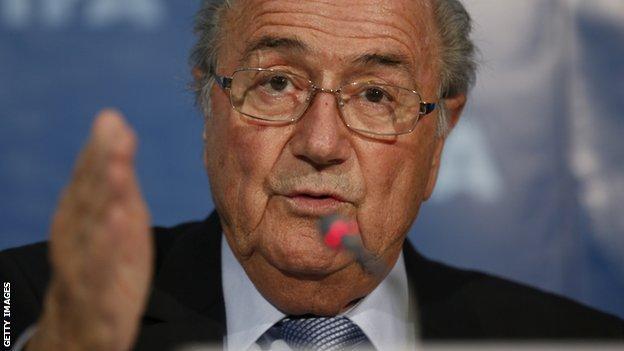 Secret talks between Fifa officials and Sepp Blatter have taken place over his future as the president of football's world governing body, BBC Sport has learned.
The discussions, involving representatives from a number of football confederations, are understood to have started in October 2013, at the celebrations for the English Football Association's 150th anniversary.
Blatter has since confirmed his intention to stand in May's presidential election and seek a fifth term of office.
However, with the 29 January deadline looming for candidates to declare their interest, there is mounting concern amongst several Fifa executives over the governing body's future direction and leadership.
Speaking in Manilla earlier this month, Blatter reaffirmed he has support from five of the six confederations that constitute Fifa.
But BBC Sport has been told the recent crisis within the governing body, stemming from an investigation into alleged World Cup bidding corruption that culminated last week in the resignation of ethics committee investigator Michael Garcia, could yet have far-reaching effects.
Garcia quit citing a lack of independence in Fifa's judicial processes and his belief the organisation's culture was beyond reform.
Speaking to BBC Sport, one source described 78-year-old Blatter as being increasingly "weary" following years of fire-fighting multiple scandals, a hectic work schedule and the acrimonious fall-out from the decision to award the next two World Cups to Russia and Qatar.
Fifa sources have also spoken of how, in light of recent events, a number of potential challengers are now weighing their candidacy options.
Blatter on 2022 World Cup:
"It would really need an earthquake, extremely important new elements, to go back on this World Cup in Qatar."
The question being posed within Fifa circles is whether Blatter, if he opts to stand aside ahead of May's election, would back the candidacy of one of the five publicly supportive confederation presidents.
Uefa, the European confederation, remains the most vocal critic of Blatter's desire to continue on as president.
European football association chiefs, including FA chairman Greg Dyke, told Blatter he should stand aside for the good of the sport during a stormy meeting in Sao Paulo in June.
Yet Uefa has yet to propose a candidate of its own, with president Michel Platini ruling himself out of the running in July.
Fifa executive committee member Prince Ali of Jordan is understood to be one potential candidate Uefa would consider supporting.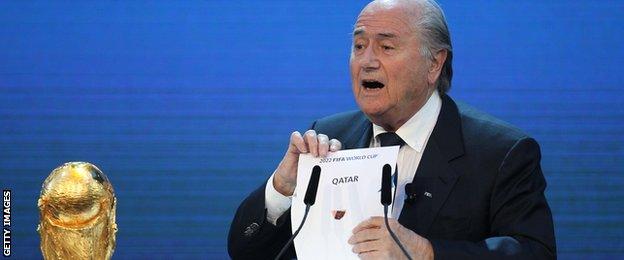 However, given that the Asian Football Confederation (AFC), under the leadership of Shaikh Salman of Bahrain, has declared strong support for Blatter, it is thought he would struggle to secure the necessary votes to win.
In addition, Ali is facing his own fight to remain a Fifa executive, with AFC elections looming, and may yet choose to focus his attention on that objective instead.
He is not expected to announce his decision until late January and declined to comment last week when asked if he would stand.
With former Fifa official Jerome Champagne the only other person to publicly state his wish to be on the presidential ballot paper, attention amongst Fifa insiders is starting to turn to Jeffrey Webb.
He was appointed president of Concacaf, the football confederation for North, Central America and the Caribbean, in 2012 in the wake a major financial scandal involving the former Fifa vice-presidents Chuck Blazer and Jack Warner.
Since then, he has stabilised the organisation's finances and has led Fifa's anti-discrimination taskforce, which has introduced tough new sanctions for racism offences within the game.
Webb has stated he does not intend to run for the presidency in 2015, with the expectation amongst observers that he intends to target the 2019 poll instead.
But as the pressure on Blatter continues to build, and given the recent haemorrhaging of Fifa's credibility, Webb is believed to be considering his options.
He is thought to be undecided over whether now is the right time to attempt to seize power.
Blatter has praised Webb in the past, lavishing praise on his efforts to reform Caribbean football at a Concacaf conference last year.
Shaikh Salman is another name thought to be under discussion amongst insiders, along with Fifa general secretary, Jerome Valcke, as candidates Blatter could potentially accept as a successor.
With five weeks to go until the deadline for presidential candidates to formally declare their candidacy, it is thought Blatter's actions in Marrakech last week, where he backed the redacted publication of the Garcia report once current investigations have concluded, has provided him with sufficient political breathing space to make it onto the list of nominees.
But the man who has led Fifa since 1998 was far from convincing about his candidacy when asked last week by BBC Sport if he would categorically run.
"We will see on 1 February who are the candidates for the election," he said.
"Probably you will see my name there because I've been asked by a lot of national associations to do so. But let me pass Christmas, or let's say the fiestas at the end of the year, and give me then the opportunity to say: 'Yes I will be present.'"
Blatter has also spoken about the "health and good luck" he would need to stand, comments seen by some within Fifa as a sign he may yet choose to stand aside.
Fifa executives are also thought to fear that any further serious allegations in the next few months against the organisation could seriously destabilise world football.
Reports of an FBI investigation concerning Fifa, or the prospect of action by other foreign law enforcement agencies, has led some to believe there should now be an orderly transfer of power.
The possibility of the Garcia report being published in April or May - and the conclusion of disciplinary cases against three serving Fifa executives - is seen by some as a potential opportunity for Blatter to depart under the claim he instigated and completed a thorough reform process.
Four years of controversy
2 December, 2010
- Russia and Qatar chosen to host 2018 and 2022 World Cups
4 October, 2013
- Fifa agrees to set up taskforce to look into alternative dates for 2022 World Cup in Qatar
1 June, 2014
- Sunday Times alleges ex-Fifa vice-president Mohamed bin Hammam paid £3m to football officials in return for supporting Qatari bid
5 September, 2014
- Report into 2018 and 2022 World Cup bidding process submitted to Fifa by Michael Garcia
13 November, 2014
- Fifa releases 42-page summary of Garcia report which clears Russia and Qatar of corruption
13 November, 2014
- Garcia claims summary of his report is "materially incomplete" and contains "erroneous representations"
20 November, 2014
- Garcia and Fifa ethics judge Hans-Joachim Eckert agree to release full report to organisation's compliance chief, Domenico Scala
16 December, 2014
- Fifa deems Garcia's complaint against Eckert's summary of his report is "not admissible"
17 December, 2014
- Garcia quits as independent chairman of the Fifa Ethics Committee's Investigatory Chamber
19 December, 2014
- Fifa agrees to release full Garcia report
A valedictory review by Fifa of his time in charge of world football would also allow Blatter to enter retirement basking in the glow of taking the World Cup to new countries, highlight his work with football associations in conflict zones such as Israel and Palestine and showcase how football has risen in recent decades to be the world's most popular sport.
But should Blatter decide to stay and fight for a fifth term, his opponents are growing in confidence that the right candidate could garner the necessary global support to defeat him.
A majority of 50% of the 209 Fifa member associations plus one additional vote is required to claim victory in the Fifa presidential election.