Gus Poyet: Adam Johnson was going to be replaced before winner
Last updated on .From the section Sunderland
Sunderland boss Gus Poyet was going to replace match-winner Adam Johnson shortly before the midfielder grabbed the only goal against Newcastle.
Poyet contemplated taking off the former Middlesbrough winger in the 81st minute for Will Buckley, who eventually came on for Connor Wickham.
"I was taking Adam Johnson off and for some reason, I didn't," he said.
"Don't ask me why because I don't know, and luckily enough Johnno scored the winning goal, which is fantastic."
Johnson scored in the 90th minute following an excellent counter-attack from a Newcastle corner.
Asked what had prompted his change of heart, Poyet added: "It was the previous action to when the referee was probably stopping to change.
"Adam Johnson went in behind, checked back, missed the chance. What we were looking for was to go in behind - that was Buckley coming on - and Johnno did it, so I said, 'No, no, no, change Connor, number 10'.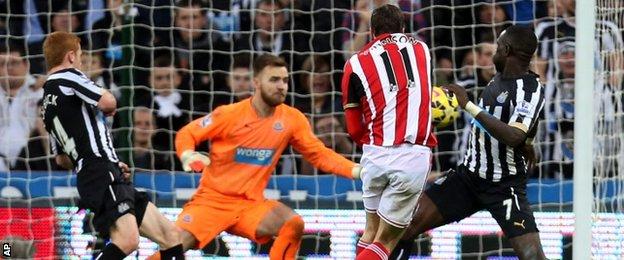 "Decisions - you can call it luck or whatever, but we haven't had too much this year so if it is luck, I'll take it for once."
The victory was only Sunderland's third in the league this season, although they have only lost once in the last eight. It was also Poyet's third successive victory over the Magpies.
"We were able to continue this winning run against Newcastle, which is great for us, without forgetting that the three points are the main thing," he added.
"But it makes it a very special Christmas for us."