Rangers fans chief Drew Roberton has sympathy with club board

By Phil Goodlad
BBC Scotland
Last updated on .From the section Rangers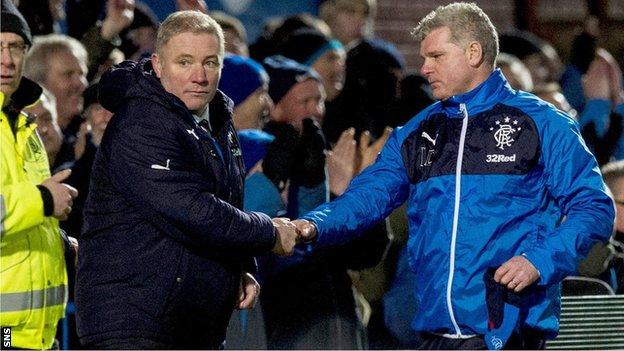 Drew Roberton, general secretary of the Rangers Supporters Association, admits his sympathies probably lie with the board in the stand-off with the club's manager, Ally McCoist.
But they did not agree on a deal to end his three-and-a-half year reign now.
"I've probably got more sympathy with the board in this one," said Roberton.
"Ally as a player and as a manager has been well rewarded and I'm quite sure he will have other irons in the fire.
"It's a really unsatisfactory situation at the minute and I would hope that the board and Ally can sit round the table and come to some amicable arrangement."
By tendering his resignation on his 12-month rolling contract, McCoist has created a dilemma for the Ibrox hierarchy.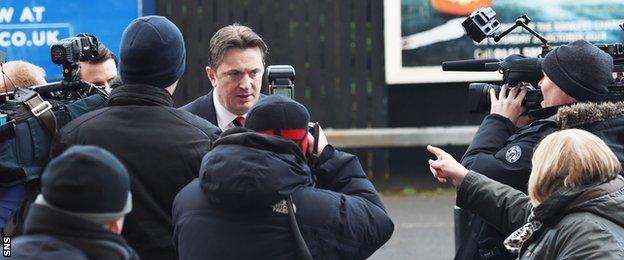 They must either pay him off with a settlement, bring in a replacement but continue to pay him on so-called "gardening leave", or leave him in position to run down his contract.
The lack of cash at Ibrox and the faltering performance of the team in the Scottish Championship makes the decision even more difficult.
McCoist could opt to leave without a pay-off but that is not a scenario Roberton reckons will happen.
He told BBC Radio Scotland: "There are others who have contributed a lot less to the club but who have walked out with large cheques in their pocket, so if Ally is contractually entitled to a pay-off then why should he go without one?
"Yesterday's meeting turned out to be a non-event. You have two parties sitting round the table trying to protect their own interests."
With supporters now staying away from Ibrox, the Rangers board will be keen to see how many fans attend the home game against Livingston on Saturday, and Roberton frets about the effect of the impasse on the players.
"I don't think yesterday's decision will do much to encourage an increase in attendances," he said.
"It is difficult to believe that the players will go out there fully motivated knowing that the manager is unhappy in his position and perhaps doesn't really want to be there.
"Something's got to give and I imagine this will be a topic at the AGM."
Rangers will hold their annual general meeting on Monday.