Club World Cup: Real Madrid ahead for San Lorenzo
By Tim Vickery
South American football writer
Last updated on .From the section Football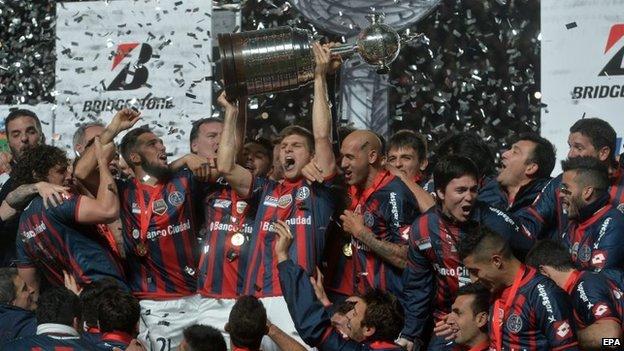 Squeezed around domestic commitments, European champions Real Madrid arrived in Morocco this week for the Fifa Club World Cup - but their South American counterparts, San Lorenzo of Argentina, have been there in spirit for months.
Ever since an emotional night in August when they won the Copa Libertadores, South America's equivalent of the Champions League, San Lorenzo have found it impossible to forget about the Club World Cup.
They drifted through their domestic league, closing the campaign with a morale boosting couple of wins to finish eighth. But it was all build-up to now.
For them, as for any South American side, the Club World Cup is the highlight of their calendar. Many in other continents will feel the same way. But no one in Europe will share the sentiment.
This imbalance is at the heart of the problems faced by the Club World Cup, organised annually since 2005. The competition replaced the annual match between the champions of Europe and South America, a clash which got off to such a promising start.
The European Cup started in 1955. The Libertadores got under way five years later, with the specific intent of crowning a South American champion to take on the Europeans.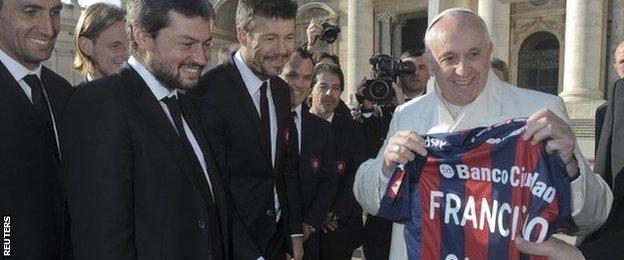 The early ties were epic. By his own reckoning, Pele's best ever performance came in the away leg against Benfica in 1962, when he ran riot as his Santos side won 5-2. For the first few years the games were gripping and intense, well-matched affairs, with plenty of quality and the occasional dose of controversy.
But from the mid-60s things started to go awry. Needing money to pay Pele and the rest, Santos pulled out of the Libertadores, as, briefly, did all Brazilian clubs.
The field was left open for teams from Argentina, at a time when, after the thrashing received at the 1958 World Cup, the romantic approach of the 1940s had given way to something darker and more cynical.
Meanwhile, in Europe, ascendency had swung to the north, starting with Celtic in 1967. The cultural clash between northern Europeans and Argentines led to a series of bruising encounters. The intercontinental clash lost prestige, and some in Europe decided that the whole thing was not worthwhile.
In 1980 the idea was resurrected as a one off game in Japan, but though southern Europe paid more attention than the north, the match never generated anything like the feverish importance placed on it by the South Americans.
In recent times the imbalance has been reinforced by the opening of the global market and the financial chasm between European and South American football.
This, on the one hand, has increased European indifference while, as far as the South Americans are concerned, adding extra spice - this is their chance to put one over those rich, glamorous, arrogant winners of the Champions League.
And there have been South American success - single goal wins for three Brazilian clubs; Sao Paulo (2005), Internacional (06) and Corinthians two years ago.
In contrast with the days of old, though, these South Americans took the field with a tactical approach that was a confession of inferiority.
2014 Fifa Club World Cup fixtures & results:
Playoff round:
10 December - Moghreb Tetouan
0-0
Auckland City - (Auckland won 4-3 on penalties)
Quarter-finals:
13 December - Entente Setif
0-1
Auckland City
Quarter-finals:
13 December - Cruz Azul
3-1
Western Sydney Wanderers
Fifth-place match:
16 December - Entente Setif v Western Sydney Wanderers (16:30 GMT
Semi-finals:
16 December - Real Madrid
v
Cruz Azul (19:30 GMT)
Semi-finals:
17 December - San Lorenzo
v
Auckland City (19:30 GMT)
Third place match:
20 December - TBC - 16:30 GMT
Final:
20 December - at Marrakech, Morocco (19:30 GMT)
Outgunned, their aim was to sneak a goal and grimly hang on. It was the best they could do in the financial circumstances. Brazil's clubs might have much more money that their continental rivals, but lag well behind the European giants.
This year the imbalance is even greater. Completing a miserable year for the country's football, Brazil could not even qualify one team for the semi-finals of the Libertadores.
Instead the trophy was won by San Lorenzo. Average first division salaries and club income in Argentina are roughly a third of those in Brazil - and less than 10% of those in the Premier League or the big two in Spain.
Understandably, then, San Lorenzo are taking something of a pea-shooter army to do battle with Real Madrid.
They will carry a sizeable contingent of fans with him - some 5,000, including Hollywood actor Viggo Mortensen are expected - but the Brazilian clubs, backed by a stronger currency, have been able to take far more to recent versions of the competition.
San Lorenzo, though, will hope for some divine intervention. Of the traditional Buenos Aires clubs they were the first to suffer relegation and the last to get their hands on the Libertadores. But things have looked up since their most illustrious supporter, Cardinal Bergoglio, became Pope Francis.
Just two years ago the club were very close to another relegation. A change of president was important - Newcastle fans might recall that Fabricio Coloccini was so taken with the new administration that he tried to walk out of his contract and go back to San Lorenzo.
And youthful president Matias Lammens (backed by Marcelo Tinelli, a hugely famous TV presenter) had another piece of help from on high.
The first signing of the new administration came recommended by Diego Maradona - it was veteran central midfielder Juan Mercier. With his sound reading of the game, improved distribution and willingness to accept responsibility, Mercier was the most important player in the entire Libertadores campaign.
This, though, speaks volumes about the limitations of a team preparing to take on Cristiano Ronaldo and company.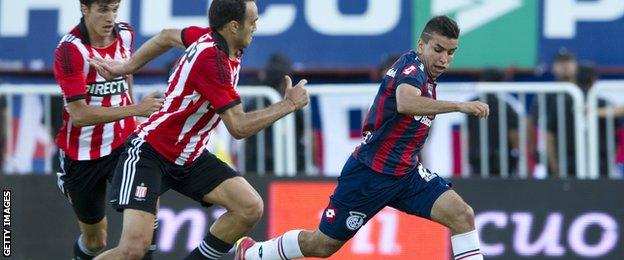 And the last few months have merely emphasised the talent gap between the teams. Real Madrid have added a South American superstar, Colombia's World Cup success James Rodriguez.
San Lorenzo, meanwhile, were losing key players even as they were en route to winning the Libertadores.
Promising support striker Angel Correa went to Atletico Madrid (delayed when a heart condition was discovered, the move has recently been confirmed) and attacking midfielder Ignacio Piatti joined Montreal Impact.
Centre-back Santiago Gentiletti has also moved on, though Colombia's veteran World Cup captain Mario Yepes has come in to replace him.
Buffarini and Mas are an interesting pair of attacking full-backs, Mercier and Ortigoza are sound in central midfield, while Gonzalo Veron and Barrientos (plus the speedy Villalba off the bench) offer a threat down the flanks.
But coach Edgardo Bauza will surely be aware that he can hardly hope to trade punches with Real Madrid. He was in charge of LDU of Ecuador when they only lost by a single goal to Manchester United in the final six years ago, and will presumably have a similarly cautious strategy in mind.
First, though, he needs to get past Auckland City in Wednesday's semi-final. The champions of Oceania have already sprung a major surprise, eliminating Moroccan league winners Moghreb Tetouan and African champions ES Setif from Algeria.
The New Zealanders have appeared in five previous versions of this tournament, without previously hinting as this level of performance.
The conclusion is clear - access to a higher level of competition has taught them lessons, which have been assimilated and applied. And that, for all the European lack of interest, would seem to be a fair justification for the existence of the Club World Cup.