Steve Bruce accuses referee Chris Foy of 'not doing his job'
Last updated on .From the section Football
Hull manager Steve Bruce has criticised referee Chris Foy for "not doing his job" during 10-man Tigers' 2-0 loss to Premier League leaders Chelsea.
Visiting midfielder Tom Huddlestone was sent off in the 60th minute for a late lunge on Chelsea's Filipe Luis.
But a frustrated Bruce argued that Chelsea defender Gary Cahill should already have been sent off for diving.
Bruce said: "If he hasn't dived, I don't know what one is. Chris Foy had one of those awful afternoons."
And he added that what Cahill did was "like something out of Swan Lake - it's that blatant".
Chelsea maintained their 100% record at Stamford Bridge this season with goals from Eden Hazard and Diego Costa, but it was a scrappy and ill-disciplined display.
The match ended with seven yellow cards, including three for diving, in addition to Huddlestone's red, although Bruce argued both teams should have finished the game with 10 men.
Football Focus' Garth Crooks on diving
"Twice, Chelsea players have dived in the first 60 minutes - first Willian and Gary Cahill. It's disgraceful. Managers can't say what I'm about to say - it questions the integrity of the refereeing. Is he intimidated by Stamford Bridge? The referee is not being fair. Cahill is on a yellow card and dived. He should have got another booking for that. The only conclusion you can come to is because it's Chelsea and now the injustice has got the Hull players' blood boiling. They're thinking they might as well take the law into their own hands."
Bruce said Cahill should have been shown a straight red card instead of a yellow for a clumsy first-half challenge on Sone Aluko.
The Hull boss then criticised referee Foy for not booking the Chelsea centre-back when he went to ground inside the Hull box at the start of the second half.
"We could have defended the first goal better, but the big issue in the game is the Cahill situation," said Bruce, whose team are now one place from bottom after nine league games without a win.
"The referee shows his intent because he's booked two players for diving and, for me, Cahill is lucky to be on the pitch for his first challenge.
"We all know what he's trying to do, he's trying to get a penalty. The referee is 10 yards away and there are no excuses. We need him to do his job otherwise diving will keep rearing its ugly head."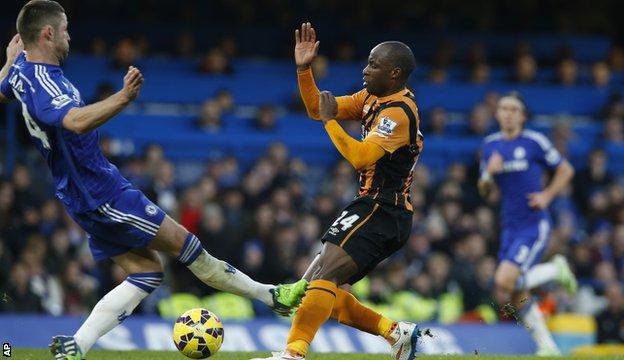 Bruce said he accepted Huddlestone's sending off, but added: "It's frustration, he feels that the referee hasn't done his job properly. When you come to these big clubs and these big stadiums, you want the referee to do his job properly.
"We've had a tough time of late and this is another one where we can feel aggrieved but you have to stick with it. I've seen enough to feel we have the stomach for the winter ahead."
Asked what he and Chelsea manager Jose Mourino were talking about on the touchline, Bruce said: "We were mainly talking about the referee. I hope there's no lip readers otherwise we're both in serious trouble."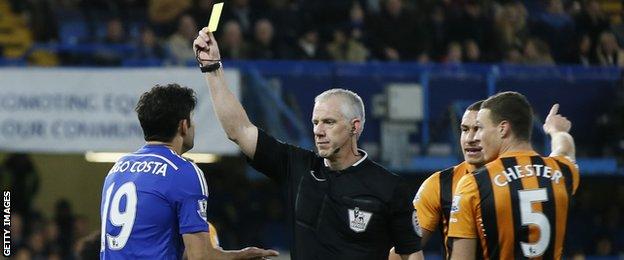 Chelsea manager Jose Mourinho, whose team maintained their three-point cushion over second-placed Manchester City at the top of the table, said it was difficult make judgement on the red and yellow cards from his position on the sidelines.
"It didn't look like a physical game," said the Portuguese.
"We spoke last season about simulation, because we had a situation and I was the first one to say to Oscar - after that Southampton match - that he has to stay on his feet, but the reality is that many players from other teams do that too much.
"In Chelsea we are clean. Willian was in the middle of the pitch, so not even a reason to dive, and I don't think Diego's is a dive."