Tottenham's Emmanuel Adebayor given leave for 'personal reasons'
Last updated on .From the section Tottenham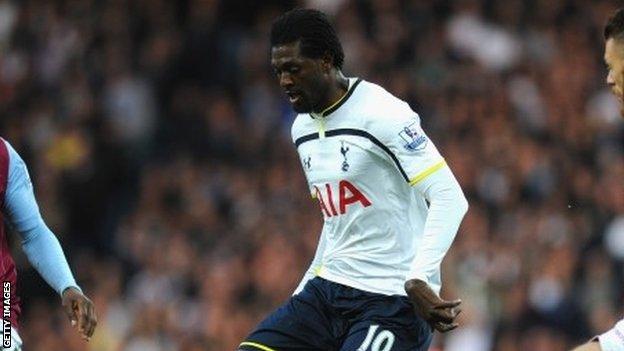 Striker Emmanuel Adebayor has been given permission by Tottenham to return to Togo for personal reasons.
This means the 30-year-old will miss Thursday's Europa League tie at Besiktas, although he was already a doubt because of fitness issues.
Tottenham did not divulge any further details, stating in a tweet it was a "private matter".
The former Arsenal player has made 12 appearances for Spurs this season and has scored twice.
Adebayor has not played for Tottenham since the November international break when Togo failed to qualify for the 2015 Africa Cup of Nations.
Hamstring and back injuries followed by a virus have delayed his return, while last week manager Mauricio Pochettino dismissed suggestions the forward might leave in the January transfer window.
"All players that we have in the squad are part of the plans for the future," the Argentine said.
The Togo international was also given a spell of compassionate leave by former club Manchester City in 2010 following a deadly gun attack on the national team bus at the Africa Cup of Nations.