Monaco advance despite scoring only four Group C goals
Last updated on .From the section European Football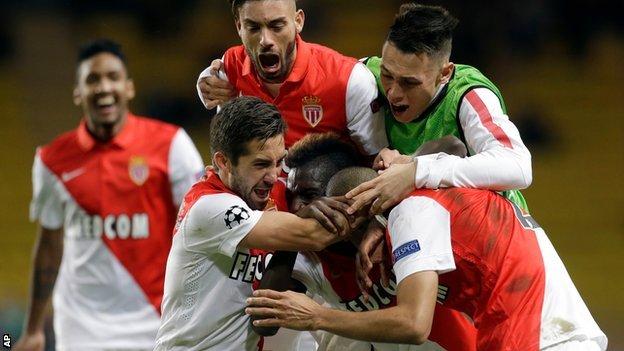 Monaco advanced to the Champions League last 16 as Group C winners, despite scoring only four goals in six games.
The French side completed their group campaign with a 2-0 win over Zenit St Petersburg, leapfrogging Bayer Leverkusen to take top spot.
Monaco have conceded just once so far in the competition this season.
Italian champions Juventus secured their place in the knockout stages after a engrossing, but scoreless draw at home to Atletico Madrid.
Who has qualified?

Winners
Runners-up
Group A

Atletico Madrid

Juventus

Group B

Real Madrid

Basel

Group C

Monaco

Bayer Leverkusen

Group D

Borussia Dortmund

Arsenal

Group E

Bayern Munich

Manchester City, Roma or CSKA Moscow

Group F

PSG or Barcelona

PSG or Barcelona

Group G

Chelsea

Schalke or Sporting Lisbon

Group H

Porto

Shakhtar Donetsk
Juve dominated possession, but struggled to create chances against last season's runners-up and could have lost with Koke's low shot flying just wide.
The result meant that Olympiakos, who scored 10 goals during their campaign, but conceded 13, have to settle for Europa League football.
Only Roma and Villarreal, with three goals in the 2002-03 and 2005-06 group stages respectively, have scored fewer goals than Monaco and made the knockout rounds.