James Tomkins regrets overreacting to Kevin Mirallas push
Last updated on .From the section Football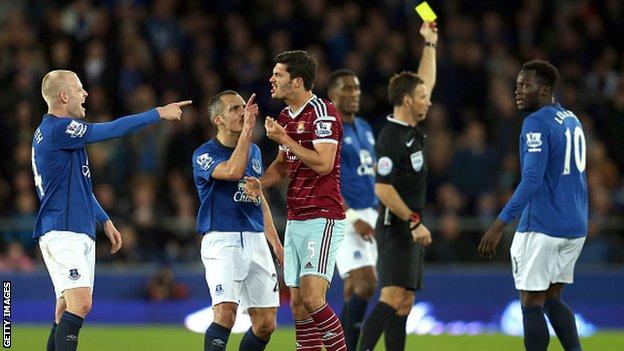 West Ham's James Tomkins has said he regrets trying to get Kevin Mirallas sent off by overreacting to a push from the Everton midfielder.
Tomkins, 25, fell to the turf clutching his face after being shoved in the chest by Mirallas during a heated match which Everton won 2-1.
Hammers manager Sam Allardyce described Tomkins' actions as "silly".
And Tomkins said: "I wouldn't want to do anything like that again. I've taken plenty of stick about it."
Although Mirallas admitted pushing Tomkins was "stupid", the 27-year-old Belgian criticised the Englishman for not setting a better example.
In telling the Evening Standard he would never play-act again, Tomkins said he was thankful Mirallas was not sent off.
"As a player, I'm against what I did and I wouldn't have wanted it to happen to me," he said.
"At the time I probably did want to get him sent off but, looking at it now, I shouldn't have done it."