Massimo Cellino: Leeds ownership appeal may 'damage' club
Last updated on .From the section Football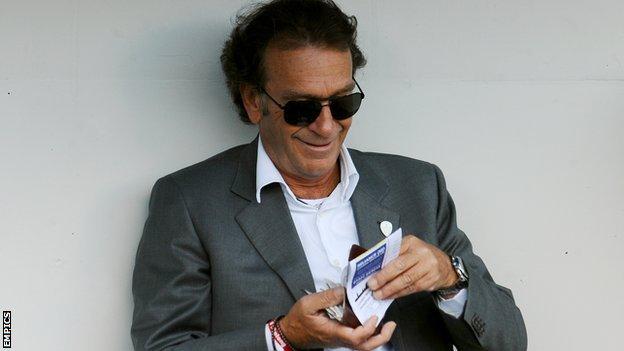 Massimo Cellino fears Leeds United may be 'damaged' as he appeals against his disqualification by the Football League from owning the club.
"My hope is to make as little damage as possible - first to Leeds, then second to the other clubs and third to the League," Italian businessman Cellino told BBC Radio Leeds.
"It's a problem that is going to cost Leeds and other clubs a lot of money."
The League says Italian businessman Cellino has breached its "fit and proper" ownership test after obtaining documents from an Italian court, which had found him guilty of tax evasion.
"I have to appeal because this is all a big mistake," he said.
"It was a mistake from the beginning. The lawyers who are advising the Football League started off making a mistake, and to cover that they keep on making more.
Cellino 'fantastic' for Leeds
"It has maybe not been reflected in our league position, but the marvellous victory over top-of-the-table Derby County on Saturday shows that there has been investment on the pitch and also made in the club. He [Cellino] has done a fantastic job."
Paul Keats, chairman of the Leeds United Supporters' Trust
"I am honest. I can show how I have run my club every day and how I have paid the bills and fixed this club. I am running this club the proper way.
"All the lawyers I have spoken to have told me that I am in the right position."
Cellino is entitled to return to the club and resume control from 18 March next year because his conviction will be deemed spent.
He was fined £502,000 (600,000 euros) in March this year after being found guilty of failing to pay import duty on his yacht.
The League subsequently blocked his deal to take over Leeds, but an independent QC overturned the decision on appeal in April, allowing the takeover to go through.
Leeds were losing about £1m a month at the time of Cellino's takeover, but the Italian said in July that he had cleared the club's debts.
On Saturday, the former owner of Italian club Cagliari announced he was going to invest a further £20m into the club, the same amount he says the club have lost in the past year.
Cellino, who has just returned from Bahrain where he has been meeting with the club's other owners GFH Capital, joked that he would only resign his position if it would guarantee that Leeds would gain promotion to the Premier League this season.
Neil Redfearn's side are currently 15th in the Championship, but only eight points outside the play-off places.