Leeds owner Massimo Cellino to appeal against disqualification
Last updated on .From the section Leeds United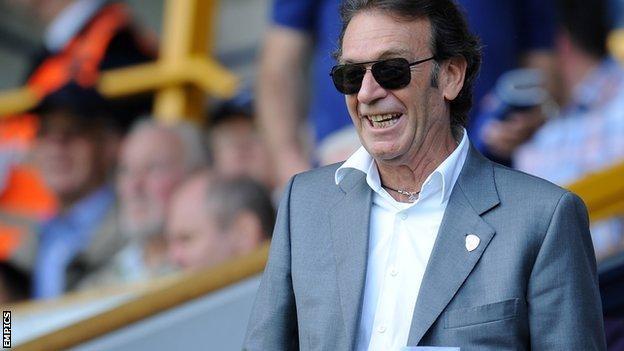 Leeds United owner Massimo Cellino will appeal after being disqualified by the Football League and asked to resign from the Championship club.
The League took its decision after obtaining documents from an Italian court, which had found Cellino, 58, guilty of tax evasion.
The League says Cellino has breached its "fit and proper" ownership test.
"I'm going to show them they are wrong. I'm sure the lawyers of the League have not done a proper job," Cellino said.
He added on Sky Sports News: "I'm not dishonest. I'm not guilty yet, that's it. If I'm going to have to buy a ticket to watch the game I will do it."
The Italian is entitled to return to the club and resume control from 18 March next year because his conviction will be deemed spent.
Cellino was fined £502,000 (600,000 euros) in March this year after being found guilty of failing to pay import duty on his yacht.
The League subsequently blocked his deal to take over Leeds, but an independent QC overturned the decision on appeal in April, allowing the takeover to go through.
Reacting to the League's ruling, Leeds issued a statement saying they were in the process of taking legal action.
Paul Keats, chairman of the Leeds United Supporters Trust
"It has maybe not been reflected in our league position, but the marvellous victory over top-of-the-table Derby County on Saturday shows that there has been investment on the pitch and also made in the club. [Cellino] has done a fantastic job."
They added it was not clear who would run the Yorkshire club in the interim and that removing Cellino only to reappoint him in March would be 'destabilising for the club'.
Leeds United Supporters Trust chairman Paul Keats has given unequivocal support to Cellino and says he has improved the club's fortunes more than any other recent owner.
"We have suffered more than other fans at the hands of ruthless and difficult owners. Under Cellino, progress has been fantastic," he told BBC Radio 5 live.
"He has done more for Leeds United in seven or eight months than previous owners did in 12 years.
"Leeds need consistency, whether it is Mr Cellino or someone else putting money in the club. But he's given us stability that we've not had the past few years.
"Success is derived from stability and it is something we've not had in 12 years. If we have it, success will return."
Kevin Blackwell, who was manager at Leeds from May 2004 to September 2006, told 5 live: "It is a massive football club that really for the past 10 years has been dragged through the doldrums.
"I am with Neil Warnock [Leeds manager from February 2012 to April 2013] at the moment at Crystal Palace. We were having some dinner today when the news broke and we just both shook our heads.
What next for Leeds United?
"The club has got to be run and we don't know exactly who will do that. I understand that Massimo is out of the country at the moment and they'll have to discuss what happens next when he gets back. The big thing here is that his conviction will be spent in March so as long as no other unspent convictions come up then he will be free to take the reins then."
BBC Radio Leeds reporter Adam Pope
"Leeds are sorely missed from the Premier League, it's a sad situation and a real frustration for the fans."
Leeds were losing about £1m a month at the time of Cellino's takeover, but the Italian told BBC Radio Leeds in July that he had cleared the club's debts.
On Saturday, the former owner of Italian club Cagliari announced he was going to invest a further £20m into the club.
His seven months in charge at Elland Road have featured a number of managerial changes.
Brian McDermott left his position as manager in May and was replaced by former Forest Green boss Dave Hockaday.
Hockaday lasted just six games and was replaced by former Slovenia international Darko Milanic, but he failed to win any of his six games in charge and was sacked in October.
Neil Redfearn was appointed head coach last month and Saturday's win over leaders Derby moved them up to 15th in the table.