Lionel Messi: Valencia to ban fan who threw bottle at Barcelona star
Last updated on .From the section European Football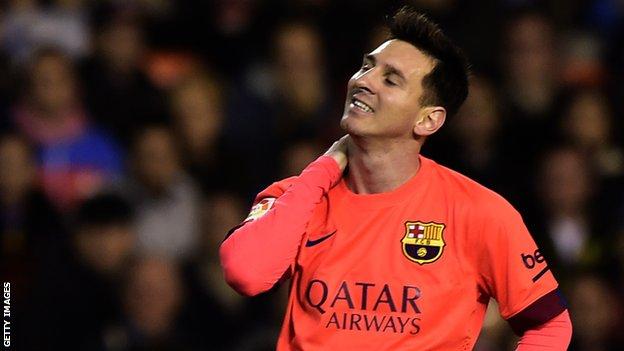 Valencia say they will ban for life the fan who hit Barcelona forward Lionel Messi on the head with a plastic bottle in Sunday's La Liga match.
Messi was not injured in the incident, but Valencia said in a statement they "regret and condemn the incident".
"The club will endeavour to locate the person who threw the bottle," Valencia added.
"They will be banned for life from the Mestalla. Valencia CF operate a zero tolerance policy on such actions and rigorously enforce all security measures set out by legislation."
Barcelona coach Luis Enrique says Spanish clubs are "fighting against" fans trying to cause trouble at games.
"What happens inside the grounds, yes, you can control," he said.
"You can have at any ground a madman who is desperate to cause trouble but we are fighting against that."
Earlier on in the day, a supporter died after violent clashes between fans before Atletico Madrid's home match against Deportivo La Coruna.
"Those things that happened this morning, that was really unfortunate but it doesn't represent football," added Enrique.
"People go to football matches and use a club's colours to hide behind and look for violence. That has happened for a long, long time and we have to take action against that.
"The teams, the clubs and league are trying to do what they can. They will have to take drastic measures but we have to eradicate violence from football and society."