Garth Crooks's team of the week: Mignolet, Kompany, Fer, Rooney

By Garth Crooks
Football Analyst
Last updated on .From the section Football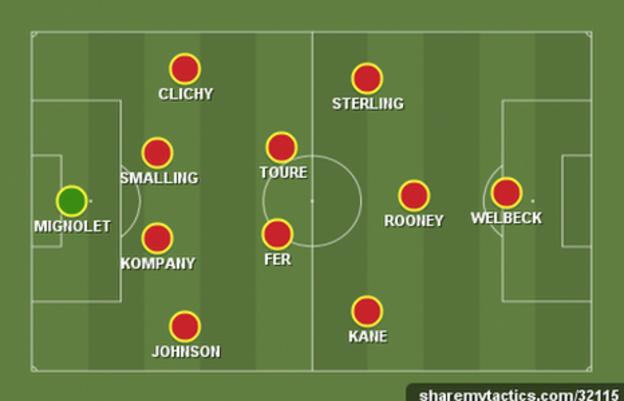 Chelsea's winning run came to an end with a draw at Sunderland, while Manchester City leapfrogged Southampton into second place with a win at St Mary's.
Manchester United are improving and remain in fourth, while Tottenham went seventh after beating Everton.
Further down, QPR moved off the foot of the table with a win over Leicester, who drop to last place in the Premier League.
Following the weekend's action, take a look at my team of the week and see if you agree with my choices.
GOALKEEPER - Simon Mignolet (Liverpool)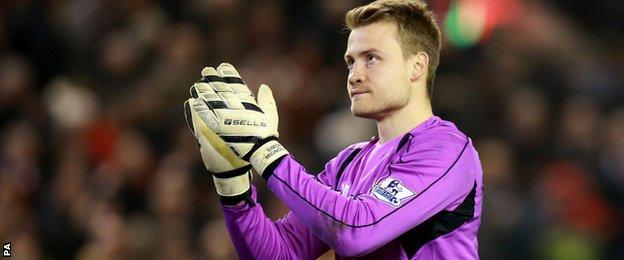 Poor old Simon has taken quite a bit of stick lately about his performances for Liverpool. There was even talk that he might have been dropped for the game against Stoke. When you play for a big club there's no hiding place but credit where credit is due because the Belgium international played well in his side's 1-0 win against the Potters.
His general handling of the ball, especially on crosses, was much better but it was his save from Bojan Krkic from the edge of the box that did it for me. It looked like a goal the moment it left the Spaniard's boot, and had it not been for Mignolet's magnificent fingertip save it may have decided this fixture. A game-changing moment if ever there was one.
DEFENDER Glen Johnson: (Liverpool)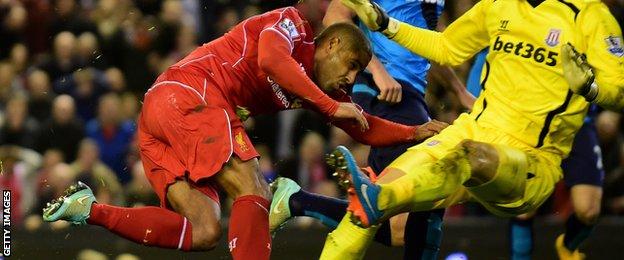 The England full-back hasn't set the world alight with his performances this season but his contribution against Stoke was much more like the player of old. His goal epitomised Liverpool's determination to take all three points. Not only was he brave to put his head where boots were flying, but he did so at some considerable cost to himself.
DEFENDER Vincent Kompany (Manchester City)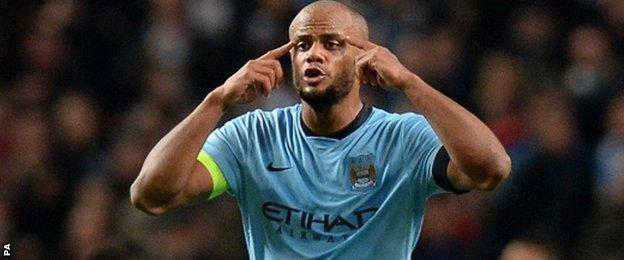 A lot of questions have been raised about Vincent Kompany's ability to get his team-mates to produce the goods on a regular basis this season and in particular without David Silva. Well, against a Southampton side in excellent form, Kompany inspired his side to a 3-0 win with a dominant performance. City basically tore them to shreds, with 10 men.
Their power and pace was all to evident the longer the game went on. Welcome to the big time, Southampton.
DEFENDER Chris Smalling (Manchester United)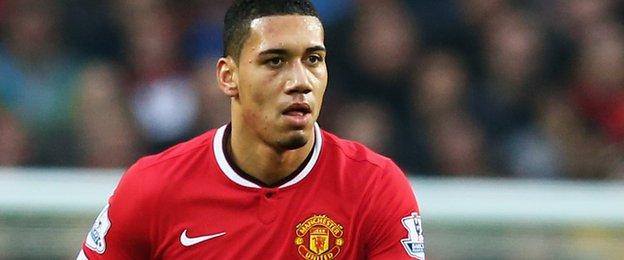 He's doesn't score many goals, and certainly not with his feet. The justification for goalline technology was demonstrated once again as Smalling's strike just about squeezed past the despairing Hull goalkeeper Allan McGregor.
With one goal under his belt, the centre-back went searching for another after some excellent work by Juan Mata. It is always the same with defenders, they score one goal and develop the taste for more.
DEFENDER - Gael Clichy (Manchester City)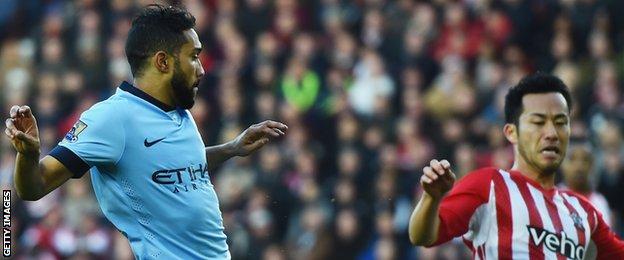 There was a time when Gael Clichy couldn't get into Manchester City's starting line-up; now he's starting to feature in my Team Of The Week with monotonous regularity.
He threatened to score last week when he hit the post with a ferocious shot against Swansea. Against Southampton he went one better and finished a most exquisite move to put the fixture well beyond the Saints. Another superb performance from the Frenchman.
MIDFIELDER Leroy Fer (QPR)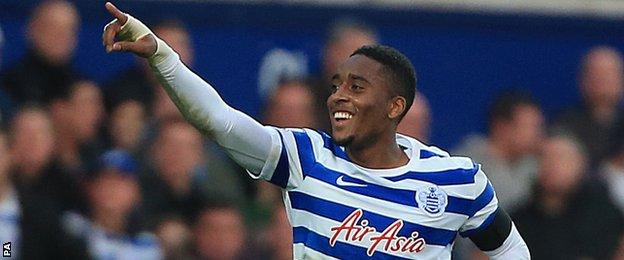 It was his first goal for the Hoops since his arrival from Norwich City and it couldn't have come at a better time for Harry Redknapp. Leroy Fer's contribution throughout this match was first-rate, but it was the timing of his runs into the Leicester City penalty area that wreaked havoc for the visitors.
If the Dutchman continues to perform like this I can see QPR pulling clear of the relegation dogfight they appear to find themselves in. An outstanding performance to help his side win 3-2.
MIDFIELDER Yaya Toure (Manchester City)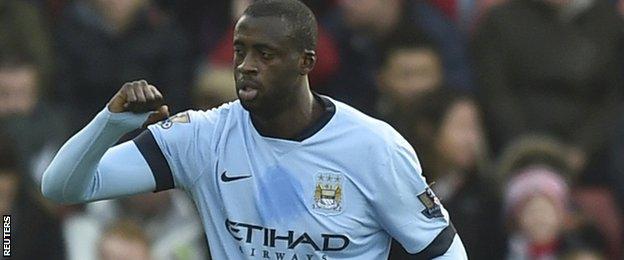 The Ivorian has received mixed reviews this season but continues to plug away under the direction of Manuel Pellegrini, who appears to have complete and total faith in the former African Player of the Year.
For the second consecutive week, Toure stamped his hallmark all over a game with a powerful performance and a goal that has proved to be the death knell for the opposition. Not bad for a player who is still short of his best form.
MIDFIELDER Raheem Sterling (Liverpool)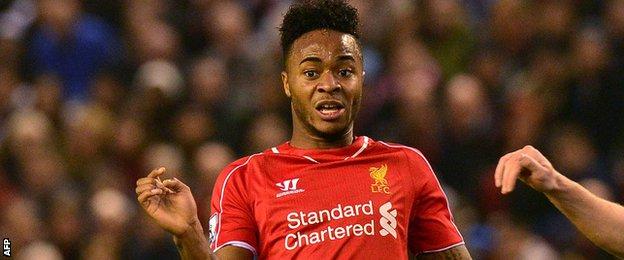 The first half was a non-event but with this lad in your team something was bound to happen sooner or later. He kept asking questions of the Stoke defence with his darting runs and attacking menace, but it was his positional awareness in defence that impressed me the most.
His goalline clearance from Mame Biram Diouf was absolutely brilliant and one of the contributing factors, along with his tireless display, why Liverpool went on to win this game.
FORWARD Wayne Rooney (Manchester United)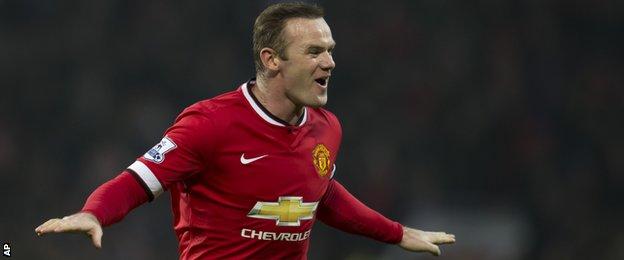 The term Captain Fantastic has normally been reserved for Manchester United legend Bryan Robson. However, I get the feeling that this hallowed phrase is now being bestowed upon Mr Wayne Rooney, especially after displays like his in the win over Hull City. The England centurion is bearing down heavily on Sir Bobby Charlton's international goalscoring record and has won all the domestic honours with one of the greatest clubs in the world.
I really do think that Paul Scholes may have to rethink his comments about Wayne Rooney not fulfilling his true potential. It's not entirely his fault that he has had to play in Manchester United and England teams that have fallen short of expectations.
FORWARD Harry Kane (Tottenham)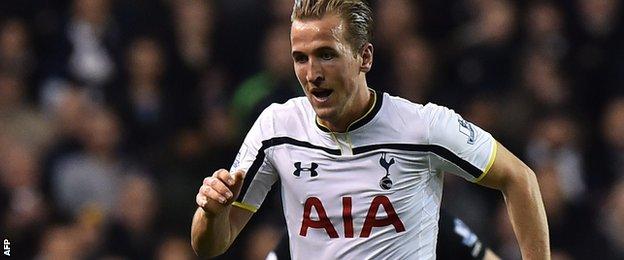 To be perfectly honest I had chosen Leicester's Esteban Cambiasso before Harry Kane showed up against Everton. The Tottenham youngster has been instrumental in a run of games that has produced nine points from three games, and transformed the club's fortunes.
Spurs were a little fortunate against Aston Villa and Hull City to come away with all the points. There was nothing lucky about their 2-1 win against Everton or the performance from the man at the heart of their victory. Harry Kane was simply superb and is proving to be a real find by Tottenham. The most convincing performance by Spurs this season.
FORWARD Danny Welbeck (Arsenal)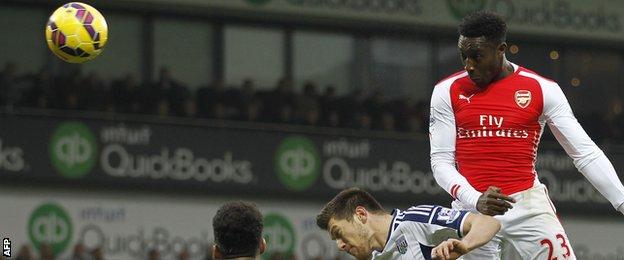 The more I see Danny Welbeck play for Arsenal, the happier he looks. It's not just the fact that he's scoring goals but that Arsenal fans now believe in him. The technique for his headed goal against West Brom was so impressive it reminded me of Malcolm Macdonald when he was at Highbury. He wasn't a bad player either.