Man City: 'Aguero plays for real like I would play a video game'
Last updated on .From the section Football

MOTD2 pundit Jermaine Jenas expands on his TV analysis of how Jesus Navas played an important role in Manchester City's 3-0 win over high-flying Southampton at St Mary's on Sunday, and explains why Frank Lampard disappears like a ghost and Sergio Aguero plays like he is in a computer game.
It was mainly thanks to Sergio Aguero that Manchester City ended up convincing winners over Southampton but the champions had to stop Saints from playing before they made sure of their victory.
City managed that because manager Manuel Pellegrini made some important tactical decisions that saw him use attacking players like Jesus Navas and Samir Nasri to nullify some of Southampton's biggest threats.
Both Saints full-backs, Ryan Bertrand and Nathaniel Clyne, usually play a big part in their attacks but Pellegrini ensured his side never looked vulnerable down their flanks, and also balanced out the battle in the middle of the pitch too.
Nasri helped Gael Clichy out wide on the left when Saints had the ball but came inside when City had possession.
Average position of touches by Man City players vs Southampton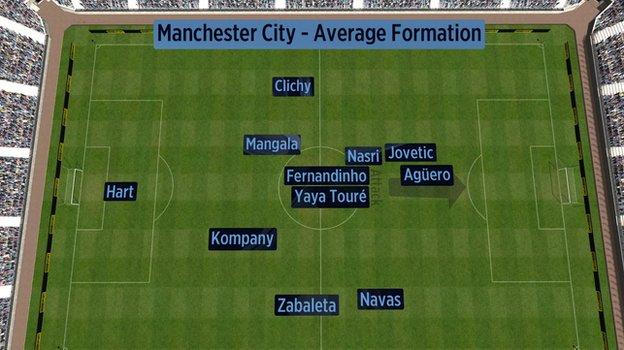 Pellegrini knew he needed the numbers in the centre at St Mary's because Southampton are strong defensively down the middle through Victor Wanyama, Morgan Schneiderlin and Steve Davis. Alongside Yaya Toure and Fernandinho, Nasri gave creativity too.
When City scored and Saints had to come forward more, he took Nasri off and put on James Milner, who stayed wide and gave Clichy more help against Clyne.
Navas wins battle with Bertrand
Pellegrini's real masterstroke was going with Pablo Zabaleta and Navas down City's right.
In recent weeks, a lot of Southampton's most creative play has come from Bertrand breaking forward down that side.
He overlaps really well, also makes runs inside the opposing full-back and is a constant threat, as he showed in their 1-1 draw with Aston Villa last week when his run and cross led to Saints equalising.
I think Pellegrini has spotted that and thought 'if I can stop Bertrand, I will cut off a big source of Southampton's attacks'.
He did that by picking Navas, but the reason Pellegrini's plan worked did not rely on his winger doing any defending.
Jesus Navas's touches against Southampton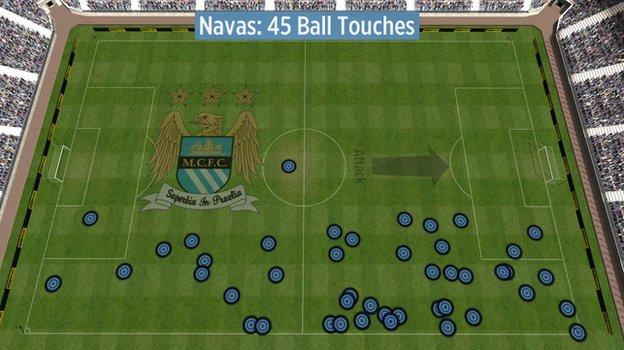 Yes, you saw Navas back in his own area making a clearance or backing up Zabaleta by City's bye-line, but the main thing he offered was a threat.
Bertrand knew Navas is so quick that he would probably beat him for pace if City broke away and that will have been in the back of his mind all game.
He did not push up as high as he usually would, so did not give City the same problems he has caused most teams this season.
Lack of focus lets Lampard wrap up the points
This was meant to be a chance for Southampton to lay down a marker ahead of their games against Arsenal and Manchester United in the next eight days, but they will be disappointed with their display.
Saints had their chances in the first half, but it did not seem to me like they ever had a real foothold in the game.
Ronald Koeman's side huffed and puffed after they went 1-0 down but City always looked the better team, even when Eliaquim Mangala was sent off with 16 minutes to go, and the really worrying thing for Saints was the way they capitulated before the end.
I don't know if fatigue came into it - sometimes, before big games like this, you can over-train and Southampton definitely looked tired, especially in midfield.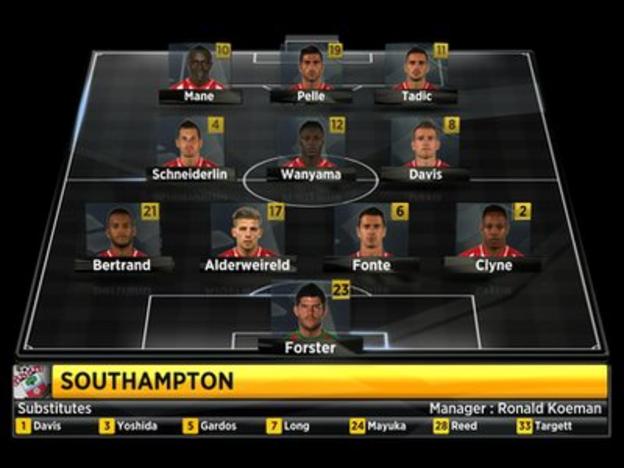 Schneiderlin had to come off at half-time and Wanyama looked exhausted after 70 minutes.
I don't know if that was a factor in Toby Alderweireld failing to track back properly when Frank Lampard made it 2-0 with 10 minutes to go.
Alderweireld was jogging back, when he should have been sprinting in that situation because his sole job as a defensive midfielder - he changed position from centre-back when Schneiderlin went off - is to stop Lampard getting a shot away.
That comes down to focus as much as anything else, however. I have played against Lampard on numerous occasions and a big part of his game is doing exactly what he did to Alderweireld.
Frank is not quick, but he is so clever. What he will do is jog next to you, watching you and waiting for you to look for where the ball is and take your eye off him.
You only turn your head for a second to see what is happening in the game, but that is all it takes. You look back, and he has gone.
To stop him, I used to watch him more than I watched the ball because I always felt he was the danger - if the ball drops to him on the edge of the box I had to be there to stop him.
Alderweireld has not done that, and paid the price. Lampard's goal made certain of City's victory.
City flying but Saints must stay positive
He did not follow up his hat-trick against Bayern Munich with another goal but, yet again, Aguero was brilliant to watch up front for City.
Against Saints, Aguero went looking for the ball all over the pitch and the most impressive thing was his movement when he got it. He plays for real almost like I would play a computer game.
Sergio Aguero's touches against Southampton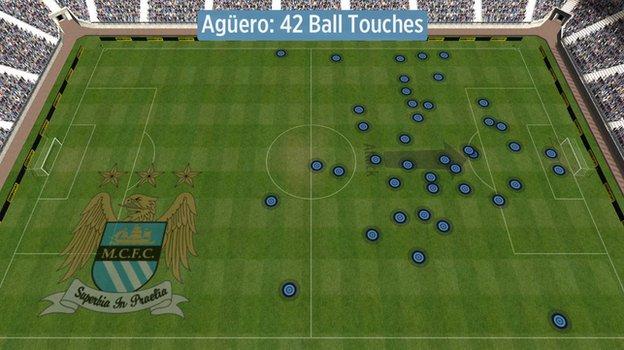 Aguero was twisting and turning out of challenges and past players and doing things that, as a footballer, I know are not easy.
I am talking about things like when he is running with the ball, then just stops dead to leave the whole defence heading in the wrong direction.
City would not have beaten Bayern Munich on Tuesday without him, and the difference that win has made is immense.
They showed so much confidence from the start on Sunday, although I think it also helped that they were playing Southampton at St Mary's rather than, say, somebody like Crystal Palace at Etihad Stadium.
Saints tried to pass the ball and create things and they were at home so they were never going to just sit in and try to make it difficult for City.
It was never going to be a scrap because Southampton do not have those types of players, but I think Koeman's biggest mistake was that he tried to play the same way against City that he has done against every other team so far this season.
Koeman tried to beat them using a style that suited City but he needs to stay positive because, in the majority of games this season, his team are good enough to win by playing that way.