Rangers seek £8m investment following preliminary results
Last updated on .From the section Football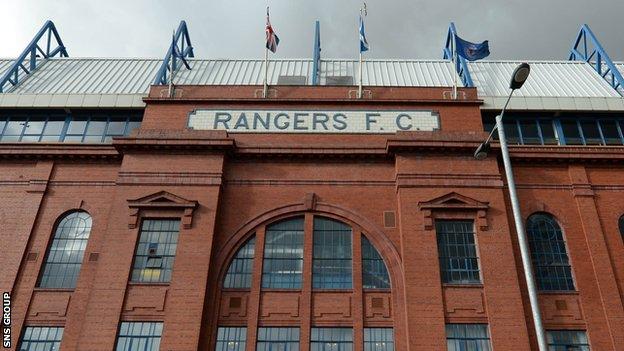 Rangers will seek a fresh share issue after announcing an operating loss of £8.3m for the 12-month period to 30 June 2014, with fresh funding needed as soon as January.
However, the preliminary results report warned they would need an extra £8m investment in the next 12 months.
The club say costs have been "significantly reduced", and are down on the previous year's £14.4m loss.
Club directors say they have been "approached by several parties offering funds on a secured basis".
They added: "Conversations are at an early stage but it does appear that a commercially acceptable agreement can be secured."
Auditors have included an emphasis of matter paragraph, highlighting that there is "material uncertainty on the Group's ability to continue as a going concern".
From Rangers annual accounts
Staff costs fell from £17.9m to £14.7m - staff numbers dropped from 196 to 175
First-team wage bill was 26% of turnover - down from 43% the previous season
Recently-departed chief executive Graham Wallace earned £378,000 in less than eight months and secured £100,000 pay-off
Wallace's predecessor, Craig Mather, received £350,000 severance package
Former finance director Brian Stockbridge received £216,000 severance package and made £189,000 on a share option but handed back £98,000 bonus money
Former director Philip Nash made £131,412 in consultancy fees in six months
Chairman David Somers said: "Challenges still remain and despite additional financing having been secured over the year, further funding is necessary to ensure the club's ability to move forward successfully to achieve the goals we all seek and expect of Rangers Football Club.
"To this end the board will be seeking shareholder approval at the forthcoming AGM to issue additional shares to ensure maximum flexibility for the company to raise equity finance and provide the financial capability required to develop the club in the longer term."
The AGM will be held at Ibrox on 22 December.
Financial highlights from the report show revenue is up by 32% to £25.2m, retail revenue increased to £7.6m from £1.6m, and sponsorship and advertising rose to £1.5m.
The club's independent auditor, Deloitte, added: "The group requires additional funding to continue to meet its liabilities as they fall due.
"The group has made key assumptions in relation to its ability to secure further funding in addition to the timing and value of season ticket income, increases in matchday income and sponsorship, the timing and value of dividends and further cost reductions.
"These conditions around the need to secure further funding, along with the details provided in note 1 of the financial statements, indicate the existence of a material uncertainty which may cast significant doubt over the group's ability to continue as a going concern and therefore that the group may be unable to realise its assets and discharge its liabilities in the normal course of business."
The note states that Rangers do expect promotion to the top flight this season, despite falling nine points behind Hearts in the Scottish Championship last weekend, with a consequent uplift in season ticket income and other revenue in the summer.