Coventry City: Wasps to dig up Ricoh Arena pitch in summer
Last updated on .From the section Football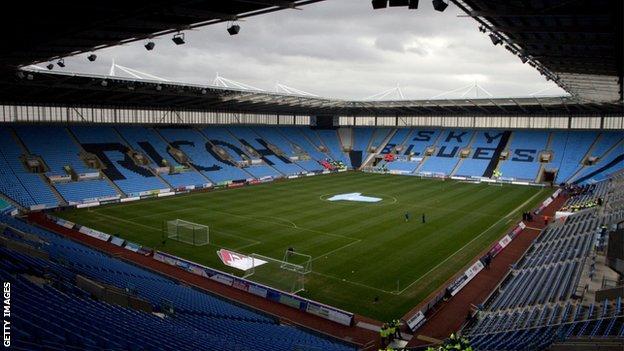 Wasps chief executive Nick Eastwood has said the Ricoh Arena pitch will be ripped up and replaced this summer.
With three weeks still to go before Wasps make their debut at the nine-year-old stadium, the Ricoh's new owners are already concerned.
"We recognise the challenges with the pitch," Eastwood said.
"And we have sought to address this immediately," he told BBC Coventry & Warwickshire.
"Wasps appreciate the importance of ensuring the playing surface is in first-class condition for every match and have therefore taken the decision to install a new pitch at the end of this season.
Rebranding at the Ricoh Arena
The Wasps logo will be situated prominently on the exterior of the Ricoh Arena and on internal areas, including the Stadium bowl itself. The CCFC logo will continue to be displayed alongside the Wasps logo in most cases.
There are no plans to change the sky blue seat colours.
The North Stand will be renamed the Alan Higgs Charity Stand. The charity will receive 50 pence for every ticket sold for rugby matches - not for football matches.
"This will be a hybrid reinforced pitch able to withstand the demands of both football and rugby matches, with a mixture of natural grass and synthetic fibres.
"For the rest of this season an expert will work on it to deal with immediate concerns."
Following Wasps' acquisition of a 100% shareholding in the Ricoh Arena and prior to their first game at their new home against London Irish on 21 December, Wasps have also reassured Coventry fans that any cosmetic changes to the stadium will be minimal.
"We understand the Ricoh is home for Sky Blues supporters and we hope they also understand Wasps' desire to make our players and supporters feel at home here too," Eastwood added.
"We are proud to have found a magnificent permanent home where we can put down roots.
"We have had a number of very constructive meetings with representatives of Coventry City and have explained our plans to them. We also have had a wide-ranging discussion on many areas in which the two clubs could potentially cooperate in the future. The discussions were positive."