Laura Wareham: Broken neck keeper hopes to return to football
Last updated on .From the section Women's Football
Newcastle United women's goalkeeper Laura Wareham hopes to continue playing despite suffering a suspected broken neck for a second time.
Having broken her neck in 2011, she had an X-ray that showed a break, although a CT scan came back clear.
"I can't wait to be back, it doesn't scare me," Wareham told BBC Newcastle.
"I just cannot wait to get my boots on and gloves on and get back training with the girls."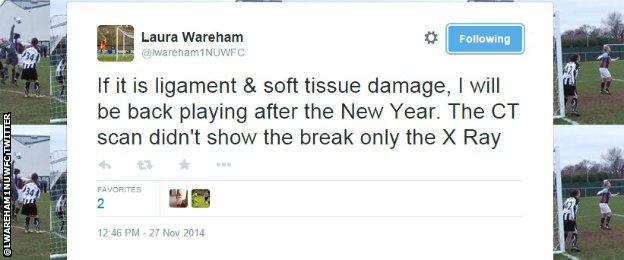 Wareham is hopeful the injury is just ligament damage, based on the CT scan, and will meet a neurologist next Tuesday to assess further X-rays, although she is currently in a hard collar.
The incident, involving Wareham herself, defender Kate Brooks and a Bradford striker, seemed innocuous at first.
Both players received physio attention, but only Brooks initially left the field for treatment.
"I was more concerned about my defender Kate because her nose was pouring with blood," added Wareham.
"The physio came to me as she thought I'd hyper-extended my neck and I carried on playing not thinking anything of it, but there was no back pain or neck pain.
"I felt really dazed, caught the ball and then had a sudden pain up my back - they stopped the game but I was really angry to come off."