Arsenal midfielder Mikel Arteta could be 'out for a while'
Last updated on .From the section Football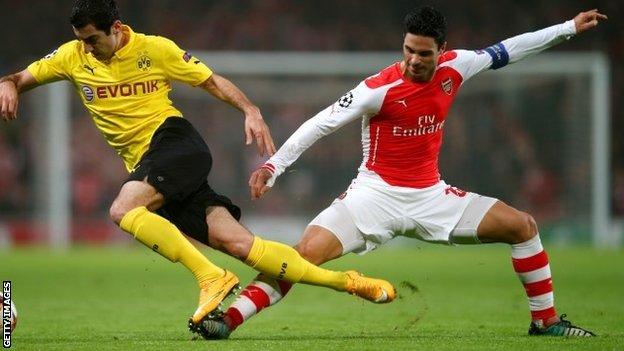 Arsenal captain Mikel Arteta could be "out for a while" as Arsene Wenger's injury concerns deepened following the 2-0 win over Borussia Dortmund.
The 32-year-old Spanish midfielder suffered a calf problem in the second half of the win which clinched their place in the knockout stages.
Goalscorer Yaya Sanogo also came off with a hamstring injury.
"It's difficult to take on the chin at the moment. You go in to many games and need everyone available," said Wenger.
That double blow follows the one last weekend when England midfielder Jack Wilshere and goalkeeper Wojciech Szczesny came off against Manchester United.
Wenger said that Wilshere, 22, will see a specialist on Thursday, who will decide whether he needs an operation.
Other key players sidelined include winger Theo Walcott, full-back Mathieu Debuchy and midfielder Mesut Ozil.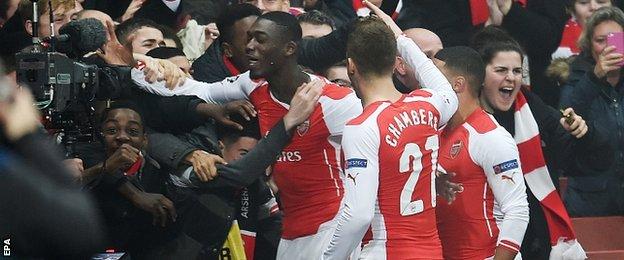 Victory over the Bundesliga runners-up secured Arsenal their place in the knockout stage for the 12th successive season, and in the second stage of the competition for the 15th consecutive occasion.
Wenger was recently criticised by major club shareholder Alisher Usmanov. When asked whether the Gunners' consistency was taken for granted, the French manager said: "I don't try anymore to think what people think. What is important is that we are united.
"This team has a top-quality attitude and we have shown after the disappointment on Saturday that we were united in the game, determined and committed."
Wenger's side had lost the previous two matches coming into the match at the Emirates Stadium, including the 2-1 defeat at home by United.
"We were more under pressure because on Saturday we played well but maybe we were victims of our generous attitude going forward," he said. "Here we had a bit more urgency to defend, especially when we were 1-0 up."
Wenger also praised 21-year-old Sanogo for scoring his first competitive goal for the club: "He's a young boy but he has presence, character and he's naturally committed. He has a natural, aggressive attitude up front that is vital and very important."