Truro City ban seven supporters after Dunstable Town fireworks
By Brent Pilnick
BBC Sport
Last updated on .From the section Football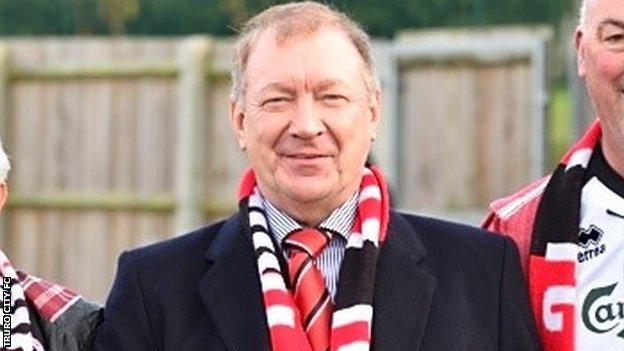 Truro City have banned seven fans for letting off fireworks at their Southern Premier League game at Dunstable Town.
One supporter then confronted officials in the boardroom after the game.
The seven have been banned until 12 January and their conduct has been reported to the Southern Football League, the FA and the Cornish FA.
"I'm very saddened about all of this, you just cannot condone unruly behaviour," Truro chairman Peter Masters told BBC Sport.
"There are rules that we've all got to stick to and I don't want to the team to lose points or have a heavy fine."
Truro City chairman Peter Masters
"There is a real danger that a fine will come in and some points will be deducted."
It is illegal to bring in or let off any sort of pyrotechnic device in a football ground, with offenders being liable to a banning order and even a prison sentence.
Trouble began in the second half of Saturday's match, with fireworks and flares being let off on the terraces.
"At one point I believe there was a danger of the match actually being stopped," said Masters.
"If that match had stopped, there would have been repercussions on the team and the club as a whole."
He told manager Steve Tully to send his players straight to the changing rooms after the game instead of applauding their travelling support.
"One of these supporters went up to the manager and let his feelings be known to Steve," Masters said.
"Steve told him he was instructed by the chairman to come straight off the pitch, and with that this particular person came charging into the boardroom hurling a load of abuse at me while I was sat down with the other officials.
"I ushered the supporter out of the room, got him out into the open where a few words were exchanged."
The Truro chairman remains worried abour possible repercussions for the club.
The White Tigers are currently sixth in the Southern Premier League and are outside the play-off places only on goal difference.
"There is a real danger that a fine will come in and some points will be deducted," Masters added.
"There's a very good chance we'll get into the play-offs and we can't afford to lose any points whatsoever and unsettle the team."