Nigel Adkins: Chris Gunter urges Reading to stick by boss
Last updated on .From the section Football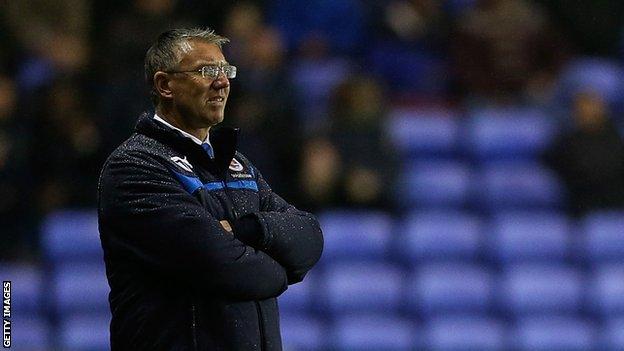 Reading captain Chris Gunter says sacking manager Nigel Adkins would be a bad mistake by the club.
They have already lost nine games this season and Adkins' job at the Madejski Stadium is coming under pressure.
"What this club doesn't need is to make a decision like that, it would be one of the worst things we could do," Gunter told BBC Radio Berkshire.
The Wales defender said the spirit shown by the players in the second half proved they still wanted to play for Adkins.
And he believes Adkins deserves to be shown some loyalty by the club's new Thai owners.
Nigel Adkins
"I know from my own experience, sometimes in football there is a change, even if you are doing well. I can't control that, all I can control is how we hard keep working."
"The first thing I would say if there is any talk about the manager is play that tape of the second half," the 25-year-old said.
"There were 10 players on the pitch that were doing everything they could for him, for the fans that travelled and the badge on the shirt.
"The manager has stuck with this club in some dark times over the past 12 months, There are things people don't know."
Adkins was appointed at Reading in March 2013 when they were struggling near the bottom of the Premier League table and could not stop them avoiding relegation that season.
Last term he led the Royals to a seventh-place finish in the Championship, missing out on the play-offs by one point.
Gunter said comments from fans on social media calling for former Scunthorpe and Southampton boss Adkins, 49, to be sacked should not be taken seriously.
"I was speaking to (Wales team-mate) Aaron Ramsey last week and he was saying how less than 15 months ago he was receiving death threats and messages from Arsenal fans saying, 'I hope you break your other leg'," he added.
"Six months later he is the best player at the club and he's worth £40m, so things like social media you have to take with a pinch of salt."
Adkins' record at the Madejski

Played: 77

Draws: 19

Won: 28

Lost: 30
Adkins, meanwhile, said the club's owners had backed him at a board meeting last week.
Asked if he feared for his job should Reading lose to Norwich next weekend, he replied: "No.
"We know the situation we are in, I will stick my head out there and will keep driving on with everything. I know from my own experience even if you are doing well, sometimes in football there is a change. I can't control that, all I can control is how hard we keep working," said Adkins, who as Southampton manager won back-to-back promotions to take the club to the Premier League before being dismissed in January 2013.
"The spirit is there, the desire is there and we need to win games of football. It is my responsibility because I am the manager.
"This is the culture of English football and people always look to change the manager. I can't affect that or change that because I want us to be the best we can be and I will keep striving on to do that."