Cheltenham Town: Chairman Paul Baker concerned about results
Last updated on .From the section Cheltenham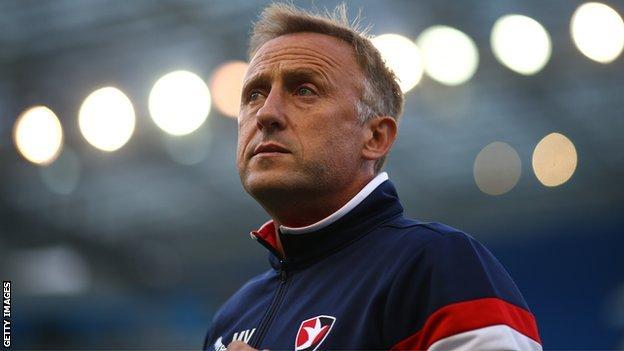 Cheltenham Town chairman Paul Baker has said he is "concerned" by the run of results that has seen the club slip to 18th in League Two.
The Robins have lost four successive league matches and have been thrashed 5-1 and 4-1 by Stevenage and Wycombe respectively in their last two games.
"We see the same 90 minutes the fans see and it hasn't been pretty of late," Baker told BBC Radio Gloucestershire.
"Our league form has been poor and the board should be concerned about that."
He added: "We listen and are concerned about the feelings of our fans, who pay the players' wages, and I share their concerns.
"It's not a nice situation that any board likes to be in when you've got a team that is struggling. We need to identify what the reasons are and what we, as a board, can do to rectify that."
Cheltenham's run of defeats are in contrast to their 5-0 win over League One side Swindon Town in the first round of the FA Cup, but Baker believes that victory may have masked problems that boss Mark Yates needs to address.
"It's difficult to understand reasons in sport because so much is down to psychology and a winning or losing mentality," added Baker.
"But we have had extremes this year, going from the superb performance against Swindon to the dire performance the following week against Stevenage, and the record in August compared to the record in September and October.
"Clearly there are some underlying factors, it's not just a knee-jerk reaction to a single result, it's what we've experienced over the last two or three months.
Cheltenham's downturn in league form

P

W

D

L

Pts

August

5

4

1

0

13

September onwards

13

2

3

8

9
"A downturn in fortunes is something that any business has to address. We need to be seen to be recognising the situation and dealing with it, and how we deal with it is a difficult scenario.
"Mark is the third longest-serving manager in English football and that's credit to him and the board for sticking with him through difficult times in the past.
"But nothing is forever and we'll have to evaluate it and discuss it as a board to look at potential solutions. We've got a pretty good record as a board over the last 18-20 years.
"We have clearly made mistakes but we generally get things right in the end and this is an important time for us now."
Yates was asked if he felt under pressure following Saturday's defeat by Wycombe and told BBC Radio Gloucestershire: "You're always under pressure, but not much more than last week or the week before that.
"It's about results. It's what football is about. All I can continue to do is keep working hard, along with my backroom staff, to turn our poor run of form around."