World Cup 2022: Bin Hammam's role in Qatar bid questioned
Last updated on .From the section Football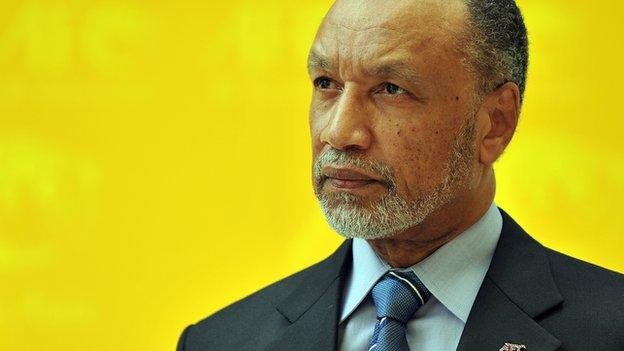 Mohamed Bin Hammam's role in Qatar's successful World Cup bid has been questioned by Fifa whistleblower Phaedra Al-Majid.
A report cleared Qatar, who claim Bin Hammam was not part of their bid team, of wrongdoing during the bidding process for the 2022 tournament.
But Al-Majid says the former Fifa vice-president, who was banned from football for life in 2012, was "the key player".
Qatar continue to stand by the "quality and integrity" of their bid.
According to previous statements from Qatar's bid committee, Bin Hammam "played no official or unofficial role" in the bidding process.
But Al-Majid, who worked as an international media officer for the Qatar bid until she was sacked in 2010, told BBC Radio 5 live's Richard Conway: "He was the key player, our key lobbyist.
"We had one lobbyist for the Qatar 2022 bid and that was Bin Hammam.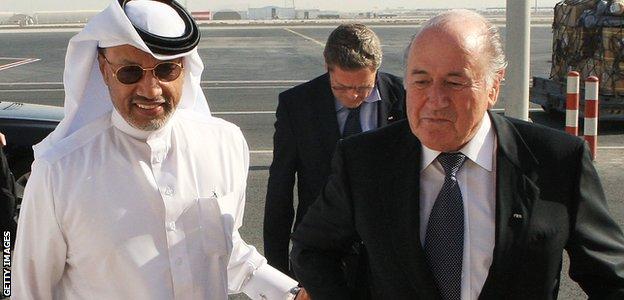 "He had never attended any of the events with us. The first time he attended any event with us officially as part of the Qatar 2022 bid was in Angola in 2010."
She added that Bin Hammam, a Qatari, needed to be persuaded to help.
"He did have to be convinced, that is true," she said.
"He was not interested in Qatar hosting the 2022 [tournament]. He was interested in becoming the next Fifa president."
Bin Hammam was banned from football for life in 2012 for breaching Fifa's code of ethics while president of the Asian Football Confederation.
He had been poised to challenge Sepp Blatter for the Fifa presidency in 2011 but pulled out following allegations of bribery.
Al-Majid says she has spoken in depth to Fifa investigator Michael Garcia about the bidding process for the 2018 and 2022 World Cups.
Garcia's 430-page report, compiled after a two-year investigation, has not been made public but a 42-page summary has.
Written by Fifa ethics judge Hans-Joachim Eckert, it cleared Qatar and 2018 hosts Russia of wrongdoing.
However, soon after its publication, Garcia criticised it as "erroneous".
The two men are currently meeting at Fifa headquarters in Zurich to discuss any disagreements.
Al-Majid has also questioned Eckert's report and criticised the German judge for claiming her evidence contained "inconsistencies" that prejudiced its credibility.
In 2011 she had admitted making false allegations about Qatar's bid, but says she was coerced into retracting her claims that Qatari bid officials offered to pay for the votes of three Fifa members.
Al-Majid has told the BBC she also made allegations to Garcia about possible collusion between Qatar and Spain, who were bidding jointly with Portugal for the right to stage the 2018 tournament.
Asked whether there had been a pact between Spain and Qatar, she told the BBC: "Yes, there was.
"I mean, I think that's pretty well known. There was a pact between them. But did I question it as strange or unethical? No, I never did."
Eckert's report makes no mention of possible Spain collusion.
"Isn't that interesting?" asked Al-Majid. "For some reason, Spain is completely forgotten. Again that is information that I know I provided to Garcia. I remember he did ask me questions about that.
"I also provided him, throughout my investigation, the names of different people he should contact to verify the information I was providing to him. If he did or if he didn't, I don't know."
Qatar was a surprise choice to host the 2022 World Cup, beating off competition from Australia, Japan, South Korea and the United States.