Aaron Ramsey admits fitness concerns after Belgium draw
Last updated on .From the section Football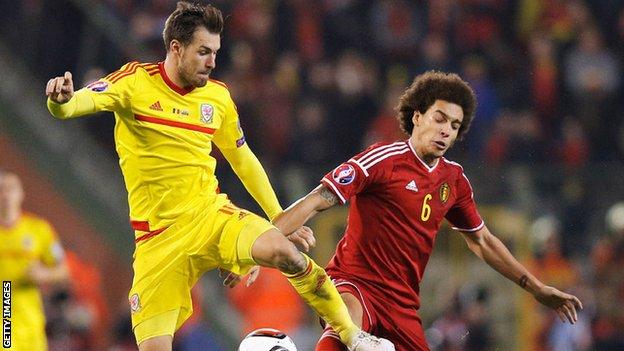 Aaron Ramsey admits he is "still not 100% physically" after helping Wales to a gritty 0-0 away draw with Belgium.
The 23-year-old Arsenal midfielder says he is still feeling the effects of a hamstring injury suffered against Tottenham on 27 September.
Ramsey admits playing 90 minutes "takes it out" of him, but rejected criticism of recent performances.
"It's going to take a few more games for me to get back to my best, but I'm not worried," he said.
"I think certain criticism from people is a bit unfair."
Arsenal manager Arsene Wenger told Ramsay to "keep his priorities right" after ex-Arsenal striker Charlie Nicholas said Ramsey was focused on "Hollywood football".
Ramsey admitted feeling the pace as he completed his third full match since returning from injury.
"It was tough out there again but I'm not worried," he said.
"I know my qualities and I've had a few injuries this season and I'm still getting back. I'll be honest and say I'm still not 100% physically there."
Wales remain unbeaten after in Group B of qualifying for Euro 2016, but were knocked off top spot by Israel who beat Bosnia-Hercegovina 3-0.
Ramsey thought Wales' point in Brussels was "a brilliant performance", but added that Chris Coleman's team were not getting carried away.
"We've had a great start and we still have a lot of work to do but we've given ourselves a great opportunity now," he said.
"[It was] a brilliant performance defensively from us.
"We were under pressure for large periods of the game I felt we stuck together and that's something we've improved on dramatically in this campaign - we're hard to score against.
"We'd have taken a draw before the game so it's a good point in the end."
Wales' next qualifying match is in Israel in March, 2015, and the former Cardiff City player sees that as one of the key games in the qualifying group.
"[The result] keeps momentum going and gives us another bit of belief," he said.
"We'll go to Israel full of confidence and hopefully be more dangerous with the ball and hopefully it will be more comfortable.
"Belgium was one of the two toughest games we're going to play away. We've passed one test."