Players reveal pride over BBC award nomination
Last updated on .From the section Football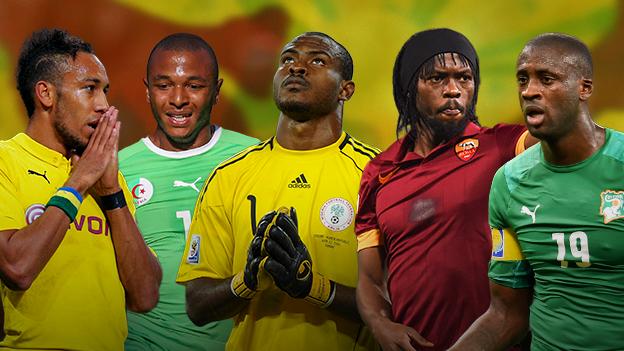 Voting for the BBC African Footballer of the Year 2014 closed at 18:00 GMT on Monday, 24 November.
The winner will be announced on Monday, 1 December.
Following their nominations, each of the players spoke to BBC Sport to reveal what the award means to them, as well as giving an insight into their careers and lives.
Pierre-Emerick Aubameyang - Gabon and Borussia Dortmund
Sincerely, I'm very happy and proud because it's not just an award given to anybody and as an African, I'm really pleased to be nominated. I'm joined only by top players, all of them could win this prize because they're all really great footballers.
Early life
I used to pretend to be a lot of players when I was playing my first games of football in the streets. When I was very small I used to pretend to be France striker Jean-Pierre Papin. That changed to Brazilian forward Sonny Anderson and as time moved on, it was the Brazilian striker Ronaldo. He really was my favourite player. I always used his name. I even used to play on my own at home in the bedroom and in the living room pretending to be him and I'd even pretend to be the fans as well so it's amazing today to be where I am and to be nominated for this prize because when I was young, it was just a dream.
Family
Of course all my family are delighted about the nomination. My father even more so than the others because he was a player who also represented Africa in Europe - he played football in Europe, so he's delighted. Of course, my family is really happy and really proud. The reason I'm playing at the level I am today is the hard work my family and I have put in. My parents made huge sacrifices so that I could become a professional footballer so I'm trying to repay them by performing as well as I possibly can.
About a boy
The Spiderman mask is for my son. It was his third birthday that day so I promised him that I would put on the mask if I scored. Luckily, thank God, I scored and I was able to put on the mask. That made people smile. You can't forget that football, yes, is a sport, yes, is a job but it's also above all, a passion so I do things like that for the fun aspect in my life.
Yacine Brahimi - Algeria and FC Porto
First of all, I want to say thanks because I'm really pleased to be part of these nominations with some big players. I think it's an honour for me and makes me really proud because as I often say, I represent not only my club, but also my country Algeria; and through Algeria, also all the Arab countries and all the African countries.
Highlights of 2014
Three moments; scoring at the World Cup, scoring the winner against Barcelona, and scoring a Champions League hat-trick are all up there. It's true that the goal at the World Cup (in the 4-2 win against South Korea) was something amazing, and especially getting to the last 16 - something that has never happened for Algeria.
Family
I was born in France but my mum and dad are of Algerian origin, like most of my family, so they really feel it in their hearts that I can represent Algeria, that I could play for Algeria. Every match I play for the team, the whole family watches, they're really focused on the game and for them it brings real joy. For me, seeing them like that pushes me to work even harder and give everything. It just gives me joy to play for Algeria.
Champions League
Playing in the Champions League is even better than you imagine. When you watch it on TV, you always dream of playing in the famous competition and then when you're on the pitch and you hear the famous music, all the players want to give everything because it's something amazing to play in the Champions League.
Inspiration
When I was little, the player that made me dream of being a footballer and made me like football more and more every time I watched him was Brazilian forward Ronaldinho. He transmitted so much joy when he played and always with a smile, always laughing. And it's true that that's something that really struck me. After that, French midfielder Zinedine Zidane made a big impression when I was a youngster.
It's those two players who when we were playing in the streets me and my friends used to pretend to be - and tried to copy their moves. They brought us joy, and this desire to play football.
I think each football fan has a style of player they admire and has their favourites. The people who liked football played with joy and the joy of playing football. I try and transmit that feeling. That's the image I feel I give out.
Vincent Enyeama - Nigeria & Lille
I think I deserve the nomination. I had a great year and a great World Cup. It is the first time an African was the best goalkeeper of the World Cup.
Picking a position
I can't really remember the moment I decided to be a goalkeeper because I enjoyed playing outfield as well as being in goal.
I was good at scoring goals and then I would go back in goal to defend the one goal I scored.
But I had started jumping on the floor with the ball as early as three or four years old, so I guess that was maybe when God decided I would be a goalie.
Role models
I got inspiration from Peter Schmeichel, the former Manchester United goalkeeper. He used almost everything to make a save. Even though Edwin van der Sar was kind of my role model, Schmeichel brought in a different kind of goalkeeping. So I've been trying to do that; it's very difficult because then you open yourself to risk of injury when you throw your legs around - but you don't care because there's no more power, you just throw every part of your body in the way. It's what works.
Nigerian pride
As Nigerians we've been eager for someone to win an award. For some reason we've not won anything since Jay Jay (Okocha) in 2004. We've not been there, we've not been that lucky, we've always been overlooked or we've not been up to the standards of the greats. So if I end up winning, it would be big for me, for my family for Nigerians.
Gervinho - Ivory Coast and AS Roma
It's a pleasure to be one of the nominees. It's recognition for my good work with the club and with the national team. I'm really happy to be among the best players in Africa.
Highlights of 2014
There have been several. I've had a good season... it has been a real pleasure playing for Roma in front of really great fans. And it was a pleasure wearing the colours of Ivory Coast at the World Cup, putting in some good performances and making my country happy. It's a shame that the dream ended so abruptly (Ivory Coast were knocked out in the group stage) but for me it's always a privilege to play for Ivory Coast.
Early life
They didn't call me little Gervinho back then, they were calling me little Yao Kouassi. I was always a fan of Brazilian striker Ronaldo and Thierry Henry, the French forward. They're two players with different qualities who have around the same speed as me and they had great technique. They were players that I always copied and admired. And even now I try to work on finishing like them because they were special finishers. They were always my favourites, those two players.
Champions League
Roma started the Champions League really well, then we had two tough games against Bayern Munich (they lost to the Germans 7-1 and 2-0 ). They're a great team, it's not easy to play against them. But I am confident we can do well. I think the aim of the club is to get past the group stage and we're going well, we're second. I really hope we can get to the knock-out stage, that's my aim this season, to get to the second round with Roma.
Yaya Toure - Ivory Coast & Manchester City
It's fantastic to be nominated because this trophy is being given in England but is for the African player who is doing very well in his respective league. I'm in big competition with a couple of lads doing very well at the moment.
Highlights of 2014
There has been a lot of football last year and there was also the World Cup. I think last year was a fantastic competition in the Premier League - at one point it looked like Liverpool would win the title but then they lost against Chelsea and after that we took advantage [and became champions for the second time in three years]. It was unbelievable because every player and all our fans enjoyed it.
Early life
Since I was a kid I have been working a lot. At the of 11 I would wake up early in the morning and go to a training session every day just to be on top. I would work a lot and when I think about what is happening at the moment, I'm very, very happy and I'm very satisfied. I know all the work I did when I was young was not for nothing.
Family
My family have been helpful because they've been so happy with what God has given to us - at least at a certain time of the year. But after that it was quite difficult. We had some difficult times with my brother passing away and I had a couple of injuries during the World Cup. They were quite difficult things but I think now I'm starting to focus and want to give everything. Because of what the fans did for me, I want to give back. I won this award last year and when the fans give you a trophy it's always brilliant - it means they love you and they appreciate what you're doing.