Rooney Rule: Winning games is not just black and white

By Richard Conway
BBC Radio 5 live sports news correspondent
Last updated on .From the section Football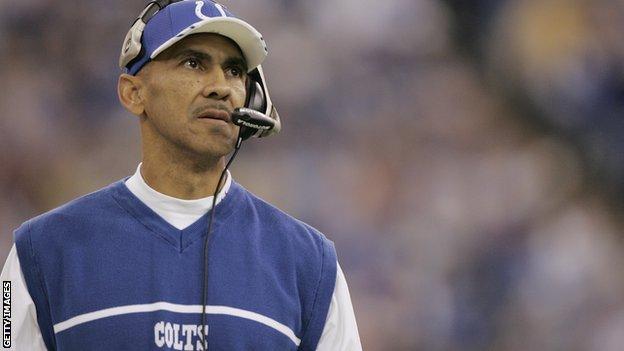 Sat in a deckchair in an NFL stadium car park, burger in hand, Bishop Lionel Harvey of the Free Baptist Cathedral in New York has swapped his vestments for a New York Jets cap and shirt.
Together with thousands of other faithful devotees before the game against Denver Broncos, he is taking part in the pre-game 'tail-gating' ritual where fans fire up barbecues and sit around their car with a beer or soft drink.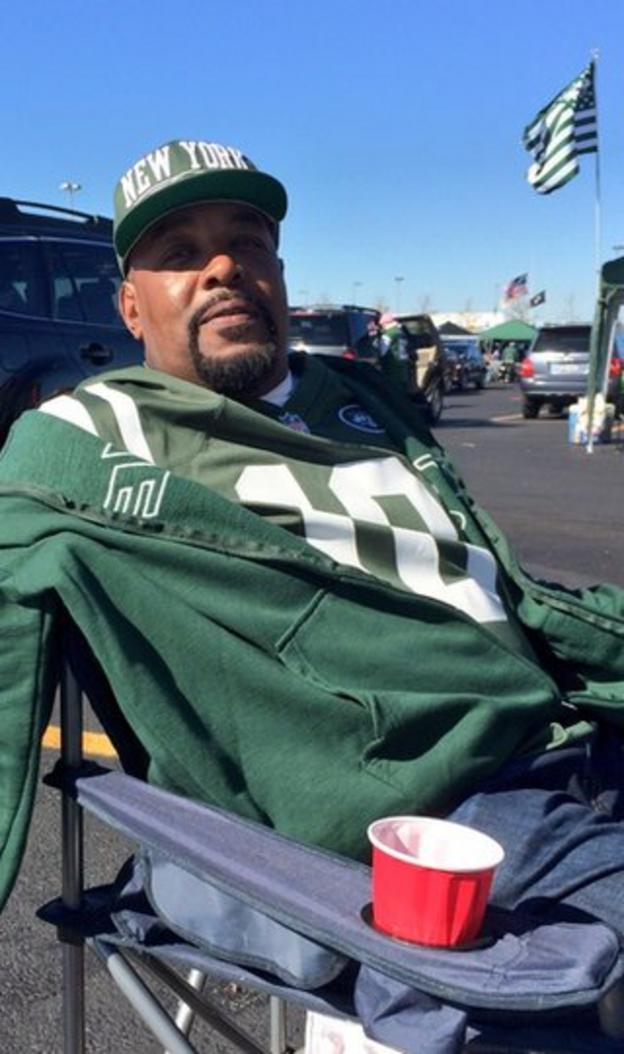 The Jets could do with some divine intervention this season to turn the team's dismal form around.
They are languishing at the bottom of the AFC East division after seven games.
And the Bishop, his fellow NFL fans and those hoping to coach at the highest levels of the game have witnessed a more secular revolution over the past decade.
Back in 2001, an alliance of lawyers and coaches confronted the NFL over their belief black and minority ethnic (BME) coaches were being discriminated against when it came to job opportunities.
Presented with statistical evidence, and with a legal threat, the NFL formed the Workplace Diversity Committee led by Dan Rooney, the owner of the Pittsburgh Steelers.
Soon after, the 'Rooney Rule' was born.
It mandates teams to interview at least one BME candidate when the position of head coach or general manager becomes available.
Since its inception it has been responsible for raising the numbers of BME head coaches and, its supporters argue, changing the employment culture within the NFL.
A TAINTED HISTORY
It was in 1921 that Fritz Pollard became the first African-American to be appointed head coach in the NFL with the Akron Pros.
He went on to play and coach at long-forgotten but fantastically named teams such as the Milwaukee Badgers and the Providence Steam Rollers.
But Pollard - along with all other black players - was expelled from the league that he helped build when a policy of racial segregation was introduced.
Decades passed by before African American players returned to the league.
It took until 1989 - some 59 years - before an NFL team hired another black head coach, when Art Shell was given the top job at the LA Raiders.
His appointment was a relatively isolated one though, with only another four African Americans being hired as head coaches prior to the introduction of the Rooney Rule.
Leaning back in his deckchair, Bishop Harvey sees the lack of NFL coaches prior to 2002 as a symbol of how the US has struggled to recover from its history of racial division.
"There's a stigma in the US that says 'we're afraid of the black man'," he said.
"It's unfortunate. But whenever we accomplish great things it levels the playing field. Nothing beats results.
"For years, people said blacks can't be quarterbacks. Now you see you a lot of good black quarterbacks that are doing the job because it doesn't matter if you're black or white."
A BREAKTHROUGH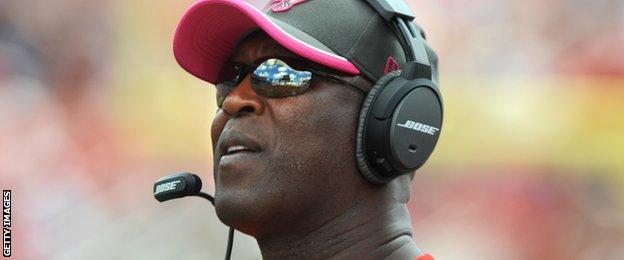 Accomplishing those 'great things' has included a number of African American and minority ethnic coaches breaking through to the top positions in NFL since 2002.
Then in 2007 Tony Dungy won the Super Bowl with the Indianapolis Colts.
His opposite number that day was Lovie Smith, his former protege.
Two African Americans going head-to-head for the biggest prize in the sport sent a potent message that the glass ceiling had finally been shattered.
John Elway, a two-time Super Bowl winner with the Denver Broncos, who now serves as their general manager, believes the barriers have now been removed for BME coaches.
"We give opportunities to everybody and that's the great thing about the Rooney Rule and everything that also goes along with it," he told me shortly after watching his team beat the Jets.
There's been a shift in attitude from the players too.
In the Denver Broncos locker room after their victory over the Jets, spirits are high and the talk is about what the team could go on to achieve this season.
Linebacker Brandon Marshall feels the prospects for black players who want to go on to coach after retiring are similarly positive.
"It might have been difficult way back when. But now? Anybody can do it."
COULD THE ROONEY RULE WORK IN THE UK?
Chelsea manager Jose Mourinho thinks English football similarly has no barriers when it comes to colour.
Asked earlier this month about whether a Rooney rule could work in the UK he replied: "There is no racism in football. If you are good, you get the job. Football is not stupid to close the doors to top people."
Despite that claim, many qualified BME coaches have outlined just how difficult they have found it to get an interview with a club.
Gordon Taylor of the Professional Footballers' Association has even gone as far to say there's an issue with "hidden racism".
An active discussion is now taking place over the suitability of the Rooney Rule within English football.
The Football League is currently undertaking a review on levels of diversity within its 72 clubs while the Football Association has issued plans to "significantly increase" the number of BME coaches.
How would a Rooney Rule work though in the English game, especially given the fact many clubs identify and even approach their preferred candidate before the incumbent has received his P45?
Professor N Jeremi Duru of American University in Washington DC is one of the leading experts in the US on sports law and discrimination. He says such circumstances also arise in the NFL - but added that the benefits can often be realised at a later date.
He said: "You get in a room with that person and talk for four hours about a subject near and dear to both people's hearts - managing a football team. Some subconscious biases might start to melt away."
Duru also feels that the old boy network that dominated the sport for so long is being broken down.
"When the Rooney Rule came into play, the Cincinnati Bengals had in their 35-year organisational history never interviewed a person of colour for the head coach position, or for the offensive or defensive co-ordinator positions - the two assistant positions under the head coach," he recalls.
"Moreover, when the Rule was introduced it was only one year after race riots in Cincinnati that tore the city apart.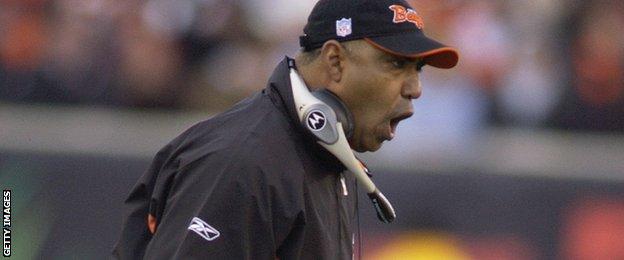 "The owner, to his credit, followed the Rule and ended up interviewing a defensive co-ordinator who had a strong track record but had not had a legitimate head coach interviewing opportunity.
"His name was Marvin Lewis and ultimately after several interviews he was hired. He went on to turn the team around. The next year he turned the team from being horrible to being a solid playoff-contending team.
"Today, I don't think there's any NFL club that wouldn't hire a person of colour."
DOING THINGS THE RIGHT WAY
Thomas George of SBNation.com is a veteran NFL columnist who has watched on as opportunities for his fellow African Americans have slowly started to increase.
True change, he feels, is a longer term ambition.
"There are some owners in this league who, as long as they live, are never going to hire a minority head coach. Having been around some of them I know it's true.
"But as new and younger generations take over they are more open, more idealistic and inclusive in the idea that by widening the pool they get the best candidates possible, whether that be minority or non-minority."
At the Pittsburgh Steelers training facility on the south side of the city they like to think they do things the correct way.
On the first floor of their offices, prominently positioned and gleaming under lights, are all six Vince Lombardi Super Bowl trophies won by the team over the years.
Stability is prized here - there have been only three head coaches since 1969.
Dan Rooney, the team president, is proud of his role in creating the rule that bears his name.
He's equally proud of the organisation, founded by his father in 1933, and despite being 82 years old he still comes into his office every day.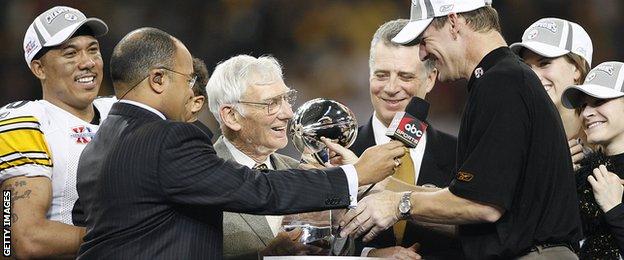 A group of three young players sharing jokes and jostling each other on the way to practise fall silent when the man who served as an ambassador to Ireland under President Obama approaches.
"Good afternoon, Mr Rooney," they say respectfully as he slowly walks past.
And it is the respect Rooney has for all people - no matter what their race or background - that he has tried to harness over the years for the good of his team.
"We've always been a team of diversity. When black players disappeared from the league my father thought that wasn't right," he said.
"When the players were allowed back to play it was a good thing. It helped us because lots of teams would not take black guys. We did and we had some great players. We went on to be the team of the decade in the 1970s."
Now he feels his rule helps NFL's 32 teams take more considered decisions by widening their horizons to prospective candidates.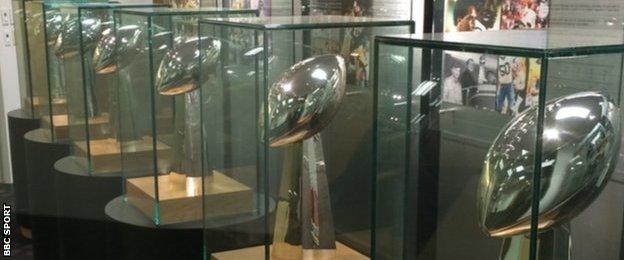 That's precisely what Rooney thought when he met Mike Tomlin in 2007.
Tomlin had spent time under the leadership of Tony Dungy at the Tampa Bay Buccaneers before moving on to be defensive co-ordinator at the Minnesota Vikings.
At just 35 years of age Tomlin was unproven as a head coach but Rooney reminisces how he "blew everyone's socks off" during his second interview and, against expectations, was hired.
As just the 10th African American head coach in NFL history he went on to win the 2008 Super Bowl.
Tomlin supports the changes that have been brought into NFL's hiring processes but reflects that he always believed he could make it to the top after working with Dungy earlier in his career.
He said: "Watching him do what he did, and the manner in which he did it, on a daily basis really kind of instilled in me that this was something that I could do and that if I worked hard I'd be given an opportunity to do it."
WILL CORPORATE AMERICA FOLLOW SUIT?
Throughout the 12 years of the Rooney Rule's existence in the NFL, corporate America has watched on with interest.
Bob Johnson is one of America's first black billionaires and made his fortune in cable TV, founding Black Entertainment Television (BET) in the late 1970s.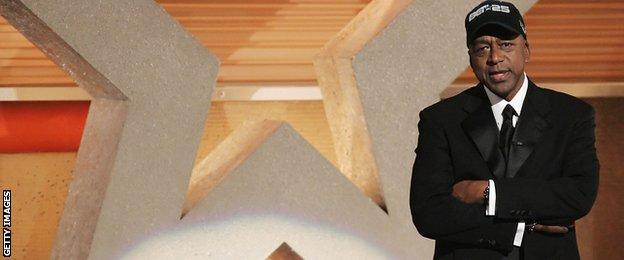 Now Johnson is calling on Fortune 1000 companies to voluntarily introduce a version of the Rooney Rule and is receiving support within the US Senate.
The resolution calls for US companies to interview at least two African American candidates for every job opening at vice president level and above.
Having once owned NBA's Charlotte Bobcats (now known as the Hornets) Johnson has his eyes on buying an NFL team and becoming the first African American owner in the league.
Given the resistance to black quarterbacks and black head coaches would an owner face similar problems?
"If you've got the money then usually in America you can get what you want," he laughs, when asked the question.
UNDERSTANDING THE ROONEY RULE
Across the Atlantic - in a sport renowned for its meritocratic principles and survival of the fittest mentality - there has been a recognition and general acceptance that many BME coaches were held back from going as far in the game as their talent would take them.
A conversation and a negotiation that took place in the US is starting to take shape in the UK.
Those who support the Rooney Rule's introduction in the UK want simply, in the first instance, for the myths to be dispelled and for that debate to be rooted in fact.
"The clubs need to realise - just as NFL teams have realised - that as a bottom line matter they want to win," says Professor Duru.
"And if they think more broadly about who might manage their teams they've got a better shot at winning games."
You can download a podcast of Richard Conway's look at the history and impact of the Rooney Rule, and whether it could work in UK football, here.