Pep Guardiola's hatred of tiki-taka and Manchester United dream
By Stephen Fottrell
BBC Sport
Last updated on .From the section Football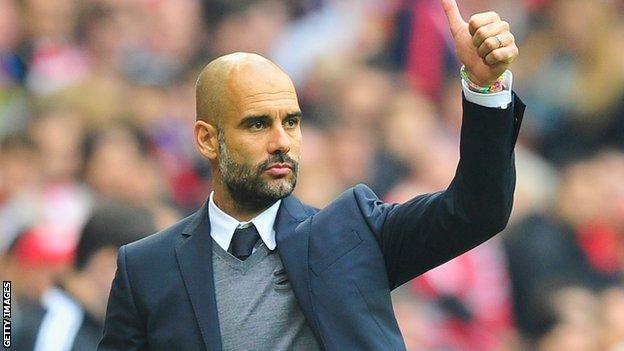 Bayern Munich coach Pep Guardiola hates the famed tiki-taka style of play and can see himself coaching Manchester United one day.
The revelations come in a new book about the former Barcelona coach, who is now in charge of the German champions.
Here are a few highlights...
Pep on leaving Barcelona in 2012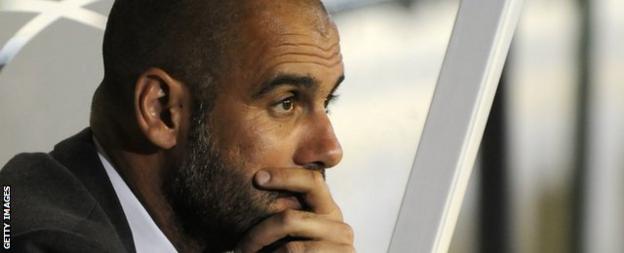 Guardiola won three consecutive titles during his four-year reign at the Nou Camp. Some people claim he eventually quit after falling out with then-Barcelona president Sandro Rosell about transfer policy.
Guardiola's roll of honour

With Barcelona, as coach:

Three La Liga titles, one Copa Del Rey, two Champions League titles, two Uefa Super Cups, two Fifa World Club Cups

As player:

Six La Liga titles, Two Copa del Reys, One Supercopa de Espana, One European Cup, Two Uefa Super Cups, One Uefa Cup Winners' Cup, One Olympic gold medal

With Bayern Munich, as coach:

One Bundesliga title, one Fifa Club World Cup, one Uefa Super Cup, one DFB Cup

Playing career:

Barcelona (1990-2001), Brescia (2001-02), Roma (2002-03), Brescia (2003), Al-Ahli (2003-05), Dorados (2005-06), Spain (1992-2001)
But Guardiola told author Marti Perarnau in the book Pep Confidential: "It's just not true. I left Barcelona because I was worn out. I explained how I felt to the president in October 2011. There was no change of heart after that. So it would have made no sense at all for me to start changing the squad. I knew I was leaving!
"The facts of the matter are that we won four titles that year and were playing better than ever, with the 3-4-3 [formation] we used against Real Madrid and the 3-7-0 I opted for in the Club World Cup. We were playing brilliantly but I was on my knees and had no new tactical ideas left. That was why I left. There was no other reason."
Pep on his hatred of tiki-taka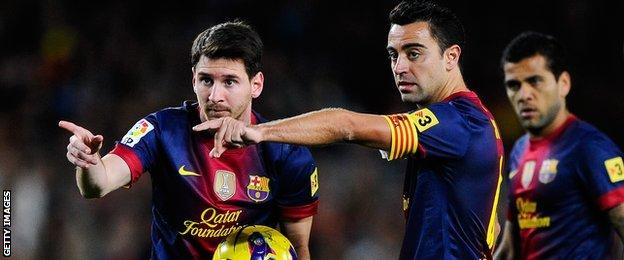 Barcelona's ability to dominate teams and possession with their tiki-taka passing style won them plaudits around the world.
But Guardiola told Perarnau: "I loathe all that passing for the sake of it, all that tiki-taka. It's so much rubbish and has no purpose. You have to pass the ball with a clear intention, with the aim of making it into the opposition's goal. It's not about passing for the sake of it.
"Don't believe what people say. Barca didn't do tiki-taka! It's completely made up! Don't believe a word of it! In all team sports, the secret is to overload one side of the pitch so that the opponent must tilt its own defence to cope.
"You overload on one side and draw them in so that they leave the other side weak. And when we've done all that, we attack and score from the other side.
"That's why you have to pass the ball, but only if you're doing it with a clear intention. It's only to overload the opponent, to draw them in and then to hit them with the sucker punch. That's what our game needs to be. Nothing to do with tiki-taka."
Pep on Manchester United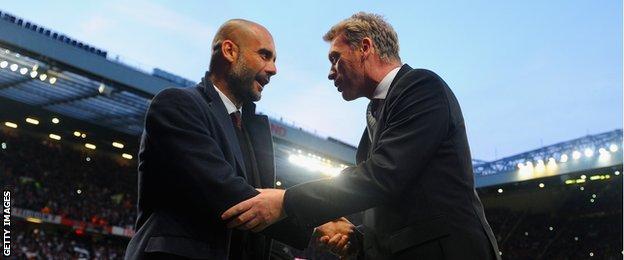 The Catalan coach received a raft of job offers during his year-long sabbatical after leaving Barcelona. His main suitors were Chelsea, Manchester City and Bayern Munich.
The 43-year-old had already revealed he was impressed with the set-up at Bayern, after visiting the Allianz Arena with Barcelona for a pre-season tournament in 2011.
But a trip to another of Europe's big clubs - Manchester United - also left a lasting impression on him.
On 4 May 2011 - the day after Barcelona beat Real Madrid 3-1 on aggregate in the Champions League semi-finals - Guardiola and his trusted confidante Manel Estiarte travelled to Old Trafford to watch their next opponents in action.
As the pair sat together in the stands, watching Sir Alex Ferguson's team beat Schalke 4-1 (6-1 on aggregate), Guardiola turned to his friend and said: "I like this atmosphere. I could see myself coaching here one day."
Pep on creating the 'Messi zone'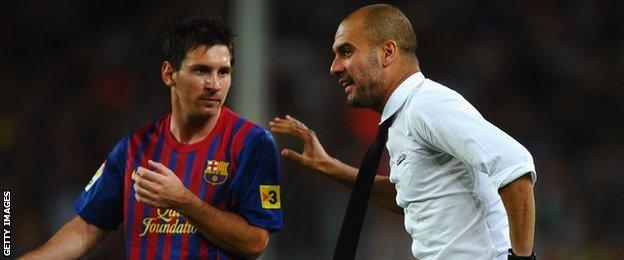 Guardiola built his dominant Barcelona side around the prodigious talent of Lionel Messi.
The coach says it was in May 2009 that he had suddenly hit upon the best way to make use of the young playmaker's devastating movement and skill.
According to Perarnau, the night before a crucial El Clasico tie in Madrid, Guardiola sat alone in his office thinking about how to deploy Messi against Real's central defensive partnership of Christoph Metzelder and Fabio Cannavaro.
Perarnau says Guardiola called Messi and summoned him to his office, where he told the 21-year-old: "Tomorrow in Madrid, I want you to start on the wing as usual. But the minute I give you a sign, I want you to move away from the midfielders and into the space I just showed you."
Barcelona thumped their bitter rivals 6-2 to all but seal the first of three La Liga titles for Guardiola as coach.
Pep on Bayern's capitulation to Real Madrid in the Champions League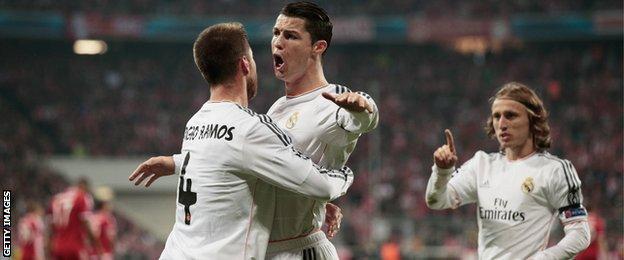 After losing the first leg of their Champions League semi-final 1-0 away to his old foes Real Madrid last April, Guardiola admits that he tinkered and procrastinated over his side's formation for the deciding second leg at home.
He then watched as Bayern were humiliated 4-0 in Munich by the eventual champions - losing 5-0 on aggregate - and admitted it was the biggest mistake of his career.
He told Perarnau: "I got it wrong, man. I got it totally wrong. A total mess. The biggest of my life as a coach. I spend the whole season refusing to use 4-2-4. The whole season. And I decide to do it tonight, the most important night of the year."