Premier League: £2,000 season tickets as price of football grows
Last updated on .From the section Football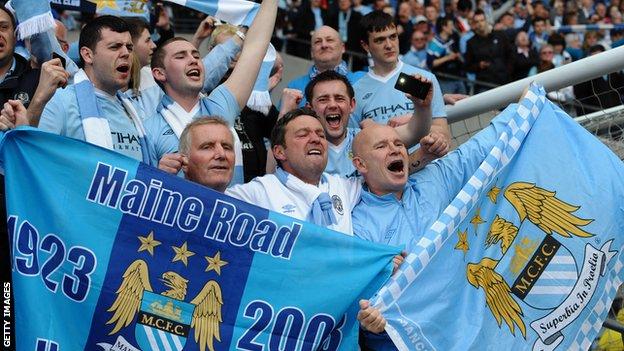 Who in the Premier League charges more than £2,000 for a season ticket? Where would you have to pay at least £50 for an adult match-day ticket?
How can you watch the Premier League champions for less than a Conference side? All is revealed in the BBC's Price of Football study.
We contacted 207 clubs in 21 divisions across British and European football to find out how much supporters must pay to follow their team.
Have prices gone up?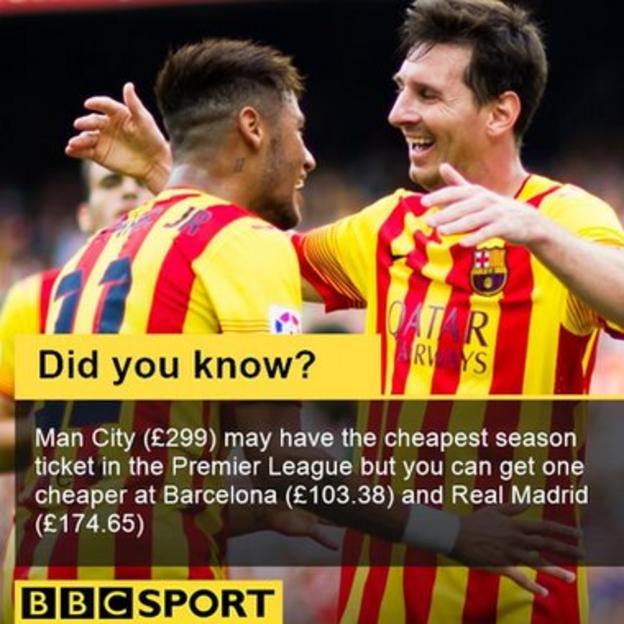 The average cost of the cheapest adult match-day ticket at Premier League clubs has risen by more than 15% since 2011, with prices now ranging from £15 to £50.
The average price of the cheapest Premier League season ticket for an adult has also gone up, rising 8.7% since 2012, from £467.95 to £508.55.
Arsenal's cheapest season ticket is almost double the average, rising 3.97% from last season to £1,014, the highest in the league. The club's season tickets do, though, include seven 'cup credits', effectively pre-payment for seven tickets for cup matches.
Tottenham, Chelsea and Liverpool also charge more than £700 for their cheapest adult season ticket.
The only club to have dropped the price of their cheapest adult season ticket from 2012 is Liverpool, who now charge £710, down from £725.
So who is the most expensive?
Arsenal have the most expensive season ticket in the Premier League at £2,013, double the price of Manchester United's most expensive ticket and more than four times the cost of West Brom's.
Chelsea and Tottenham both charge more than £1,000 for their most expensive season ticket, but Italian Serie A side AC Milan top the lot, demanding about £3,600 for their most expensive adult season ticket.
And the cheapest?
Manchester City sell the cheapest adult season ticket in the top flight at £299. That's cheaper than 15 clubs in the Championship, 10 clubs in League One, four in League Two and one in the Conference.
On the other hand, you can buy a season ticket for some of the top sides in Europe for much less.
Portugal's Sporting Lisbon are the cheapest of the men's clubs we covered, selling an adult season ticket for around £55.
You can even buy a season ticket at Barcelona for about £103.
Almost £100 for a match-day ticket?
Arsenal again. They have the most expensive adult ticket at £97.
But that amount is dwarfed by AC Milan, who charge a whopping £298 for their most expensive match-day ticket. That is the most of any of the clubs in our study.
In fact, a lot of the European clubs we contacted have match-day tickets priced more than £100, including Inter Milan, Real Madrid, Paris St-Germain, Barcelona, Marseille, Atletico Madrid, Monaco and Juventus.
What about the cheapest match-day tickets in the Premier League? Well, Newcastle United charge just £15, though this is for only a limited number of matches at St James' Park.
Hull, Leicester and West Ham all charge £20 or less for their cheapest adult ticket bought on a match day.
Chelsea's cheapest adult match-day ticket is £50, making the Stamford Bridge club the most expensive in the top flight in that category.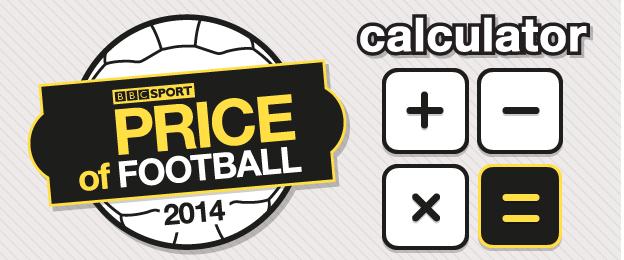 Visit the Price of Football calculator to see how much you spend supporting your team.
Have high prices forced Premier League attendances down?
No, far from it. Match-day attendances are at an all-time high.
The Premier League average last season was 36,600, up 2.1% from the season before, while stadiums were about 96% full.
Last season, match-day revenue increased by 6% last year to £585m.
A top-tier day out
Chelsea top the Premier League table when it comes to the average cost of a day out at £57.50.
The figure, which adds together the price of the cheapest match-day ticket, a programme, a pie and a cup of tea, exceeds that of Liverpool and Manchester City, who both come in at £45.80.
The average cost of a day out in the top tier is £37.44 and Leicester City represent the cheapest option, with a day at the newly-promoted club costing £27.50.
Are clubs offering deals?
A number of clubs have ticket offers for families.
Newcastle, for example, have a zone that can accommodate 8,200 people and claim it is "the largest family enclosure in Europe". Combined adult and child season tickets in that area of the stadium are priced from £417 for supporters on long-term price-freeze deals.
Most clubs reward loyalty with cheaper tickets for members, while there are an increasing number of incentives for children to watch matches.
Everton have frozen season-ticket prices for fans aged 11 and under. Kids pay just £5 per game for the third season in a row.
Swansea sell under-16 season tickets from £79 and West Ham will have six 'Kids for a Quid' fixtures this season.
At Southampton, all under-11s are admitted free for all Category B and C games when accompanied by a paying adult.
How much does a cup of tea cost?
Liverpool, Manchester United and Southampton sell the Premier League's most expensive cups of tea.
All three charge £2.50, more than any other club in the study.
Burnley and Manchester City sell the cheapest, charging £1.80. You can get a cup of tea at Scottish League Two side Elgin for 60p.
And pies?
Crystal Palace, Manchester City and Southampton all charge £4 for a pie, but that isn't the most expensive of the clubs we covered in our study.
Conference side Kidderminster have a homemade pie that sells for £4.50, though many Harriers fans insist it is worth every penny.
The cheapest pies can be bought at Braintree and Sunderland Ladies. Can anyone rate their £1 offerings for us?
Getting shirty?
Manchester City and Manchester United charge £55 for an adult replica shirt bought from the club shop, the most expensive in the division.
City also charge the most for a junior shirt, at £42.
Hull City sell the cheapest shirts. They charge £39.99 for an adult shirt and £29.99 for a junior one.
Serie A side Roma, at £67.25, charge the most for an adult shirt of the clubs we studied on the continent.
How much do you pay per goal?
Based on the amount clubs charged for their cheapest season ticket last season, Manchester City fans got the best value for money when it came to goals scored at home by their own side.
Each City goal at Etihad Stadium would have set a fan back £4.75. Compare that to Arsenal, where each Gunners goal at the Emirates cost £27.36.
The best value in Britain? That was at Scottish League Two side Albion Rovers, where each goal would have cost you just £3.04.