Rio Ferdinand: England players are 'treated like complete babies'
Last updated on .From the section England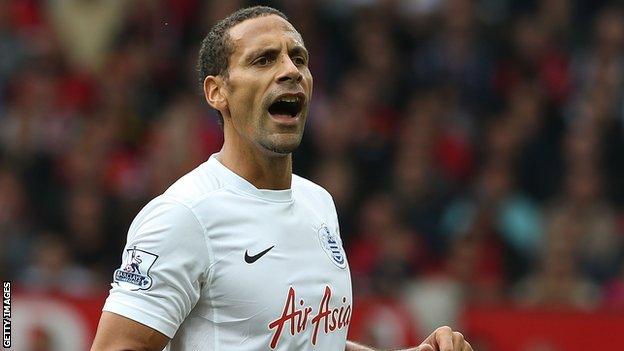 England's players are "treated like complete babies" compared to some of their international counterparts, according to Rio Ferdinand.
The former England captain, 35, who won 81 caps between 1997 and 2011, made the comment in his new autobiography.
He was impressed by how Manchester United boss Louis van Gaal, then coaching the Netherlands, dealt with his players at this year's World Cup.
Van Gaal "treated his players as grown-ups," QPR defender Ferdinand wrote.
Ferdinand also used his autobiography to criticise the anti-racism organisation Kick It Out for their alleged lack of support for his brother Anton during the racial abuse trial prompted by his accusation against John Terry.
Rio Ferdinand in his autobiography #2sides
"Three months after the John Terry court case the anti-racism group Kick It Out organised a weekend with players wearing a T-shirt saying 'One Game, One Community'. There wasn't a chance of me wearing it.
"The group had refused to come to the courtroom with us, so I wasn't willing to go through the charade of wearing their shirt. My parents probably wouldn't have spoken to me if I had."
Kick It Out's chairman Lord Herman Ouseley has called the claims "unfair and unreasonable" and criticised Ferdinand for using the organisation as a "soft target".
Ferdinand claimed in his book #2sides, which is being serialised in the Sun newspaper, that Kick It Out "refused to come to the courtroom" to support Anton, leading him to refuse to participate in a subsequent initiative in which players wore T-shirts bearing anti-racism slogans to pledge their support for the group.
But Ouseley told BBC Radio 5 live's Richard Conway that Kick It Out attended court every day during the trial.
"Rio should be targeting the people responsible - the clubs involved, the players involved, the PFA, the Football Association and the Premier League," Ouseley said.
"That's where he should target his anger. He is a very powerful, distinct and successful footballer."
Among his influential roles, former Manchester United skipper Ferdinand is a member of the Football Association commission set up to improve the England team, who were eliminated from the World Cup at the group stage in Brazil without winning a game.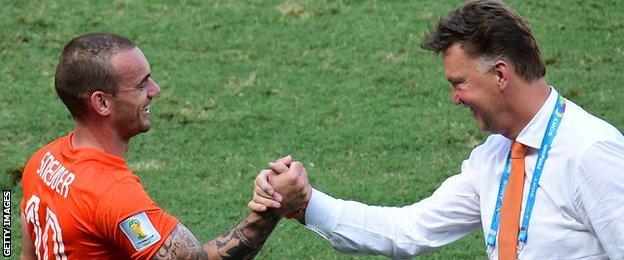 He visited the Netherlands squad, who went on to reach the semi-finals, while working at the tournament as a pundit for the BBC.
In his book, extracts of which he has released via his Facebook page, Ferdinand wrote that the methods of Van Gaal made a "big impression" on him.
He wrote: "One evening we were in a bar at the hotel with Fabio Cannavaro, waiting for [fellow ex-Italy international] Christian Vieri to come along. All of a sudden almost the entire Dutch team turn up and start chilling in this bar.
"I sat down next to [Wesley] Sneijder and said 'What's going on? Are you allowed in here?' He was like, 'Yeah, the manager said to go. As long as we're back in the hotel by 11, it's fine.'
"Our players are treated like complete babies. It doesn't really matter whether that's because people have made mistakes in the past, or the manager doesn't trust the players or he doesn't trust the media who would make a story of it. I don't think the Dutch media even mentioned it. Their players looked free and relaxed."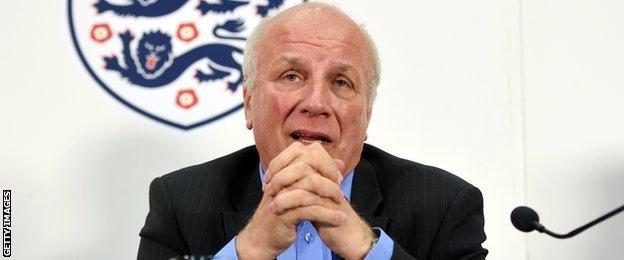 Ferdinand was named as a member of the FA commission set up by chairman Greg Dyke in October 2013.
He feels that the FA needs to take the lead in reforming the set-up of English football if the national team are to prosper in future.
He wrote: "A unified approach has to come from the very top. We need a clear direction and leadership. We're producing good players. But what's the point if no one knows how they can be fitted into the national team in a coherent way? What's the point?
"I'd rather have a team like Costa Rica who over-achieve with players not deemed to be world class."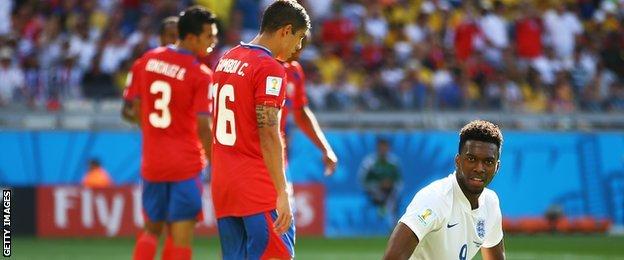 The former West Ham and Leeds defender also believes that the England team and the country's domestic game are suffering for several reasons:
The FA and Premier League are 'detached'
"The Premier League is completely detached from the ideas and the vision of the FA and vice versa. The barrier has to be broken down. The big clubs have very little interest in the national team. All they care about is what benefits them, and they think mainly in terms of money.
"Each club develops its own identity and its own way of playing with no thought as to how it might fit with the national team. And the FA is not strong enough to decide on a policy and dictate from the centre."
Facilities for young players are poor
"For example, in the whole of England there are just 639 3G all-weather pitches. Germany has more than 5,000.
"An FA survey of clubs at all levels found 84% of respondents saying that facilities are poor. This directly affects how many teams and at what age-groups kids can play. We have too few coaches, and those we have are not as well qualified as they should be. Spain has 25,000 coaches with [Uefa] A, B and Pro Licences. Germany has 35,000. We have 6,000."
Youth coaches are not paid enough
"Coaching is respected elsewhere and is more highly valued.
"In Germany and the Netherlands a youth coach can earn £40,000 a year. It's a profession. In England the equivalent pay is £16,000. That's a hobby. There's a clear link between these factors and the quality of the national team."
Coaches don't respect innate skill
"We've got far too many coaches who tell talented young players how to play rather than letting them develop naturally.
"In other countries, everything's about developing skills, touch, awareness. All I heard on the sidelines when I was growing up was about hard work and tackling."