Alan Pardew hits back at BBC Sport pundit Robbie Savage
Last updated on .From the section Football
Alan Pardew has criticised pundit Robbie Savage for writing in his BBC Sport column that the Newcastle manager sounded like a "broken man".
After his team fought back to draw 2-2 with Hull on Saturday, Pardew said: "I thought that article was not right and we've had a lot of press like that.
"He said I was a broken man and I was far from that this week."
Newcastle life president Sir John Hall
"It's been disappointing for everybody, for Mike Ashley and all of us, but I have found in the past when you bring a lot of new players in they don't settle overnight.
"Hopefully they'll start to blend in. I'm not one that's going to rush in and condemn Pardew and the management, they need time.
"There is this frustration because the fans are so passionate and so many of them live their lives through their football club.
"But I would say to the fans, step back, it doesn't do the club any good, you've got to have confidence and Pardew has to respond to that confidence.
"He's the man who has got to get it right, and if he doesn't he'll be in trouble."
Pardew's Newcastle were bottom of the Premier League with two points after the 4-0 loss against the Saints.
Former Wales international Savage wrote: "It is hard to see Newcastle manager Alan Pardew surviving in his job for much longer - his side were torn apart by Southampton last weekend and he sounded like a broken man in his interviews after that game."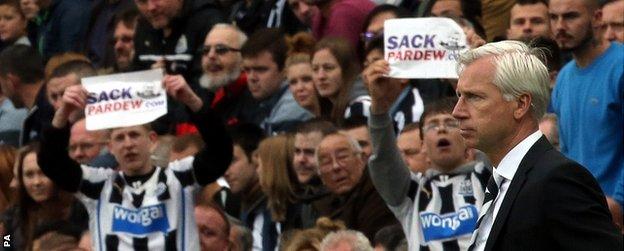 The mass protest against Pardew expected at St James' Park failed to materialise against Hull as two Papiss Cisse goals saw his side fight back from 2-0 down to salvage a point.
Pardew thanked the "80% of fans who were terrific" and praised his team's character before turning on Savage.
"Sometimes there's some really unfair things," Pardew, who on Friday accused his club's fans of mass hysteria, told BBC Sport.
"I've tried to carry the job with dignity and be honest and sometimes it's nice if professionals in the game reflect that.
Goal-shy Newcastle

Prior to the draw with Hull, Newcastle had scored only 17 goals in the Premier League in 2014, fewer than any other ever-present side this year

Papiss Cisse scored as many goals against Hull (2) as he had in his previous 30 Premier League appearances combined
"Sometimes it's also important to know we're trying to do an honest job.
"It's not just about me, it's about my staff who come in every day and want to make this team better. It's something I feel very strongly about defending and that's an example of which I thought was wrong."
Speaking on BBC Radio 5 live, Savage defended his comments.
"I stand by what I said about Alan Pardew after the game against Southampton because I didn't say he was a broken man, I said he sounded like a broken man," he said.
Ex-Celtic boss Neil Lennon on Match of the Day
"You have to give Pardew a lot of credit. He was feeling and kicking every ball."I have been in that situation. It is a lonely place. You can all have your staff and family around you, but you need a lot of self-belief. You have to transmit that to your players."In my second season at Celtic, we were 10 points behind Rangers and we were 3-0 down at half-time at Kilmarnock. I told the players if they wanted me there on Monday they had to turn it around. Thankfully they did. Maybe today is the same for Alan."
"His team was poor, he had to face the press and in the post-match press conference he sounded dejected.
"The passion in his voice this week was better. He was in a stronger position after drawing 2-2 and the fans were behind him, but I stand by what I said.
"You are there to be shot at. I was a player and the amount of times I have been hammered after games... I wanted to prove them wrong.
"I hope I have given him that energy to go on and keep his job."