Rio Ferdinand says John Terry never apologised for race row
Last updated on .From the section Football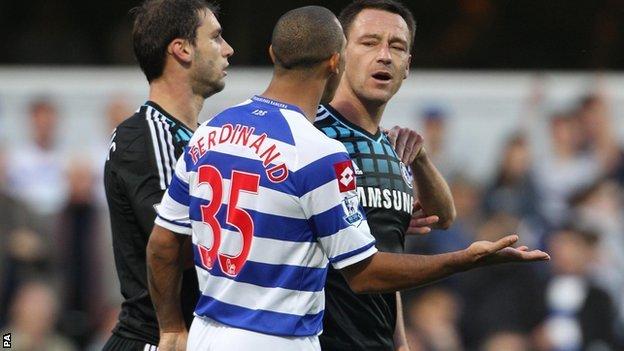 Rio Ferdinand says John Terry has never personally apologised to him or his brother Anton over the racist abuse row in a Premier League game in 2011.
Terry was acquitted of charges of racial abuse following a trial in July 2012, but was later banned for four matches and fined £220,000 by the FA.
He then apologised for his behaviour.
QPR defender Rio Ferdinand, 35, who will face former club Manchester United on Sunday, claims in his forthcoming autobiography that the incident damaged his brother Anton's career and the subsequent court case saw him receive death threats.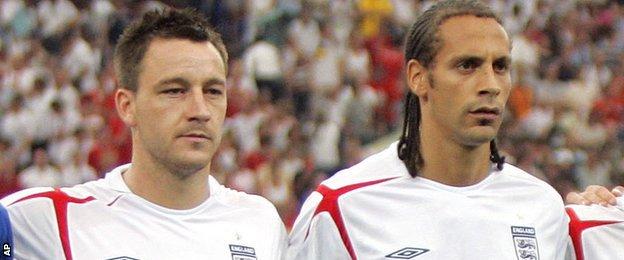 "He never apologised to me or Anton and has never hinted he has had a moment of understanding over the damage his stupidity has inflicted on everyone," he said.
"There were bullets in the post and unending racist abuse. He could have saved everyone a lot of pain by admitting immediately that he had used the words in the heat of the moment, but was no racist.
"I think that's probably what happened and what the truth is. Anton and I would have accepted that - instead he never gave us the chance.
Rio Ferdinand and John Terry's England careers

The pair played together for England on 34 occasions and both had spells as national captain

Terry made his England debut in 2003 v Serbia and Montenegro and was selected for two World Cups - 2006 and 2010

Ferdinand made his England debut in 1997 v Cameroon and was selected for three World Cups - 1998, 2002 and 2006

Ferdinand announced his international retirement in March 2013 having received 81 caps, Terry announced his in September 2012 after 78 caps
"I've never actually spoken to John about the case. I no longer talk to him, but even three years later I find it impossible to forgive or forget the pain he put my family through."
Ferdinand added the "uncertainty and bad feeling" meant his England career was wrecked, while Terry's was able to continue.
He expressed his disappointment that England manager Roy Hodgson never asked if he would consider playing alongside Terry, despite the pair's differences off the pitch.
"John and I would have had a working relationship and it would have been fine," he added.
"But no one ever asked."