Rachel Corsie: Scotland must step up against the Faroe Islands
By Rachel Corsie
Scotland international
Last updated on .From the section Football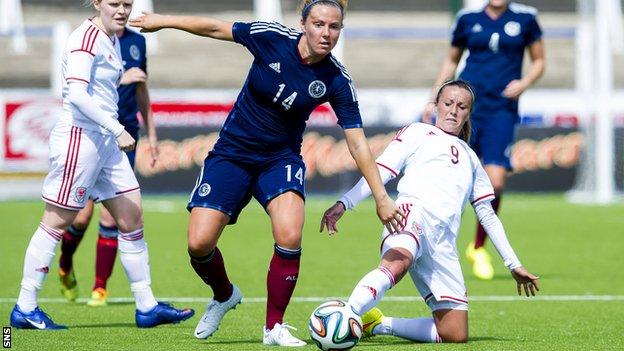 Saturday's game against the Faroe Islands at Fir Park can potentially clinch us a play-off spot for the first time in a World Cup qualifying campaign.
So it's a game that all the girls in the Scotland camp approach with a degree of apprehension, but also a great deal of excitement.
As second seeds in the group, finishing as runners up to Sweden is ultimately what's expected of us, but only four of the eight second-placed teams will go on to play for the final qualifying place so we have tried to give ourselves the best opportunity to be one of those four - at the very least.
Despite a small scare away to Bosnia, the whole team has consistently performed well during the campaign, ensuring our points tally and goal difference are both very healthy.
So far, 21 points and 28 goals with just six conceded puts us in a strong position going into the match on Saturday and the last game of the pool stage away to Sweden on Wednesday.
On the back of recent form, I suppose the team feels that a reaction is also required.
In two recent friendlies - at home to Wales and away to Portugal - we had to settle for 1-1 draws against sides ranked below us in the current FIFA rankings.
They were disappointing results but hopefully the games will prove valuable in terms of our preparations for this weekend at Fir Park.

Without disrespecting Wales or Portugal, who both now have far better quality than their rankings perhaps suggest, these games were opportunities for us to gain some momentum going into these qualifiers and the performances simply didn't match our expectations.
It was hopefully was a wake up call and will ensure there is no complacency going into the match against the Faroe Islands, a side that currently sit bottom of our group.
We have demanded an improvement from each other, and so has head coach Anna Signeul during this week's preparations.
The camp has, however, been very positive this week and training has largely been attack-minded in the hope that we can create plenty of opportunities in Saturday's match to at least secure that much wanted play-off spot.
Our only defeat of the campaign so far came when Sweden beat us 3-1 at Fir Park, and that result will most likely be enough to prevent us from finishing top of the group and gaining automatic qualification.
The Swedes recently gave a master-class on how best to react to disappointment, when they bounced back from a 4-0 friendly defeat by England earlier in August to beat Poland by the same scoreline in our qualifying group.
A fine example of their class and something that we are hoping to replicate before the final group match next week against the Swedes.