Sepp Blatter: 'Football TV referrals trial may happen next year'
Last updated on .From the section Football528
A TV replay system allowing coaches to challenge a referee's decision may be trialled next year, Fifa president Sepp Blatter has announced.
Speaking via video link at Manchester's Soccerex, the Swiss, 78, said he wanted coaches to be allowed at least one challenge per half.
He revealed the trial could happen at next year's Fifa Under-20 World Cup.
"We can try in a youth competition, an Under-20, like next year when we are in New Zealand," he said.
"It can only be done where there is television coverage of all the matches."
In a wide-ranging interview, Blatter also confirmed he would seek re-election as Fifa president in 2015.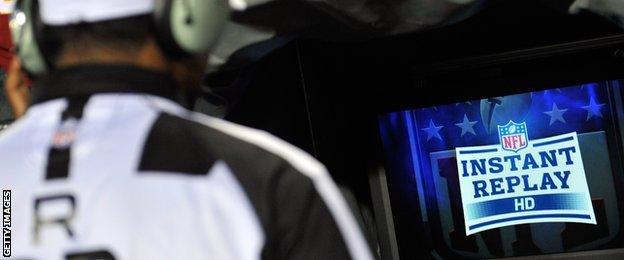 He said the on-field referee would have the final say on whether to change their own decision.
Blatter said coaches would "have the right in the half, twice or once, to challenge a refereeing decision but only when the game is stopped".
He added: "Then, there must be a television monitor but by the television company and not by another referee.
"And then the referee and the coach, they will go then to look, and then the referee may change his mind, as it is the case in tennis, for instance."
Blatter also stated:
The 2022 World Cup in Qatar will have to be played in winter and consultation has started with the players' union FIFPro, clubs, leagues and the six continental federations about moving the tournament.
A boycott of the 2018 World Cup in Russia would not work as such a move in sport "never has any benefit".
He wants "respect, fair play and perhaps also the truth" over allegations over corruption within Fifa.
He still respects Greg Dyke despite criticism from the Football Association chairman.
Blatter announced his intention to seek a fifth term in charge of world football's governing body and will make an official announcement at Fifa's executive committee meeting between 25-26 September.
He had told delegates at a Uefa congress in March 2011 that he would definitely stand down in 2015.
However, that plan has now been shelved, with Blatter completing a U-turn.
"You see a mission is never finished. And my mission is not finished," said Blatter.
Sepp Blatter in focus
Born:
Switzerland
Date of Birth:
10 March, 1936
Has a degree as Bachelor of Business Administration and Economics from the University of Lausanne.
Played football in the Swiss amateur league.
Fifa technical director 1975-1981 and general secretary 1981-1998.
Was elected as the eighth Fifa president on 8 June, 1998.
"I got through the last congress in Sao Paulo not only the impression but the support of the majority, a huge majority of national associations asking: 'Please go on, be our president also in future.'"
Five of Fifa's six continental bodies have already announced their support for Blatter, with only Europe publicly opposing him.
Uefa president Michel Platini stated earlier this year that he would not support Blatter, but the 59-year-old former France player will not be standing as a rival in order to concentrate on leading Uefa.
The deadline to register as a candidate is in January 2015 and the election will take place at the Fifa Congress next June.
"I was not surprised because in private conversations I have had with Michel Platini before, during and after the World Cup he has confirmed he would not be a candidate," said Blatter, who has been Fifa president since 1998.
"But (he told me) there will be someone who will be your contender, who will be contesting you."