Sami Hyypia: Brighton manager confirms coaching staff
Last updated on .From the section Football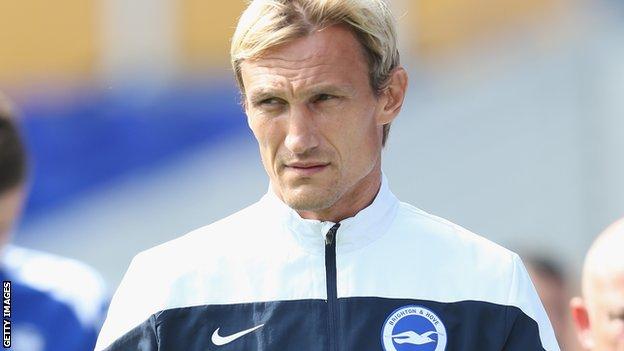 Brighton & Hove Albion manager Sami Hyypia has confirmed his backroom team, with Nathan Jones moving to the post of assistant manager.
Jones was previously first-team coach, a role now filled by Joaquin Gomez.
"I am very happy with the work we are doing now with Nathan and Joaquin," Hyypia told BBC Sussex.
"Nathan knows the league inside out and that is a great help for me. Professionally they are both very capable of working at this level."
Former Seagulls left-back Jones, 41, was assistant head coach to Oscar Garcia at the Amex Stadium last season but remained at the club after the Spaniard's resignation in May.
Gomez has previously worked with the club's academy and was part of the first-team coaching set-up last season.

Hyypia, who was appointed Brighton boss in June, was keen not to rush into any appointment - especially after Sammy Lee was set to become his assistant only to join Southampton instead.
"I thought about it during almost the whole of pre-season," the 40-year-old former Liverpool and Finland defender said.
"I had a few candidates and I wasn't able to bring them in for one reason or another.
"I kept thinking and kept searching as to what person would be perfect for this position and I didn't find any. I don't want to take a new face or somebody just to take one.
"We have a good coaching staff."
Meanwhile, Hyypia has hinted that he could still add to his squad before the transfer window closes on Monday evening.
Hyypia has brought in seven players since the start of the campaign, including Joao Teixeira on loan from Liverpool and Bristol City striker Sam Baldock, and 10 in total since his appointment earlier this summer.
"Let's say I am much happier than two weeks ago," he said.
"We have got players in areas we wanted and I am pretty pleased with the squad. Now it is to continue the hard work we have done and get the optimum out of the team and the squad.
"We still have a few days to go so who knows what is going to come."