Cardiff City eager for '£8m' Craig Noone return after injury
Last updated on .From the section Football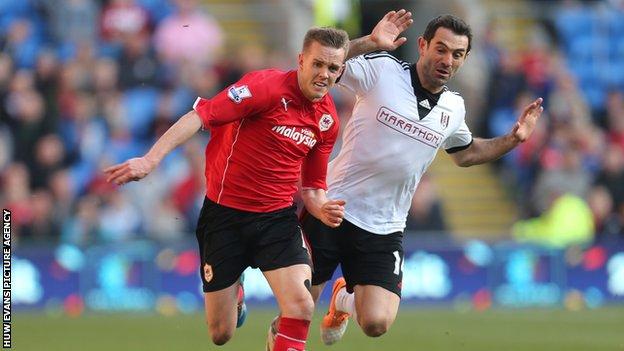 Getting Craig Noone back on the pitch will be like "signing a £7-8m player", according to Cardiff City manager Ole Gunnar Solskjaer.
Noone has resumed training and although he is unlikely to figure in Saturday's Championship trip to Fulham, he should be back after the international break.
"We really missed him the last two months of last season," Solskjaer said.
"He was outstanding for me when he played, makes an impact, goes inside, outside, puts crosses in and can score goals.
"It's like signing a £7-8m player for me, because he will in this league, create so many chances and score goals."
Noone underwent surgery to cure his problem and if there is no reaction in training, the former Brighton player could be available for the 13 September game against Norwich City.
"He looks strong, all the scans and tests have been really positive and mentally Craig is really positive now too," Solskjaer said.
"He feels very confident that the surgery has sorted it."
The transfer window closes on at the end of Monday, 1 September and Solskjaer indicated that Cardiff have done their business for the moment.
"If I have the squad I've got now we're in good shape," added the Norwegian.
"I was asked how to keep everyone happy; it's not about keeping them happy, it's about keeping them on their toes and ready to perform.
"Of course it helps if they're happy but as long as they're in a good vein of form and I don't lose anyone, then I wouldn't be worried bout that."