Watford: Troy Deeney signs four-year deal at Watford
Last updated on .From the section Watford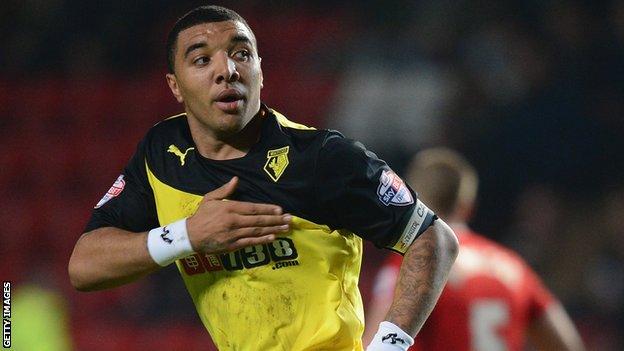 Watford striker Troy Deeney has ended speculation about his future and signed a new four-year deal at Vicarage Road.
The 26-year-old has reportedly been a target for Premier League sides Hull City and Leicester City.
He has scored twice in four appearances this term and has 45 goals from 91 games in the two previous seasons.
Deeney joined the Hornets from Walsall in 2010 for a deal worth up to £500,000 and has gone on to become the Championship side's captain.
There were concerns that the forward would want to pursue top-flight football amid interest from numerous Premier League and Championship sides, but he has signalled his intent to remain with Beppe Sannino's team.
He tweeted: "Happy to have signed my new four-year contract with Watford and put to bed these transfer rumours."