Malky Mackay: Crooks says there must be 'room for redemption'
Last updated on .From the section Football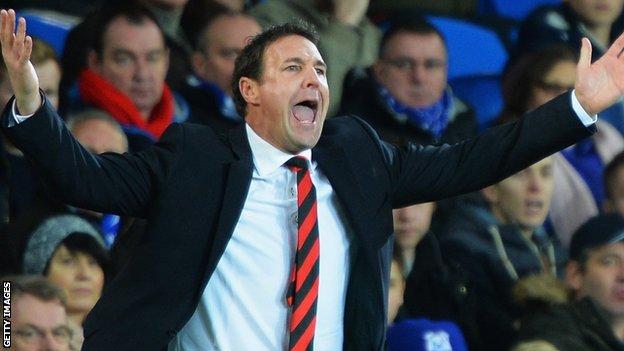 Malky Mackay should not be exiled from the game, despite new allegations about offensive text messages the Scot is said to have sent, says Garth Crooks.
Crooks, a trustee of campaign group Kick It Out, expects Mackay to be fined and banned if the Football Association find him guilty of misconduct claims made by his former club Cardiff City.
Speaking on the BBC's Football Focus, former Tottenham striker Crooks said: "There has to be room for redemption.
"This is about education."
He added: "We are keen for managers, players and coaches who fall from grace in this area to understand what is acceptable in a working environment."
Former Cardiff manager Mackay and his ex-Bluebirds colleague Iain Moody are alleged to have shared racist, sexist and homophobic texts. Mackay apologised on Friday for sending three offensive texts, saying he was neither "racist, sexist, a homophobe or anti-Semite".
The texts came to light when Cardiff, who sacked Mackay in December, sent a dossier to the FA alleging misconduct during his time in charge of the club.
Bluebirds owner Vincent Tan had a strained relationship with Mackay, dismissing his head of recruitment Moody last October for an alleged overspend of £15m on transfers in the summer of 2013.
The Malaysian businessman sacked Mackay two months later, with Cardiff 16th in the table and two places above the Premier League relegation zone.
Text messages allegedly shared by Moody and Mackay (as reported in Thursday's Daily Mail)
"Go on, fat Phil. Nothing like a Jew that sees money slipping through his fingers."On football agent Phil Smith.
"He's a snake, a gay snake. Not to be trusted."Referring to an official at another club.
"Not many white faces amongst that lot but worth considering."Referring to a list of potential signings.
Mackay and Moody took legal action against the club over their sackings but dropped their claims for compensation in May and issued "unreserved" apologies to Tan.
Speaking on Radio 5 Live, former Tottenham and Luton manager David Pleat said it was obvious that Mackay and Tan's relationship was broken while the pair were working together at Cardiff.
"When his dismissal came and there was an agreed no settlement and an apology, it was clear there had been a serious behind the scenes breakdown," said Pleat.
"If you don't respect your employer, you have no chance."
Crooks also criticised the League Managers' Association over their initial statement, in which they described Mackay's text messages as "banter".
"A few managers are quite upset about the way the LMA has handled the issue," added the former Stoke City and Tottenham striker. "The statement was pretty poor. You don't defend the indefensible."