Circus at Crystal Palace: Where did it go wrong?

By Phil McNulty
Chief football writer
Last updated on .From the section Football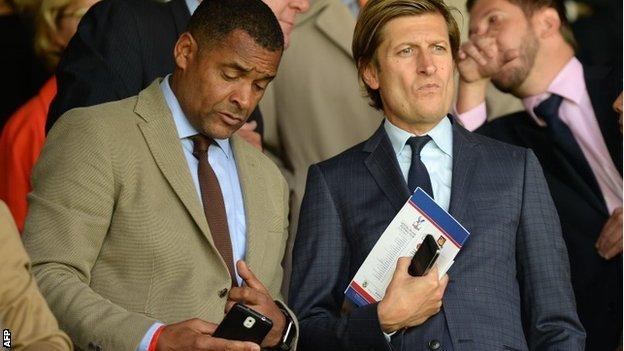 The dark humour that has served Crystal Palace's fans well in the 10 days of turmoil that have turned their club upside down surfaced even before the demoralising defeat by West Ham United.
As an urban fox startled the players during the warm-up by racing across and around the perimeter of the pitch and out of the gate, one supporter announced: "He's late for his job interview."
The job in question is that of Crystal Palace manager, a post vacated by Tony Pulis less than 48 hours before the start of the season and still open after the ill-fated attempt to appoint Malky Mackay.
This foundered as Mackay became embroiled in allegations of exchanging damaging text messages with Iain Moody while they were together at Cardiff City - a thick layer of intrigue being added as they also effectively cost the latter his job as Palace's sporting director.
Crystal Palace managers since 2010

Keith Millen

(caretaker) 14 August - present

Curtis Fleming & Lennie Lawrence

(caretakers) 24 October 2012 - 3 November 2013

Tony Pulis

24 November 2013 - 14 August

Dougie Freedman

1 January 2011 - 24 October 2012

Keith Millen

(caretaker) 23 October 2013 - 24 November 2013

George Burley

17 June 2010 - 1 Jan 2011

Ian Holloway

3 November 2012 - 23 October 2013

Paul Hart

2 March 2010 - 2 May 2010
It is a sense of humour that will be needed after a desperate spell ended with a desperate performance in defeat by West Ham. If there was humour before the match, what followed in the next 90 minutes was no laughing matter.
Palace chairman Steve Parish was leaning heavily on understatement when he used one paragraph of his programme notes to reflect on "a very difficult week".
Indeed, he devoted as much space, if not more, to the news that "loose wiring had been removed" from the main stand and toilet refurbishment had been completed. No words were wasted on Mackay.
If this was a difficult week, then the next one will be a crucial one because Parish must now increase the urgency of his managerial search before the malaise demonstrated against an excellent West Ham goes deeper.
Parish sounded like he was fully aware of Palace's plight and was keen to stress it had not been the chaotic process events might have led some to believe.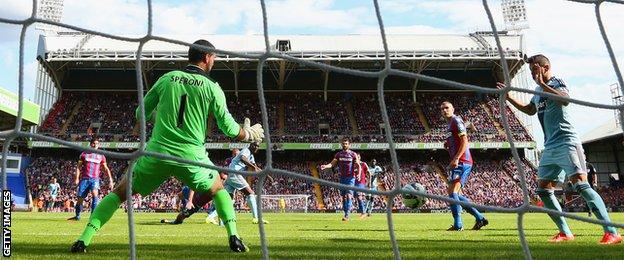 He said: "We've seen very few people, probably two, but we've spoken to others about other people and done some background work. It's not a 'Cartoon Caper' with people coming in and having a chat.
"I hope to have someone for the early part of this week. We have the transfer window coming up. The manager knows the players he wants. It is really important we make a decision about who runs the place. I am not getting much sleep.
"We need somebody who can work within that for a long time. Four managers in four years is not a record I thought I would have."
The return of Premier League football to Selhurst Park carried a subdued air even before kick-off as it was done without the man who had effectively secured it, Pulis, and with Palace gripped by an unexpected air of instability after the optimism that concluded last season.
It was all a far cry from the tumultuous last league game here in early May when Palace scored three times in the last 11 minutes to earn a draw that wrecked Liverpool's title challenge.
Palace's refusal to accept what seemed inevitable was symbolic of the inspiration provided by Pulis, an example of resilience - and no little quality - that deservedly saw them survive.
Tony Pulis' Crystal Palace record
Games:
29
Wins:
13
Draws:
5
Losses:
11
Biggest win:
3-0 at Cardiff, April 2014.
Biggest defeat:
3-0 at Newcastle, December 2013.
In the aftermath, Selhurst Park rocked even more than usual as Pulis led the players on a lap of honour amid wild scenes. Chairman Parish could congratulate himself on an inspired appointment and the manager could congratulate himself even more on a job spectacularly done.
No such comeback was ever seriously threatened here and while this is a season in its infancy, Parish will know he cannot let a rot set in.
One big advantage for Palace is the unswerving loyalty of magnificent, vocal supporters who appear to have accepted that the current squad is in need of strengthening - perhaps one of the bugbears that led to Pulis's hasty departure - and offered complete backing, only showing serious dissent at Millen's decision to take off Barry Bannan.
Tim Sherwood's record at Tottenham

Played:

28

Won:

14

Drawn:

4

Lost:

10
Parish must endeavour to have his man in place before next weekend's visit to Newcastle United - but it is a delicate balance he must achieve with the transfer window not far off closure and signings clearly a serious requirement.
Millen is a calm and composed figure and it is easy to see why Parish would feel the caretaker can buy him some time - but the days are running out and now he must decide whether Millen can really move forward as the stability candidate.
Former Celtic manager Neil Lennon appears an obvious contender and has expressed his desire to work in the Premier League. Tim Sherwood's candidacy has been withdrawn emphatically with surely no way back after he claimed what he regarded as a three-horse race had turned into "the Grand National".
There will be some hazardous hurdles to come for Palace in their current state - and Parish's decision on who guides them around the course will shape their season.