Stephen Keshi: Former Nigeria coach back for two games
By Oluwashina Okeleji
BBC Sport
Last updated on .From the section Football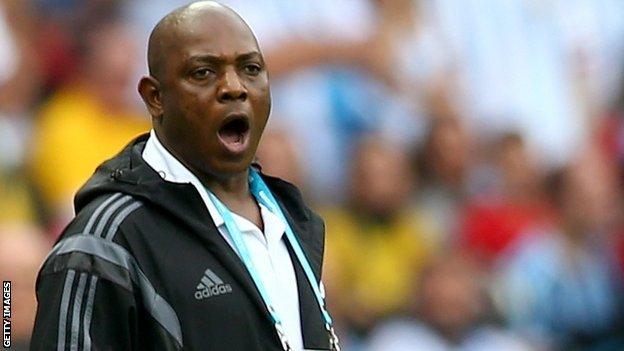 Stephen Keshi will return as Nigeria coach for next month's Nations Cup qualifiers, only days after appearing to rule himself out of the job.
But he has now "temporarily abandoned" his decision to walk away.
"I want to respect the wishes of Nigerians and the appeal by the Sports Minister to handle the team at least for the two games," he said.
"The need to answer the patriotic call and respect the wishes of Nigerians informed my coming for the key games.
"We work so hard to win the Nations Cup in South Africa, I think we should do all that we can to defend it in Morocco next year," he added on AIT's SportsExtra on Monday.
Talks over a new contract have been ongoing since July but have been held up by problems within the federation, including the sacking and the Fifa-ordered reinstatement of the governing body's president Aminu Maigari.
The Nigeria Football Federation (NFF) is understood to have offered Keshi a new four-year deal and the same $30,000-a-month salary he was paid in his first stint as manager, while the coach has asked for an increase.
With the NFF board divided [two rival factions locked in a bitter leadership row], Keshi says negotiations over a new deal with have to wait until after the game against Congo on 6 September and South Africa four days later.
"They want me to carry on but nothing has been finalised, but officials, fans and the players want me to stay."
He added: "I'm going to see out these two games and we'll hopefully then sit down and talk about a new contract, if everything can be agreed.
Despite a bitter leadership crisis currently rocking the country's football authority, Nigeria have already named a 23-man squad for their upcoming qualifiers.
The defending champions will also face Sudan in Group A with the top two advancing to January's finals in Morocco.
Meanwhile, the NFF general assembly on 26 August has now been moved to Abuja from Warri, but it will not be an elective congress.
The assembly will be asked to postpone the elections that were also due to be held on Tuesday, following unresolved complaints raised by some candidates.