Al Ahly set sights on Champions League semi-final spot
Last updated on .From the section Football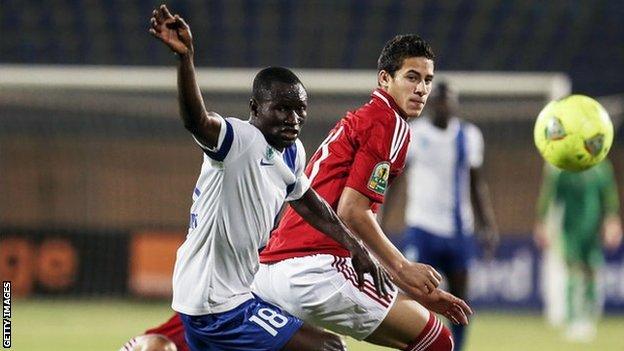 Serial African club title winners Al Ahly of Egypt are among six sides chasing three Confederation Cup semi-finals places this weekend.
The other hopefuls include Zambians Nkana, Ivorians Sewe San Pedro, Tunisians Etoile Sahel, Congolese AC Leopards and Malians Real Bamako.
Cameroonians Coton Sport have already qualified and Ivorians ASEC Mimosas are out of contention.
Ahly host Etoile in Cairo needing a draw from a clash of two of the three most successful African clubs to seal a last-four berth.
A draw for Nkana away to Sewe San Pedro, who have been permitted to host match in Abidjan despite the country banning international sports events because of Ebola fears, would earn the Zambians the other Group B semi-finals slot.
Etoile must win to have a chance of staying in the second-tier African club competition while a win for Sewe would guarantee survival.
Ahly have eight points, Nkana seven, Sewe six and eight-time African club cup winners Etoile five entering the final series of mini-league fixtures on Saturday and Sunday.
Leopards are three points ahead of Real and hotly fancied to join Group A leaders Coton in the semi-finals.
A draw at home to ASEC, who are without a win, will take the shock 2012 Confederation Cup winners through at the expense of Bamako.
The only chance the Malians have is to win handsomely at home against Coton and hope Leopards lose heavily to former African champions ASEC.
That is an improbable scenario, but the group has produced some stunning upsets, including Leopards winning 4-0 at Coton after being held at home by the Cameroonians.
Although one point will be enough for Ahly, winners of a record 18 Caf titles, Spanish coach Juan Carlos Garrido insists a draw is the last thing on his mind.
"We will play to win - I will not go for a draw," insisted the 45-year-old former Villarreal, Bruges and Real Betis manager.
"Etoile are tough opponents and the game is going to be difficult. The Tunisians have vast experience of matches like this one.
"However, we are going for the victory that will see us entrench our position at the top of the table," added the recent successor to caretaker coach Fathi Mabrouk.
After a 1-0 home win over Sewe on his Caf debut, Garrido watched the Cairo 'Red Devils' fall by the same score away to Nkana two weeks ago.
Garrido believes a severely depleted squad contributed to the setback on the Zambian copper-belt.
"We are competing in Africa with only 17 players - three of whom are goalkeepers - due to injuries and transfers.
"However, I have complete confidence in my squad and together we are going to win this match."
Ahly and Etoile clashed in two Champions League finals within three years during the past decade with each club winning one.
Etoile, the only winners of all five Caf club competitions, tackle Ahly at Cairo Stadium having suffered losses away to Nkana and at home to Sewe.
A blow for the Egyptian 'Red Devils' is the continuing ban on spectators after clashes between club supporters and police this year.