Cardiff to take legal action against Crystal Palace over 'spygate'
Last updated on .From the section Football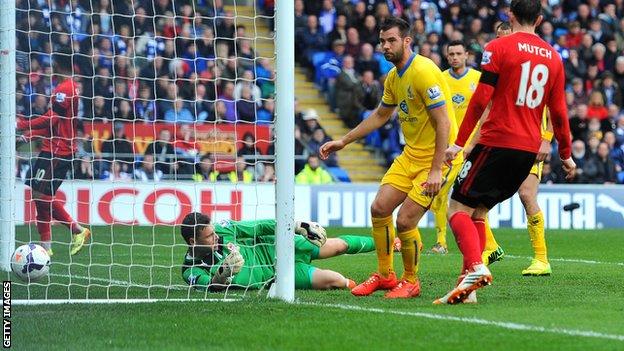 Cardiff City have given Crystal Palace and their sporting director Iain Moody notice that they intend to serve legal action against them.
The Premier League fined Palace on Monday for their involvement in last season's so-called 'spygate' incident with Cardiff.
The Eagles beat Cardiff 3-0 in April only for the Welsh side to complain that their starting line-up had been leaked to their London rivals.
Palace and Moody denied any wrongdoing.
According to the Premier League, Palace were in breach of Rule B.16, which states that "every club shall behave towards each other club and the League with the utmost good faith".
The maximum fine for such offences is £25,000 but the Premier League has not said how much Palace must pay.
Cardiff, who were relegated from the Premier League last season, are said to be unhappy that they have received no apology since Monday's ruling.
Palace sporting director Iain Moody worked for Cardiff until earlier last season before taking up a post at Selhurst Park in November.
It was reported that Cardiff thought that Moody might have used his contacts at the Welsh club, or close to Cardiff, to find out which players would start against Palace on 5 April.
Moody rejected the allegations as "incredibly, extraordinarily untrue".
Tony Pulis, who surprisingly quit as Eagles boss last week, insisted at the time that Palace had not acted inappropriately and that Cardiff's team selection had not entered his thinking.