Frank Lampard: Man City move 'won't damage' Chelsea reputation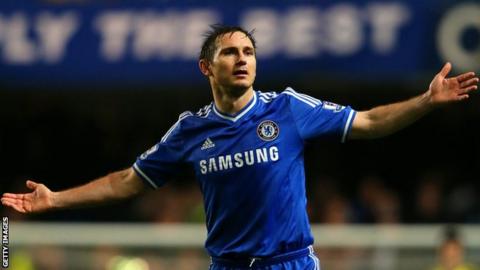 Former Chelsea winger Pat Nevin does not believe midfielder Frank Lampard's reputation as a Blues legend will be damaged by his move to Premier League rivals Manchester City.
Lampard, 36, was released by Chelsea in the summer and signed for Major League Soccer side New York City in July.
He has joined City on loan and Nevin said: "It won't damage the way Chelsea fans feel about him long term."
Chelsea fans' groups agreed, saying they will "not begrudge" him the move.
"You always get one or two idiots but the majority of fans will not go against him," Chelsea Supporters' Group chair Trizia Fiorellino said.
"It will be strange to see him in a Manchester City shirt but I could not begrudge him."
Lampard, who scored 211 goals in 649 matches over 13 years at Chelsea to become the club's record scorer, signed a two-year deal at New York City last month.
However, with the MLS season not getting under way until March 2015, he has joined Premier League champions City, who own the MLS franchise, until mid-January.
Real Madrid boss Carlo Ancelotti, who worked with Lampard while in charge of Chelsea between 2009-11, was shocked by the move, saying on Friday: "I'm really surprised because I thought he was coming to the USA to play.
"But he's a good signing for Manchester City."
Plenty left in the tank?
Frank Lampard has scored 171 Premier League goals, 60 more than any other midfielder
Last season was the first since 2002-03 that he did not score at least 10 league goals
He scored six in the league last season, four of those coming before Christmas
City midfielders Samir Nasri and David Silva only scored one more than Lampard last season, with seven league goals each
According to David Johnstone, spokesperson for cfcuk fanzine, Lampard had said as recently as last month that he would not play for any Premier League side other than Chelsea.
"He told me in the first week in July that he would not go to any other Premier League club and that he had season tickets for this year at Stamford Bridge and would come down," he said.
"But he is an absolute professional and if New York City want to loan him out he will do as he is told.
"He is the greatest player of my generation - a credit to Chelsea and England, and for English football as a whole."
Chelsea fans could potentially see Lampard line up against their side at the Etihad Stadium on 21 September.
Nevin, who made 193 appearances for Chelsea before moving to Everton in 1988, said: "I had to play against Chelsea after leaving them and I scored against them. There was enough pain felt for doing it, but there was great respect from both sides.
"In fact, the Chelsea fans applauded me when I scored. I suspect they would be the same for Frank if he did play against them.
"In time people will look back and recognise him as such a fantastic servant to the game."