Fifa backs Sierra Leone match-fixing inquiry
By Mohamed Fajah Barrie
BBC Sport, Freetown
Last updated on .From the section Football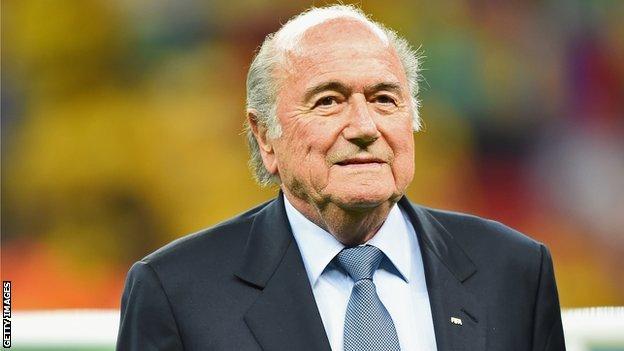 Fifa president Sepp Blatter has declared his support for Sierra Leone's inquiry into alleged match-fixing.
"Match fixing shakes the very foundations of sport, namely fair play, respect and discipline," said Blatter.
"Fifa employs a zero-tolerance policy when it comes to any infringement of these values."
He added: "We therefore fully support the SLFA."
Once a proposed committee is constituted the investigation will begin, focusing on four players and 11 officials - all of whom have protested their innocence, with Ibrahim Koroma telling BBC Sport he "feels betrayed by his country".
The match in question was a joint World Cup and African Cup of Nations qualifier against South Africa in Pretoria in 2008 which finished goalless.
A Fifa statement read: "It was agreed that Fifa's Security Division would assist the SLFA in its fight against corruption and match manipulation in two ways - by supporting the investigation conducted by the SLFA and by assisting it in setting up its own national integrity programme.
"Fifa Security Director Ralf Mutschke will in due course personally travel to Sierra Leone to finalise the plans."
One of the suspended officials is Rodney Michael, who was controversially disqualified from contesting the SLFA presidential election that brought Isha Johansen to power in August last year.
He has welcomed Fifa's decision, "as long as it's transparent and fair". He added: "I know I'm innocent.
"I commend Fifa for supporting the investigation and clarifying that it's a SLFA investigation which implies an internal matter."