Louis van Gaal: Manchester United unveiling feels like new era
By David Ornstein
BBC Sport at Old Trafford
Last updated on .From the section Football671
Fifty-nine days had passed since Louis van Gaal was named as the manager of Manchester United, but not until he addressed the media on Thursday did it truly feel like a new era had dawned at Old Trafford.
Van Gaal's run to the World Cup semi-finals with the Netherlands meant his presentation had to be significantly delayed - yet when the moment finally arrived, it was worth the wait and did plenty to suggest he is the right man to resurrect a fallen giant.
The Dutchman was accompanied by United legend Sir Bobby Charlton as he strode purposefully to his first news conference in a light grey suit, red club tie and slicked-back hair.
He held aloft a home shirt with his name and the number one printed on the reverse, smiling broadly as cameras clicked and bulbs flashed, happily obliging as the scrum of photographers called on "Mr Van Gaal" to face left, right, left again and straight ahead.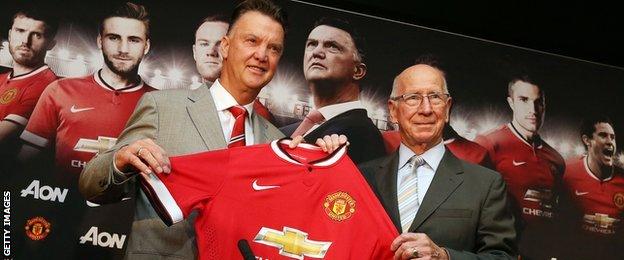 This was not on the level of Jose Mourinho's return to Chelsea last summer, when around 250 journalists and 40 film crews assembled at Stamford Bridge to quiz the Portuguese.
Nor did the timing fall kindly for many reporters taking a post-World Cup break or already in the United States ahead of United's pre-season tour, for which they depart on Friday.
But the turnout was still substantial and appropriate for a man charged with returning the Red Devils to their former glory after the hugely disappointing reign of David Moyes.
On 5 July, 2013, Moyes sat in the same room and gave an impressive performance of his own, having been hand-picked to replace Sir Alex Ferguson by the man himself.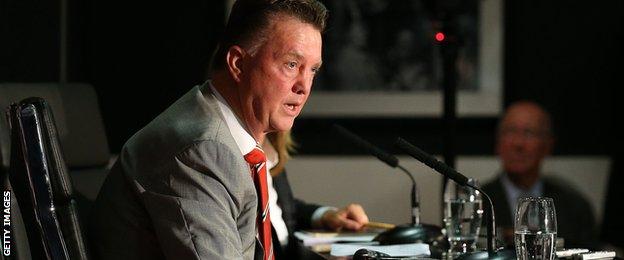 It was United's first news conference for a new manager in 26 years and the fact that they have now held two in just over 12 months says everything about what happened last season.
This one felt different, though, and there is a sense of optimism about the place that was largely absent under Moyes. Van Gaal looks at ease in his surroundings. Moyes rarely did.
Van Gaal can lay claim to a Champions League triumph, domestic titles in the Netherlands, Spain and Germany, and a third-place finish with the Dutch in Brazil. Moyes had no major silverware.
There was a relaxed and positive atmosphere as Van Gaal held court to a captivated audience for 22 minutes. During Moyes's tenure, it was usually short, tense and uneasy.
It feels as if efforts have been made to erase recent history and accentuate the fresh start: the Europa Suite where these events take place has been refurbished; a glitzy stage was constructed for Van Gaal instead of the basic table used for Moyes and it was positioned at the opposite end of the room; and a video tribute to Van Gaal played on loop prior to his appearance.
There was also not a single mention of the previous boss.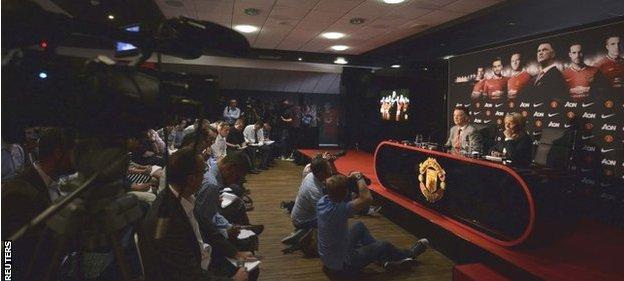 Moyes had the unenviable - some would say impossible - task of taking over from one of the greatest managers of all time and there was always a notion that the person who followed Ferguson's successor would be landing the plum job.
But Van Gaal appears better suited to the role and, surrounded by walls covered with images of United glory, the 62-year-old displayed no hint of being out of his depth.
Nicknamed the 'Iron Tulip' for a macho image that features an element of arrogance, he actually opened in humble fashion - admitting it was a "great honour" to walk in alongside Charlton.
Van Gaal refused to make predictions on how he will fare at "the biggest club in the world", said satisfying both United and their commercial partners was his "biggest challenge" and later argued that depictions of him as an autocrat were "unfair", blaming the media for propelling such an idea.
He came across in a measured, calm, confident and controlled manner - this was not an occasion for the animated character witnessed at times during the World Cup and throughout his career.
Van Gaal was on best behaviour but we did catch glimpses of what he describes as a "strong personality" when the former Ajax, Barcelona and Bayern Munich coach talked of his pride at leading the "number one clubs" in the Netherlands, Spain, Germany and England, adding: "You can see what I've won".
Van Gaal's major titles
National leagues:
Ajax (1993-94, 1994-95, 1995-96), Barcelona (1997-98, 1998-99), AZ Alkmaar (2008-09), Bayern Munich (2009-10)
Champions League:
Ajax (1994-95)
Uefa Cup:
Ajax (1991-92)
Marcel van der Kraan, a football writer for the Dutch newspaper De Telegraaf, explained that Van Gaal simply "tells it as it is, he is very transparent and has nothing to hide".
He twice gave inquisitors short shrift, answering questions about whether he expected to win the Premier League in his first campaign with "I've explained already" and "You know that, why ask?".
But above all, Van Gaal radiated an eagerness to get down to work, stating that United's owners and executive vice-chairman Ed Woodward were "very excited" about his vision.
He would have preferred to take a "half-year sabbatical" but conceded that "when a challenge like this comes up, I never let it go" and he intends to meet Ferguson for "coffee or wine" after the Scot rang to congratulate him on being appointed.
At the end, Van Gaal was asked how crucial the experience of Wayne Rooney would be. In stark contrast to Moyes a year earlier, he made no mention of the striker and replied: "I am not always convinced by experience."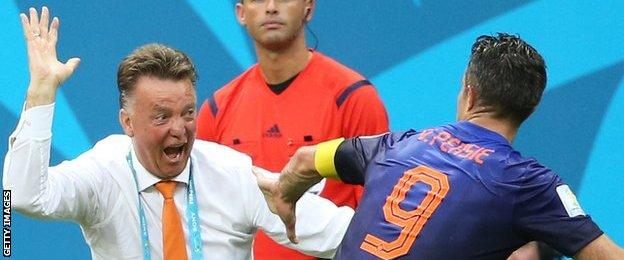 It was at this point that he pulled a pained expression in revealing the "big blow" of losing Michael Carrick to an ankle injury. Clearly, in his eyes, the real stars are not always those most famous.
"Van Gaal's philosophy is all about the 'total person'," said Van der Kraan. "Everyone must prove themselves not just as a player but as a person. He will assess their character on and off the pitch, decide whether they work for the team, bond with their team-mates as so on."
As in Spain and Germany, Van Gaal completed his first news conference in the local language and without the help of an interpreter. He struggled to pronounce the word "empathetic" but got there eventually and underlined that it is one of his strongest characteristics.
He left having made a strong impression and the consensus was that this should be a fun ride.
"Every news conference will be alive," Van der Kraan concluded. "He can be entertaining, warm, negative, excitable and explosive. You haven't seen his explosive side yet! This is Louis at six out of 10. When his communication and English are better, you will see the best of Louis."
So far so good, then, but ultimately Van Gaal will be judged by results on the pitch.