World Cup 2014: Faith and football as Brazil unites to pray for glory

By Ben Smith
BBC Sport in Rio de Janeiro
Last updated on .From the section 2014 Fifa World Cup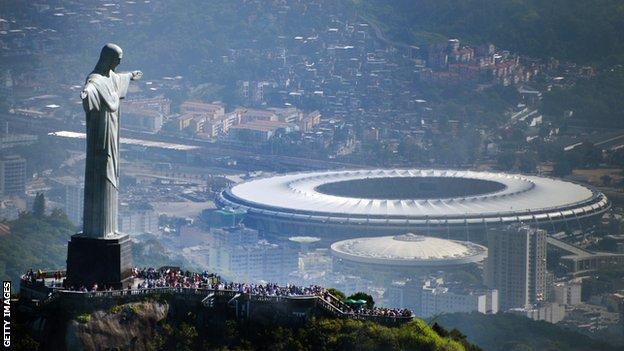 It is hard to think of a country that combines sport and spirituality quite like Brazil.
Neymar may be out of the World Cup, but Brazil has kept the faith; Brazil still believes.
With coach Luiz Felipe Scolari not able to rely on an individual to drive the Selecao to the final in Rio on Sunday, the nation is looking to a higher power.
Brazil is embracing a blend of religion, emotion and superstition. And that is as true of the 200 million people of this vast, varied country, as it is of the national team.
During the run to Tuesday's semi-final against Germany, the players have used religious symbols, lucky charms, music and prayer.
It is often said that, in Brazil, football is a religion, but it is a much more complicated picture than that. Football is instead a platform for the country's religions to find a voice.
The Brazil team have been united by their combined belief throughout this World Cup.
Scolari has used it to bond and motivate the players. Before the victory over Colombia, he visited a chapel in the grounds of the team hotel in Fortaleza. In the dressing room before the match, the squad repeated the Lord's Prayer. And at the final whistle, defender David Luiz sank to his knees and prayed again.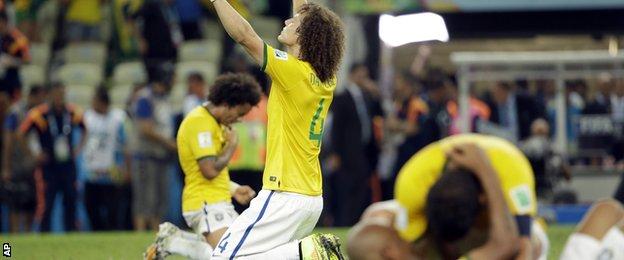 "My faith in Jesus gives me strength to keep on going out onto the field and to do my best," he says. "But I also want to inspire others - that is what God inspires me to do. For me, true life is found in the relationship with Jesus Christ. I believe that everything in life belongs to God and he has a clear plan for us if we follow him."
There are two clear faiths within the team, the Catholics and the evangelicals. Unlike past World Cups, where the players prayed separately, in Brazil the squad have come together to pray, they have found unity.
Luiz and Neymar are among the evangelicals, as are Fernandinho and Fred.
Neymar may be injured, but the striker's faith remains unequivocal.
His trademark celebration is a simple finger pointed to the sky with an upward glance, he met the mother of his child through the church and donates 10% of his vast earnings to a charity called Athletes for Christ. As a child, he wore a headband that read "100% Jesus" and went to church in Sao Vincent.
After he was ruled out of the tournament, his actress girlfriend Bruna Marquezine wrote a message on Instagram, quoting from the Bible. John 13:7 "Jesus said to him: What I do thou knowest not now; but you will understand later."
Scolari is a devout Catholic. His faith came to the fore publicly in 2002, when after winning the World Cup with Brazil he dropped to his knees with his staff and prayed after the victory over Germany in Yokohama.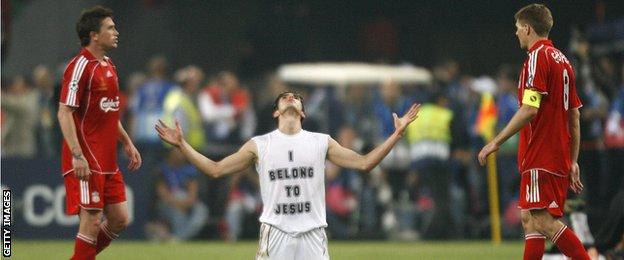 Many of the players did the same - Edmilson, Lucio and Kaka praying with their hands clenched together. When Scolari returned home to the state of Rio Grande do Sul, in the south of Brazil, he walked 12 miles to a pilgrimage site.
He is known to place statues of Our Lady of Caravaggio and Our Lady of Fatima, a 20th century tradition of a reported appearance of the Virgin Mary in a Portuguese village, in the dressing room. "I like my faith," he has said. "It gives us power."
Before the penalty shootout in their last-16 game against Chile, Brazil captain Thiago Silva prayed alone on the sidelines.
"I asked God to bless our players, especially [goalkeeper] Julio Cesar. He deserved that," he said.
What no-one knew was Cesar had placed a religious charm in his goal before the penalties began. It had been handed to him at the end of extra time by reserve goalkeeper Victor.
Music is my religion
Religion is one pillar of Brazilian life, music is another. The team have arrived at every game in this tournament with the team Samba band in full swing. Daniel Alves is the focal point, he sings and plays the drums. Dante plays a guitar, Jo rattles a tambourine, Willian often gets involved as does Neymar. The team make music in the dressing room, on the team plane and mainly before games on the team coach.
"There is faith and there is superstition," Victor said. "In my case, it's faith. I am religious and I try to reinforce my spiritual side before every game. It is a way to strengthen myself and support my friends with my prayers. I had not planned to give it to Julio, but it happened on the spur of the moment.
"He welcomed it. It was a kind of reinforcement. I want to stress the importance of Julio as a goalkeeper. Faith is important, but we can't depend on faith alone. God does his part and we have to do our job on the field. Julio was well prepared."
Brazilian goalkeepers have always been viewed as particularly religious.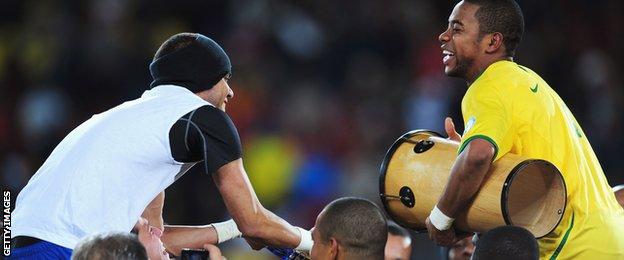 If star players, such as Neymar, are known as Craques, the great goalkeepers are called saints. On three occasions during this World Cup they have been pictured on television and in newspapers with halos over their heads.
Faith and spirituality is nothing new when it comes to the Brazil national team.
When they won the tournament in 1994, the squad were accompanied in the USA by a team chaplain, former Formula 1 driver Alex Ribeiro. He later published a book called Who won the Cup? Him up there.
Football reflects the depth and variety of Brazilian faith, football grounds are known as temples, players hailed as Gods.
The famous Brazilian club Vasco da Gama even has a chapel the size of a church inside its stadium. To many, Christo Rendentor (Christ the Redeemer) is the national symbol of Brazil.
Religion in Brazil
As recently as the 1940s, 99% of Brazilians were Catholics. Today, that figure is 63%. The proportion of Brazilians belonging to mainstream Protestant churches has been rising, as has the proportion adhering to Islam, Buddhism and Afro-Brazilian religions, such as Candomble and Umbanda.
Read more on the BBC News website
Religious imagery is everywhere you look.
Close to where Brazil have trained in Teresopolis, there is a mountain range called God's fingers. Sao Paulo is named after Saint Paul, Salvador is named after Jesus, while Copacabana got its name from the Patron Saint of Bolivia, Virgin of the Candelaria.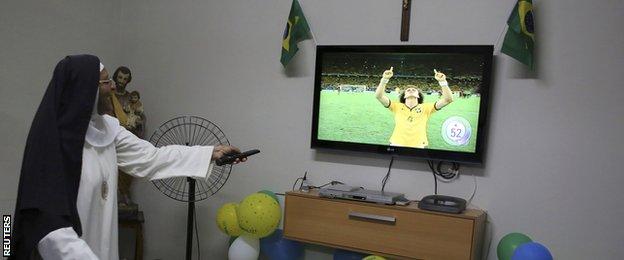 Faith, in this week of all weeks, has come to the fore once again for Brazil and its beloved Selecao.
In the hours before the semi-final against Germany, Scolari will find a chapel in Belo Horizonte and pray. Before emerging into the cacophony of noise at Estadio Minerao, the players will stand together and recite the Lord's Prayer as one.
In churches and homes across Brazil, pictures of the players hang next to crosses and other religious symbols. These two pillars are inescapably intertwined here.
Brazil's footballers - and the wider population - believe it is their destiny to win the World Cup in the City of God on 13 July.
For the best of BBC Sport's in-depth content and analysis, go to our features and video page.