World Cup 2014: Brazil join the party but how long will they stay?

By David Ornstein
BBC Sport in Brasilia
Last updated on .From the section 2014 Fifa World Cup
One of the few missing ingredients at this most enthralling of World Cups had been a Brazil side in full flow; on Monday, the host nation finally delivered.
But for all the mesmerising, Neymar-inspired attacking brilliance on display in beating Cameroon 4-1, question marks remain over their hopes of lifting a title they view as a birthright.
This is a tournament that Brazil have repeatedly and unashamedly stated they expect to win - from supporters to pundits and players to staff, a home triumph is the minimum expectation.
Were that not enough, they intend to do it in a style befitting their footballing ethos and tradition, succeeding where their predecessors so painfully failed on home soil in 1950.
Not even below-par performances in their opening two Group A matches - an unconvincing 3-1 victory over Croatia and 0-0 draw against Mexico - altered that demand.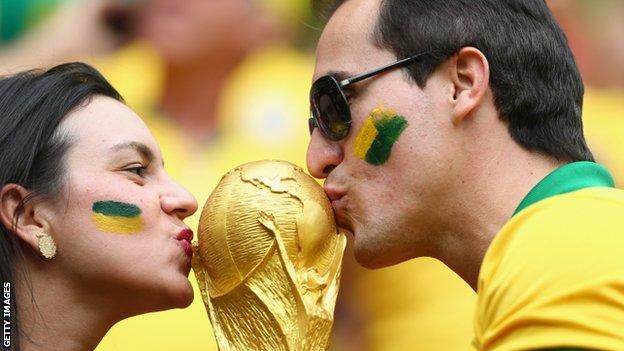 Yes, there had been concern among fans, media and the squad itself following those results: the standards set in winning last year's Confederations Cup were not being met, opponents seemed to have wised up to their tactics, the midfield looked porous and the attack was misfiring.
Allied to the injuries and dips in form which afflicted the likes of Julio Cesar, Marcelo, Paulinho, Oscar and Fred last season, fears were raised and confidence dented.
According to Bernardo Itri, football columnist for the national newspaper Folha de S.Paulo, Brazilians were suddenly "afraid" of how their team would fare against more talented and unforgiving teams, such as Germany and Argentina, in the knockout stage.
But on a balmy evening at a ground where their march to that Confederations Cup triumph began 12 months ago, Brazil arrived to a party at which they plan on being the last reveller standing.
Match stats

Cameroon

Brazil

1

Shots on target

11

14

Fouls

19

321

Total passes

385

45.8%

Possession

54.2%

18

Tackles

27

78%

Tackle success

78%

1

Goals

4
The focus on the five-time champions is huge - there are yellow and green colours pretty much everywhere you look in this passionate country; a television audience of 42.9m tuned in to watch the Croatia game on Brazilian network Globo; and the slogan emblazoned along the side of their team bus reads: "Brace Yourselves! The Sixth is Coming!"
Yet after scoring twice to become the tournament's leading marksman with four goals, man-of-the-match Neymar commented: "There is no pressure. I've always said there is no pressure when you are making a dream come true and doing something you have sought after since you were a kid.
"I'm now playing in matches that I always dreamed about. I just want to help my fellow players not only by scoring goals but doing whatever it takes on the pitch to help us win.
"We are on the right track and the whole team is getting better and getting close to our target."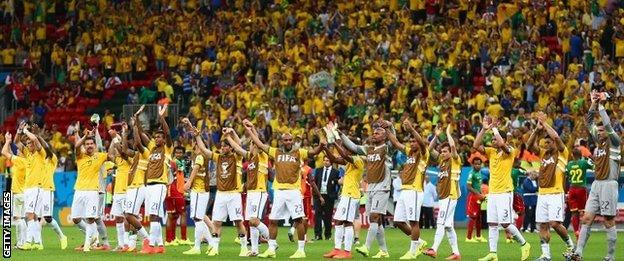 Certainly Brazil seemed to relish the atmosphere after being greeted by thousands of jubilant followers at Estadio Nacional, followers who formed endless queues outside every gate more than three hours before kick-off, many singing and dancing with excitement while they waited.
Monday's front page of the prominent national newspaper Lance! read in English: "The national team does not have a song that moves people in this World Cup. So, fans, fill your chest and scream loud for our qualification today!"
The lack of a unique chant has led to an online campaign to create one, but on this occasion it mattered not - the fans simply had to provide their wholehearted support. And how they did.
Reportedly the second most expensive football venue ever built, Estadio Nacional was made for nights like this and the din the teams walked out to was matched by Brazil's attacking ferocity.
Neymar set them on their way with the 100th goal of the 2014 World Cup in Brazil's 100th game at World Cup finals, and restored their lead after Joel Matip's equaliser.
Fred and Fernandinho sealed the win, but it was Neymar who ran the show to cement his standing among the game's leading lights. Just 22 years old, the Barcelona forward already has 35 goals and 20 assists in 52 internationals and proved that anything is possible with him in the line-up.
Former England midfielder and BBC pundit Danny Murphy said: "Neymar is the main man in the Brazil team and seems to thrive on it whereas at Barcelona he is not.
"In each game he has grown in confidence and that does not bode well for whoever they play next. Any team who are playing Brazil will be looking at their left-hand side of the pitch."
That team is Chile and they are sure to pose a far greater threat than Cameroon.
Who has qualified for the last 16?
Brazil (Group A)
Mexico (Group A)
Netherlands (Group B)
Chile (Group B)
Colombia (Group C)
Costa Rica (Group D)
Argentina (Group F)
Belgium (Group H)
The Indomitable Lions have endured a shambolic couple of weeks, yet the fact that they managed to equalise and cause so many problems in the first half will not sit well with Brazil.
Scolari's worries in the first two fixtures centred on his attack, but now it was the defence that looked shaky as centre-back David Luiz and right-back Dani Alves found themselves exposed.
Former Republic of Ireland midfielder and BBC pundit Kevin Kilbane said: "Brazil have struggled in defence and make mistakes. Luiz makes bad positional decisions and down the left Cameroon got in behind Brazil at will. When Cameroon put simple balls into the box Brazil struggled."
Never one to shy away from confrontation, an animated Scolari later argued: "As for the defence, I don't have a single drop of fear. They are fantastic, wonderful. Even great defensive players can be challenged. I was once a great defender and sometimes people even challenged me.
"But we cannot afford any hiccups now, we can't give our opponent a chance. We have to find the right balance. We can't make mistakes and that's what we need to do differently in the next game."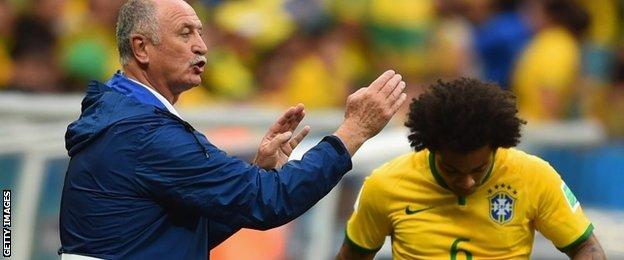 Speaking in December, Scolari called Chile "a pain" to play against because their system is in direct contrast to Brazil's, adding "I hope they don't qualify. I'd rather play any of the others", and he reiterated that feeling as he previewed Saturday's encounter in Belo Horizonte.
The 65-year-old also sprang to the defence of Fred, who despite getting on the scoresheet - in what looked to be from an offside position - was again disappointing. As was fellow forward Hulk.
Interestingly, the closest Scolari came to criticising his players was when he warned them of the dangers of trying to be "too quick to show too much, we need to be serene and calm".
The former Portugal and Chelsea manager knows that Brazil's natural instincts could land them in trouble against canny opposition and believes "patience" in possession is key to their chances.
If they can achieve the balance he is looking for their dreams are more likely to come true, but tougher tests than Cameroon await - starting with Chile on Saturday.