Hereford United: Southern League 'happy' with club's situation
Last updated on .From the section Football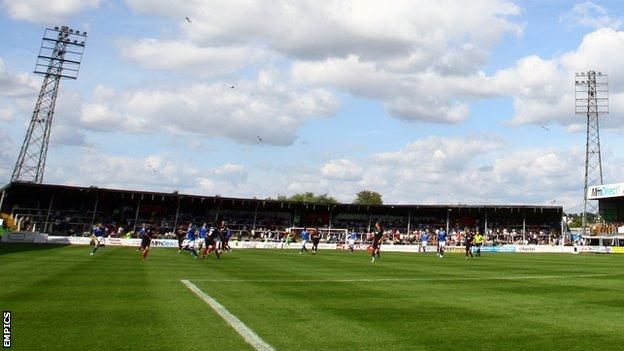 Hereford United have been given the green light for a future at Southern League Premier level next season, despite the troubled club still not having cleared their debts.
BBC Hereford & Worcester have had it confirmed that at least one former player did not receive payment as expected on Monday.
But Southern League secretary Jason Mills is open-minded on the Bulls.
"As far as we're concerned, we're happy with the situation," he told BBC Sport.
"Unless something drastic happens, we'll be happy to have Hereford United playing in the Southern League - and we now need to start concentrating on sorting out next season's fixtures."
Hereford, who were expelled from the Football Conference on 10 June, were told they could face sanctions from the Southern League after failing to pay their creditors by last Friday's 17:00 BST deadline.
Sources close to owner Tommy Agombar told BBC Hereford & Worcester that cheques for wages owed to staff were due to be sent out on Friday.
But last season's first-choice Hereford goalkeeper Daniel Lloyd-Weston, who has since signed for former Bulls manager Martin Foyle at Southport, said: "Absolutely nothing's arrived.
"I messaged my dad just to see if anything did come through and all he told me was I had a P45, but no money whatsoever.
"All I've received from Hereford through the post since I left, on 26 April, was a reimbursement offer, a P60 and a P45. That was it."
Meanwhile, Hereford fans are to take part in a 'funeral' march on Thursday in protest over the way the club is now being run.
They will set off from the club's Edgar Street stadium and march through the city before meeting members of Herefordshire Council at their headquarters at Brockington.
They intend to hand over an online petition "to protect the future of football in the city and reject the approaches of Mr Tommy Agombar to transfer the leases held by the club to his private companies", which so far contains 7,000 signatures.