World Cup 2014: Players skipping England not new - Graham Taylor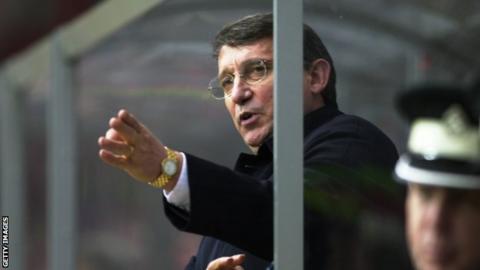 Ex-England boss Graham Taylor says that players not wanting to play for their country is "nothing particularly new".
Taylor was responding to claims made by QPR boss Harry Redknapp who said that he dealt with players when at Tottenham who tried to avoid England duty.
"As much as we blame players, they are put under pressure - sometimes by their club managers," Taylor told BBC Radio 5 live.
England captain Steven Gerrard has called on Redknapp to name the players.
Taylor, who managed England between 1990 and 1993, said club football "rules the roost" over international football.
He added: "The World Cup final is the pinnacle - I have no doubt about that, but the World Cup is only every four years.
"The Premier League and the Champions League are every year. There's bags of money - therefore club football rules the roost.
"When I was England manager, our last game was against San Marino and we had already failed to qualify for the World Cup. The players who came with me... I will always respect them."
Redknapp, who managed Tottenham between 2008 and 2012, was giving his thoughts on the national team following England's elimination from the 2014 Fifa World Cup after only two group games.
He told BBC Radio 5 live's Sportsweek: "They'd come to me 10 days before the game and say 'gaffer get me out of the game. I don't want to play in it'."
Gerrard, speaking as England prepare to play their final World Cup game against Costa Rica in Belo Horizonte on Tuesday, said: "I'll tell you what - I'd be interested to find out who those players are."
Former Wales coach and striker John Hartson said that clubs played a part in players choosing not to play for their country.
Hartson's fellow countryman Ryan Giggs, the former Manchester United winger, was not available for many Wales friendlies.
Hartson told 5 Live: "It's an individual thing. Ryan Giggs won 64 caps for Wales and he should have had over 100. It's common knowledge that Manchester United boss Sir Alex Ferguson didn't like him playing in friendlies and would only release him for competitive matches."
Former England and Southampton forward Matt Le Tissier admits he is not surprised by Redknapp's claims.
Le Tissier said: "I got eight caps and I would have loved to have more.
"I think there are players that aren't that fussed about pulling on the England shirt if it's just a friendly, especially if they've been around a long time.
"It doesn't have the same meaning for those players. From that point of view it doesn't really shock me that he came out and said that."