World Cup 2014: Brazil were better against Mexico, says Scolari
Last updated on .From the section 2014 Fifa World Cup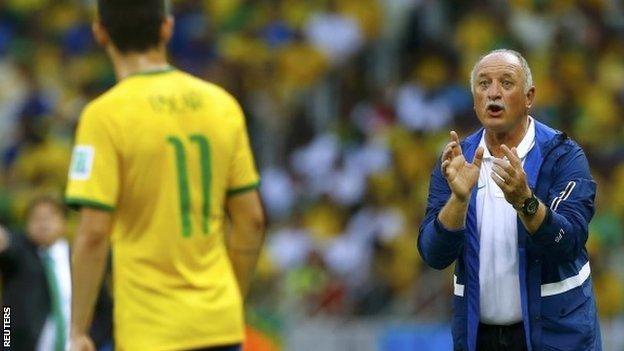 Brazil played better in their 0-0 draw against Mexico than in their opening World Cup win over Croatia, according to coach Luiz Felipe Scolari.
The hosts scored three times against the Croats and might have matched that tally against Mexico but for the brilliant keeping of Guillermo Ochoa.
"In my opinion, the team played at least 10% better," said Scolari.
"They had a very good goalkeeper who had a very good day and that's why we didn't win."
He added: "The team is doing better and better. We still have a way to go and we can play well. I was pretty happy with what I saw on the pitch."
Scolari, who led Brazil to their fifth World Cup victory in Japan and Korea in 2002, also praised Group A rivals Mexico for their performance.
"Here in Brazil we tend to believe that other players are not as good as we are and we thought that Mexico weren't any good - but today they played as well as we did," said the 65-year-old.
"They had around the same possession, around the same number of shots. They know how to play football. I don't think we got the result we expected yet I'm very pleased."
Meanwhile, Mexico coach Miguel Herrera praised keeper Ochoa, who twice denied Neymar, blocked an effort from David Luiz and tipped over Thiago Silva's header late in the game.
"I can't remember a goalkeeper performing like that in a World Cup," said Herrera.
"Playing against the favourites, on their home ground, the team showed that they can compete against absolutely anyone."
Ochoa, who left French Ligue 1 side Ajaccio at the end of the season, added: "It was very difficult, and I'm delighted to leave the field with the zero on the scoreboard.
"It was the game of my life."
For the best of BBC Sport's in-depth content and analysis, go to our features and video page.