World Cup 2014: Uruguay's Luis Suarez could face England
Last updated on .From the section 2014 Fifa World Cup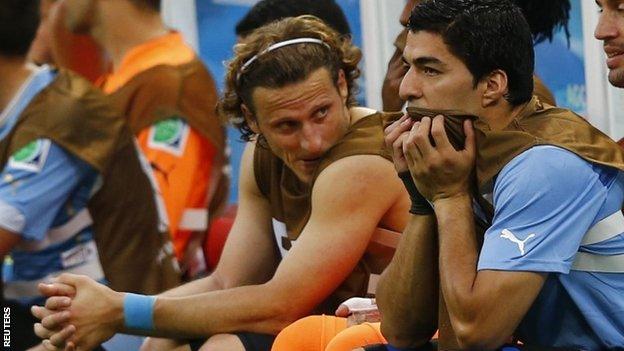 Uruguay striker Luis Suarez could face England on Thursday after missing the surprise 3-1 defeat by Costa Rica, according to coach Oscar Tabarez.
"It was his demand to be on the bench," said Tabarez. "It would have been very difficult for him to come on.
"We still have four days before we face England. If he improves there is a chance he may play."
Defeat by Costa Rica was a shock for two-time winners Uruguay, who were expected to challenge England and Italy for a place in the last 16.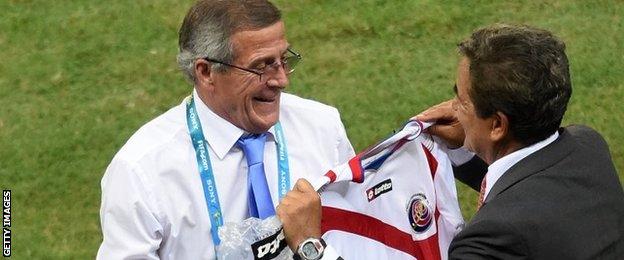 "It was a very hard, tough result. We didn't expect this to happen, conceding goals in situations where we hadn't before," said Tabarez.
"We still have the possibility to attack and continue. It is our identity as Uruguayans.
"It is not over. We have to improve against England and recover ground we have lost."
Costa Rica trailed 1-0 at half-time to Edinson Cavani's penalty, before a remarkable second-half turnaround.
Two goals in three minutes from Joel Campbell and Oscar Duarte gave Los Ticos the lead and Marcos Urena sealed victory before Uruguay had Maximiliano Pereira sent off.
Costa Rica boss Jorge Luis Pinto said: "We changed tactics, we decided to take a risk.
"We are prepared to go to war. We fell behind but at the same time we maintained a very high level of defence.
"We knew we had to face three big football nations. But this is a triumph."
For the best of BBC Sport's in-depth content and analysis, go to our features and video page.