Corsie: Scotland much better than last time out against Swedes
By Rachel Corsie
Scotland international
Last updated on .From the section Football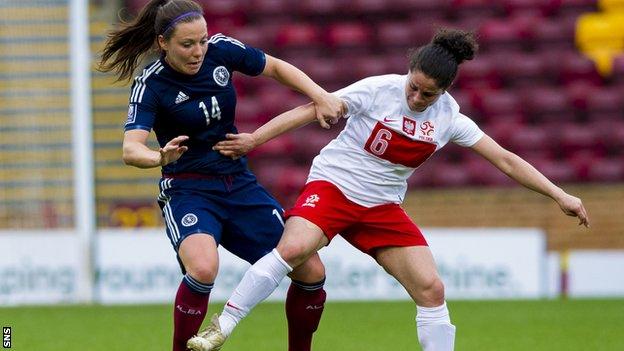 There is certainly no shortage of motivation in the Scotland camp as we build up to the World Cup 2015 qualifier against Sweden at Fir Park on Saturday.
But, after watching Mexico play Cameroon in the second match of the men's tournament in Brazil with my team-mates Leanne Ross and Suzanne Lappin, I have to say we are more determined than ever to ensure we're in Canada for next year's finals.
Six games into the qualifying campaign and the squad dynamic is the best it's ever been since my first introduction to the Women's A Squad in 2009.
A lot of teams have good players, but not always a strong bond, and that has made a significant difference to our side.
Then again, when you are doing well it comes easier.
Some people outside of the camp often joke that we have a 'holiday' atmosphere within the Scotland squad.
And while we are all fully focused in training and for games, a lot of time off the field is prioritised to ensure that team activities are always incorporated into our schedule.
With a relatively young group, many enjoy being on the go and there would be a few petted lips - including mine - if a camp didn't involve a coffee outing or two.
We go into the game against Sweden unbeaten and top of the group, which is a nice position to be in, and something I guess we aren't used to.
In the first six games we have shown professionalism and also some real quality in our performances - particularly at home, where in previous campaigns we have not always been so solid.
This match, however, is a real test for us to show how far we have really progressed.
The team had great results earlier in the year at the Cyprus Cup tournament, but it's qualifying matches that get you to the finals and being brutally honest, we have always fallen just short in the past.
Everyone has been talking about the Sweden game for the last six weeks, and it's been labelled as 'the big game', but realistically, all four of our remaining matches are going to be absolutely crucial.
Saturday is another opportunity to prove ourselves on a very tough stage, but the result will not determine whether we achieve our objective or not, so the cup final atmosphere some people are trying to build is more for the fans than us.
The last time we played Sweden was when they were peaking for the Olympics in 2012 and they beat us 4-1.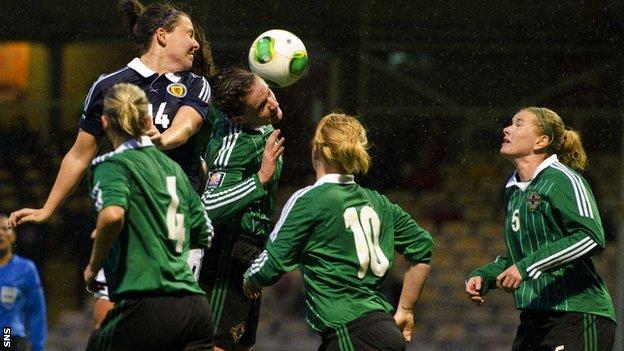 A lot of their current squad played that day so they are very experienced and are a team full of quality, therefore they rightfully remain favourites for the match.
But our squad has progressed since that day and the competition for a shirt has been significantly greater during this campaign.
That competition so important for any team and is something that is evident in the majority of the top sides that sit above us in the world rankings.
A lot of girls in the Scotland squad now play professionally and many have gained some overseas experience, which has added even more to the team's attributes.
We trained on Fir Park this morning and the pitch is in immaculate condition - which sadly left me without a reasonable excuse for some wayward shooting.
The surface will hopefully lead to a great spectacle for the supporters, and it's a game that all of us are looking forward to playing our part in.