World Cup 2014: Steven Gerrard says England have no excuses

By Phil McNulty
Chief football writer in Manaus
Last updated on .From the section 2014 Fifa World Cup
England captain Steven Gerrard says he is determined to leave the World Cup with happy memories - and that there can be no excuse for failure.
Roy Hodgson's side face Italy on Saturday in their opening match.
Midfielder Gerrard, 34, said: "As each day creeps closer to the game itself, a sense of excitement grows.
"It is here now. All the distances and the miles we have covered, the heat preparation - we have done all that. There are no excuses now."
England finished their build-up by training in the heat and humidity of Manaus's Arena Amazonia.
Hodgson's team, one of 32 competing in Brazil, are in Group D, where they also face Uruguay on 19 June and Costa Rica five days later.
Around 7,000 England fans are expected in Manaus for Saturday's 23:00 BST kick-off against Italy, with 2,500 having travelled as part of the official England fans club.
The game will be broadcast live on BBC One, while there will be BBC Radio 5 live commentary and live text coverage on the BBC Sport website of all three of their group games.
Gerrard told BBC Sport: "I hope I go away with happy memories from this tournament. It's the most difficult tournament to win as a player.
"It's a cruel tournament - and it's certainly a level and a standard where you have to produce both individually and collectively if you want to have good memories of it."
Brazil 2014 will be Gerrard's third major tournament as an England captain, having led his country at the 2010 World Cup in South Africa and at Euro 2012 in Poland and Ukraine.
He will become the fourth player to lead England at three tournaments, following Billy Wright, Bobby Moore and David Beckham.
The Liverpool captain said: "It's an honour to be among those names.
"There's no one prouder than me at this moment to be leading my country out in Brazil. It's an unbelievable feeling.
"I can't wait to get out there and get started against Italy."
England have been acclimatising over several weeks for the fierce heat that greeted them in Manaus when they stepped off a four-hour flight from Rio - where they are based - on Thursday afternoon. The match-day temperature is expected to exceed 30C in this city in the north-west of Brazil.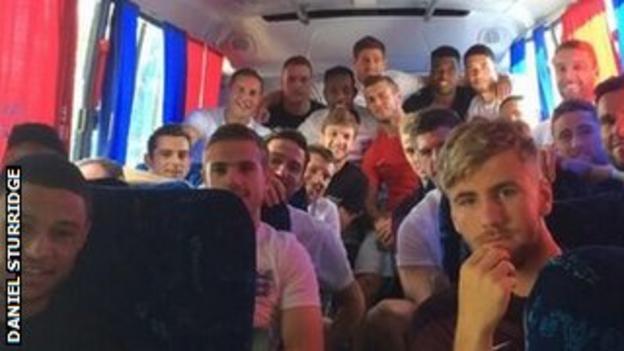 Hodgson has referred his players to the Royal Air Force motto 'Per ardua ad astra' - 'through adversity to the stars' - and has called for supporters "to believe" in his side.
"If it doesn't go that well for us, it's not for any other reasons than it didn't happen for us on the night," he added.
But at least any concerns the Football Association might have had about the playing surface were reduced after assurances were received from the Sports Turf Research Institute (STRI).
The STRI is co-ordinating pitches at the World Cup but also has a direct relationship with the FA after working on Wembley and the England team's Urca military base training centre in Rio.
In its report, it said that while the pitch's appearance might not be aesthetically pleasing, there were no concerns about how it would play on Saturday night when England face the team that knocked them out of the Euro 2012 quarter-finals on penalties.
"I've been on the pitch and it is possible to play good football on it," said Hodgson. "We'll be perfectly happy to play on it."
Gerrard added: "In general with footballers, when things don't go right the easy way out is to look for an excuse. You look at other people, point fingers and blame others, say that wasn't right, this wasn't right.
"The FA leave the players with no excuses. They try their best and it is 99.9% right. This time they have put everything in place, they have done everything they possibly can for the players to perform."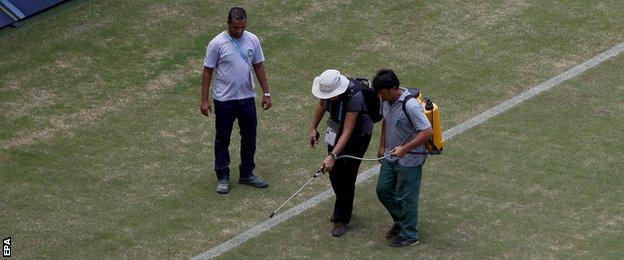 Gerrard believes that "the stage is set" for Wayne Rooney to have a "fantastic" World Cup and prove wrong former Manchester United team-mate Paul Scholes, who suggested that the striker was past his peak.
The captain said: "He's had to carry that expectation in previous tournament's and come in with injuries and problems and still been unfairly judged.
"But this time round he's fit, he's well, he's smiling, he's said himself he wants to enjoy it more. I believe the stage is set for him and he's capable of going and having a fantastic World Cup."
Gerrard's vast experience, playing in his third World Cup after missing 2002 in Japan through injury, will be vital in a young group boasting exciting youngsters such as his Liverpool team-mate Raheem Sterling and Everton's Ross Barkley.
"It is very talented," said Gerrard of the squad. "We have very experienced players who have vast experience at this level and have had great careers. We have a middle age group in the squad, a group of players who have had terrific seasons.
"And then we have also got that newness and freshness in the squad - the people everyone are talking about like Raheem, Luke Shaw and Ross Barkley to name a few. I would still class Daniel Sturridge and Jordan Henderson in that bracket."
Gerrard highlighted Sturridge, another of his Liverpool team-mates, as a player with the potential to make an impact in Brazil.
He said: "Sturridge, from the day we met up, has been the best in training. He's been electric.
"Sometimes he doesn't realise how good he is, I keep trying to tell him. He is capable of taking this World Cup by storm, that's how good he is.
"If he keeps delivering, he can go on to be one of the best strikers in the world. He's got that potential, but he's got to go and deliver now and perform.
"The talent is there, the ability is there but this is the most difficult and the most pressurised stage to deliver on, both personally and as a group.
"It is all right having the talent but it is also being cute, clever and having that knowledge of how to beat these sides because everyone has got what we have got."
Hodgson echoed those sentiments. "We are here to try to win it [the World Cup], to try and play our best and give such a good account of ourselves people at home feel proud," the manager said.
"But now the talking is over. Bring the game on."
Italy manager Cesare Prandelli has warned his players that England have great attacking strength.
He said: "England have every reason to be confident because they have so much depth and their forwards are very apt at creating and using space."
For the best of BBC Sport's in-depth content and analysis, go to our features and video page.